Have you been to Spain? How about the Basque area? If you have not, do you consider yourself to be a "foodie" willing to try almost anything? If yes to any of the above Cooks & Soldiers is the Atlanta restaurant for you! When I first heard of this restaurant two things caught my eye-1) It was opening in West Midtown which is my neighborhood. As those of you who follow my blog know, I love the variety of great restaurants here and have blogged about them in not 1 but 2 restaurant guides. 2) The restaurant is from the Castellucci Hospitality Group responsible for such restaurants as Sugo, Double Zero and one of my favorites-The Iberian Pig.  Although I have never visited Basque country in Northern Spain, I have visited Madrid, Barcelona and Palma de Mallorca and love Spanish cuisine. But this is not your typical Spanish restaurant…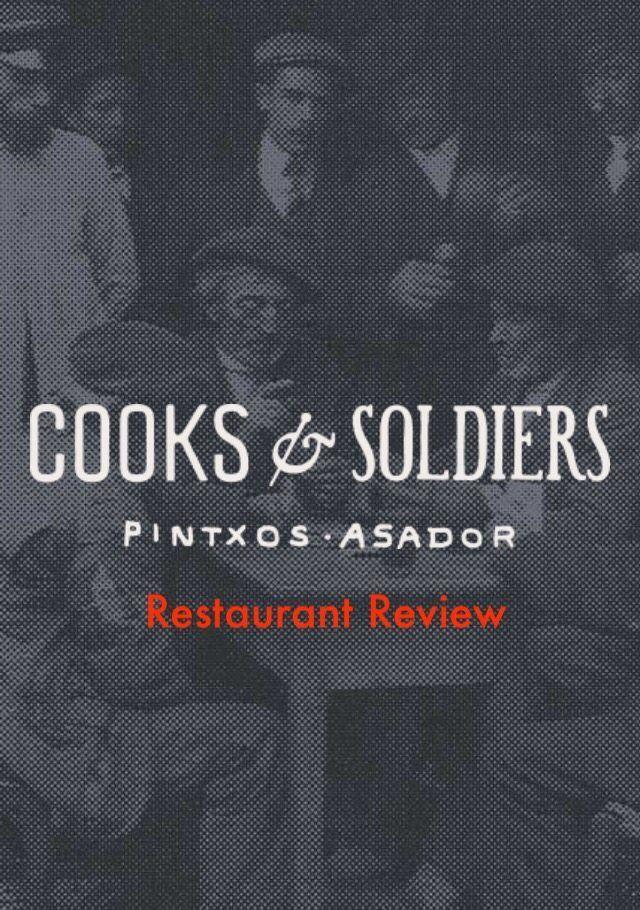 The Place: Cooks & Soldiers is based on Basque cuisine. This is an autonomous community in Northern Spain similar to Barcelona. The Basque people are equipped with their own language, history, culture and cuisine. The most popular foods are bean dishes, seafood including "marmitako" which is a fish stew and bar finger food called "Pintxos" (aka as tapas). You will also see "Asado" noted on their menu which stands for various barbecue techniques. The actual name of the restaurant is inspired by the Tamborrada Festival of San Sebastian that takes place in January. During this drum festival locals dress up as cooks and soldiers and march through the streets.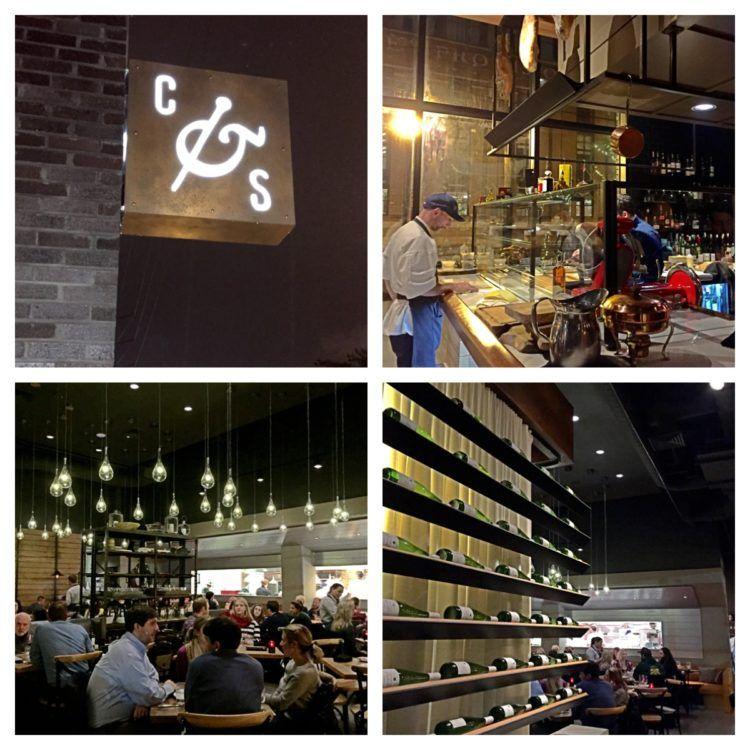 Adults have dinner in clubs consisting mostly of seafood and wine and children even get involved dressing as soldiers and marching around the city. The actual restaurant is located at the intersection of Howell Mill Road and 14th St adjacent to the new Elan West Side apartments. It has a simple classic contemporary design with a long bar, high top bar tables with booth style seating, a separate dining room as well as private dining areas. It was a cold and rainy winter Thursday night but the place was packed! We were not able to get a reservation so we grabbed two high top tables at the bar. There is full menu service with a server for the entire bar area.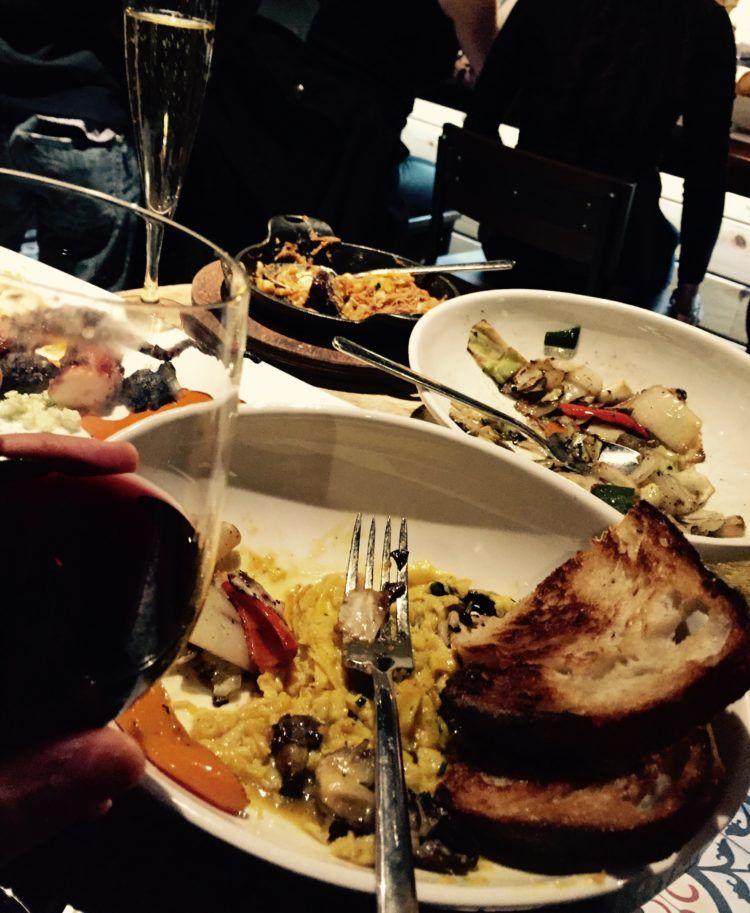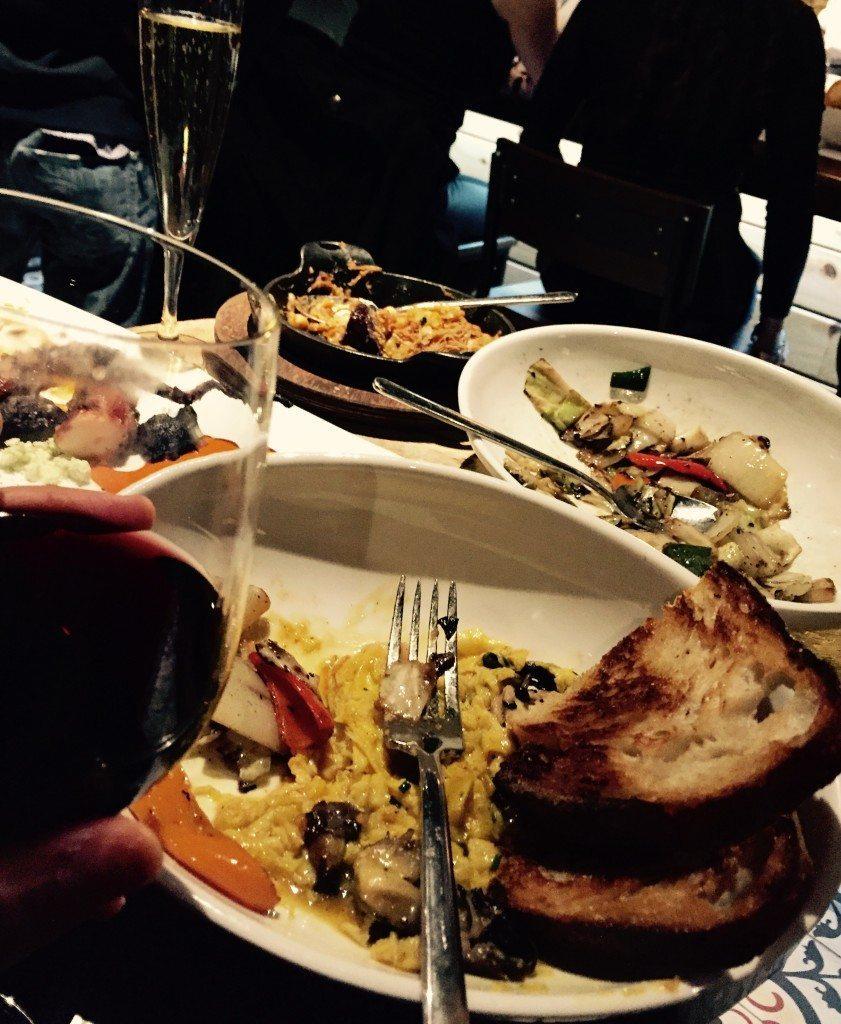 The Drinks: So I will admit we had a lot of questions as we read the drink menu. I was with a group of world travelers and fellow foodies so that should tell you this menu is very special. Lucky for us we had a very informative server who turns out is Christopher Dobson the beverage manager. I asked if they had Sangria. He said "No"! I look forward to drinking sangria when I visit Spanish restaurants. However, he did a great job of describing the Basque Specials "Especiales" listed including the cider-not the sweet apple cider you would normally imagine. This cider tasted like a flat white wine with a touch of beer. There are varieties of "Txakoli" which is a "slightly" sparkling dry white wine (my friend who drank it said she didn't notice any sparkles) and various cocktails with "Warm Soul" consisting of whiskey, house ginger beer, basil, and aged balsamic vinegar being a hit. The drink menu also offers several sparkling wines "Cava" (as you recall in my South African wine tasting post only sparkling wines from Champagne France can be called Champagne) as well as an extensive wine menu. I had a glass of one of their Tempranillo wines which is derived from a black grape variety in Spain. It was smooth, rich and delicious!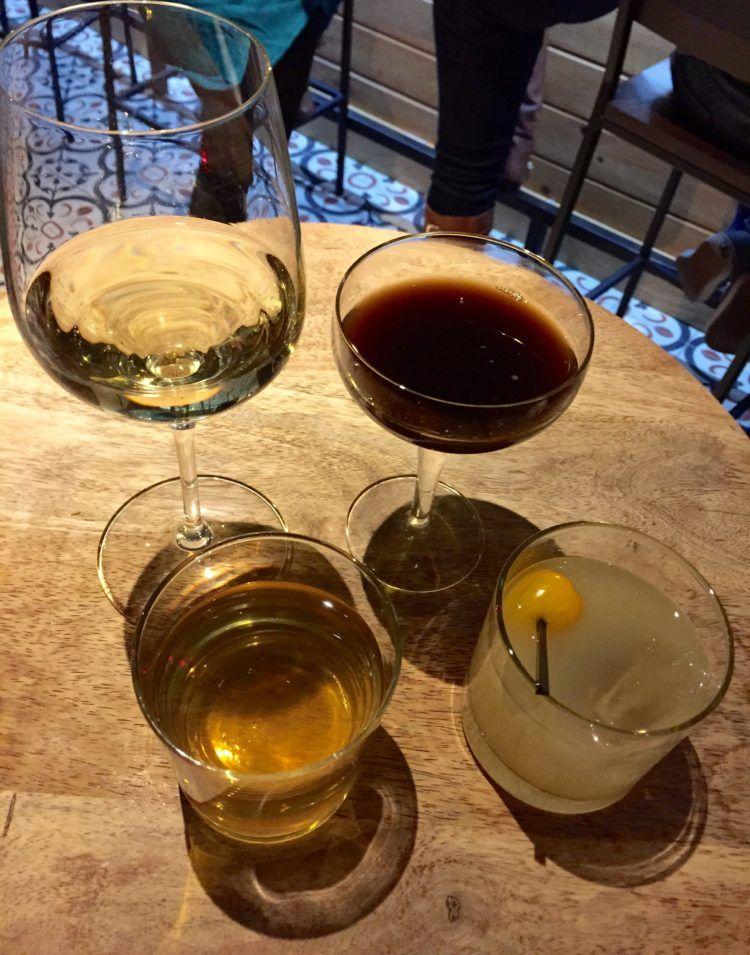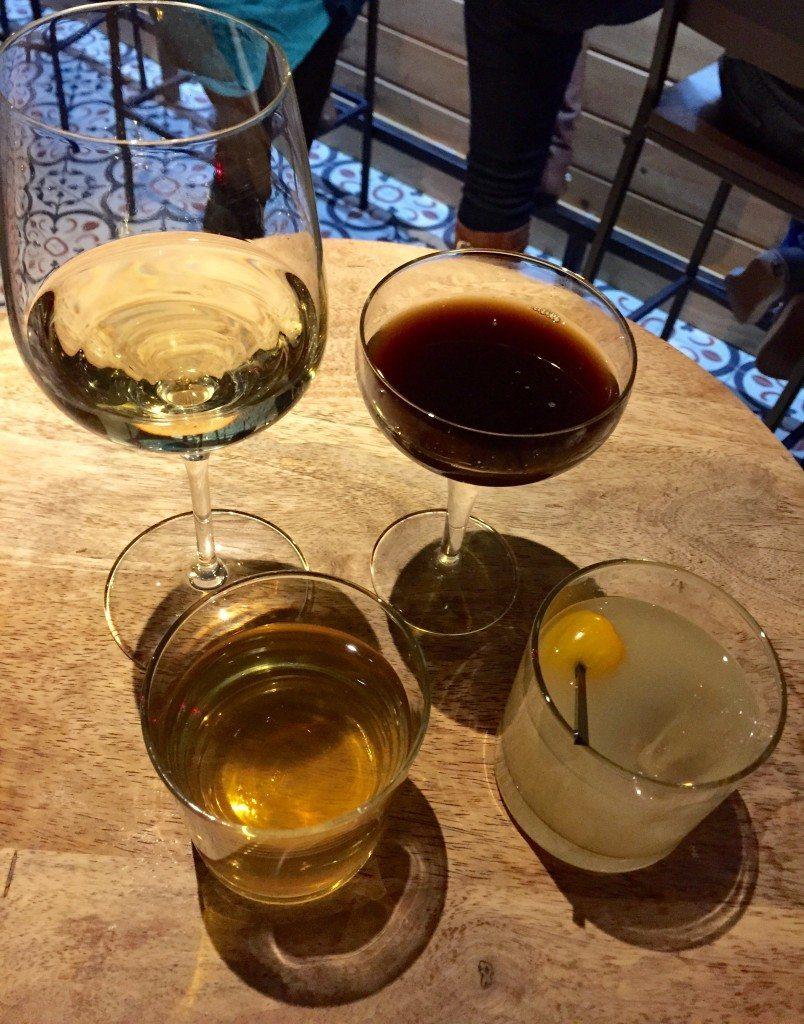 The Food: The questions continued as we perused Cooks & Soldier's food menu. It consisted of "Pintxos Tradicionales"-traditional small plates served atop toasted bread such as "Piperade" Basque pepper stew which consists of slow cooked yolk with Bayonne ham and guindilla-chili peppers. So this was not a "stew" as we know it but it was my favorite dish.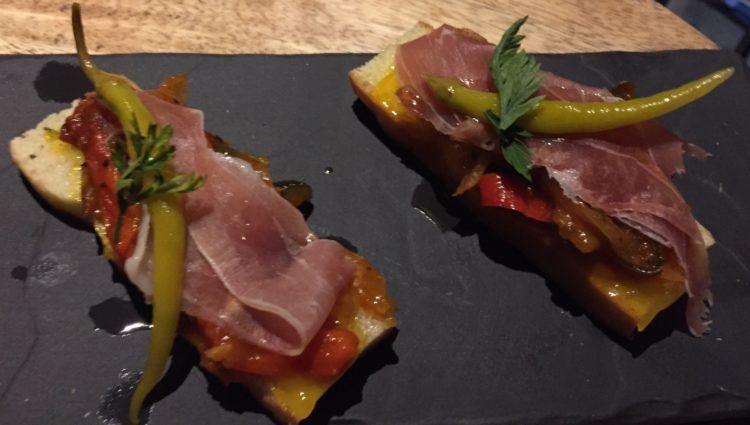 The "Pintxos Especiales" section of the menu had more to choose from and we decided to order a few to truly sample their cuisine. Our dishes included "Huevos Revueltos" of soft scrambled eggs with mushrooms and truffle served with toast. We actually sent the first one back because it was way too salty. I still wasn't fond of the second offering but my friend enjoyed it.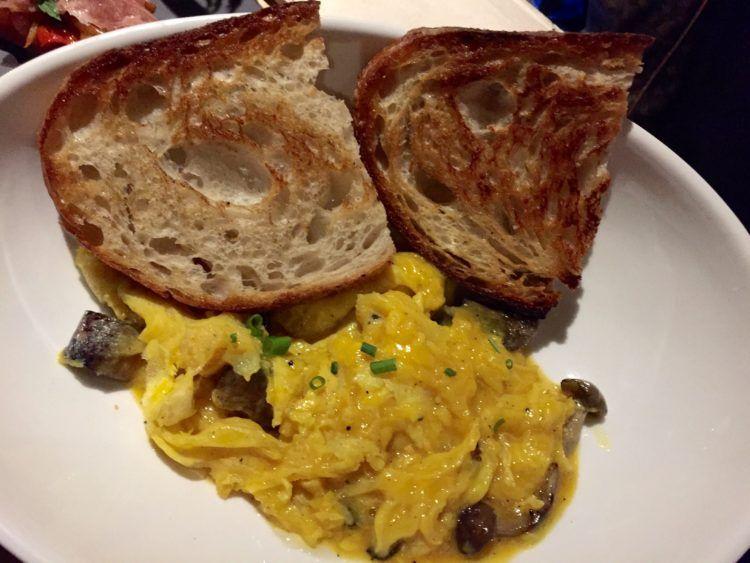 The "Sapelo Island Clams" with Basque cider, bacon, feta, apple and fennel were a big hit as well as the Veal cheeks with potato puree and roasted mushrooms. Although also a bit salty I enjoyed the "Cassoulet" which was a white bean stew (this one really was a stew) with sausage and duck confit. ( I am abbreviating some of the descriptions on the actual menu).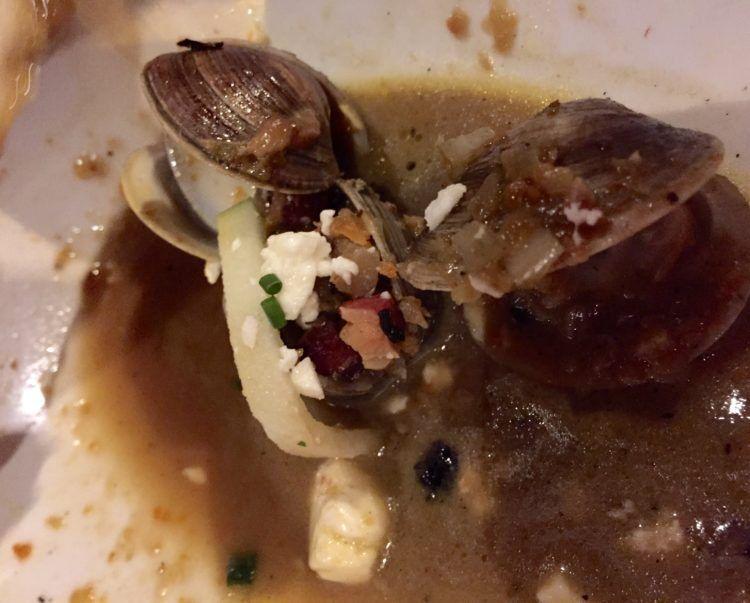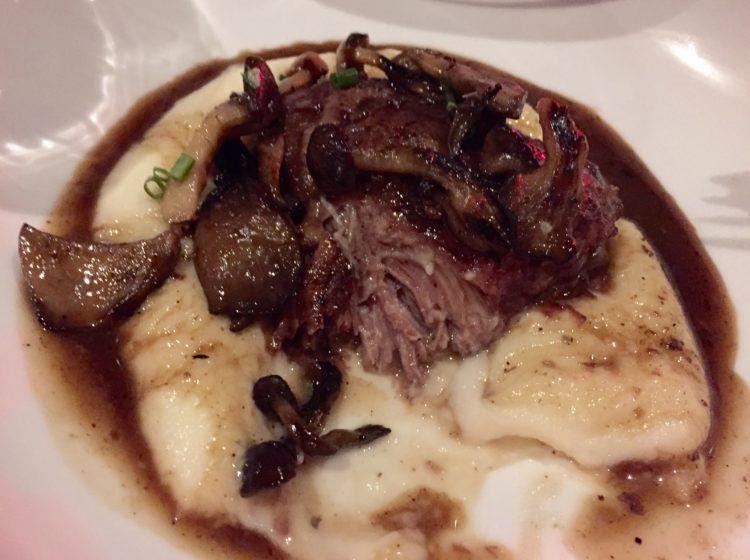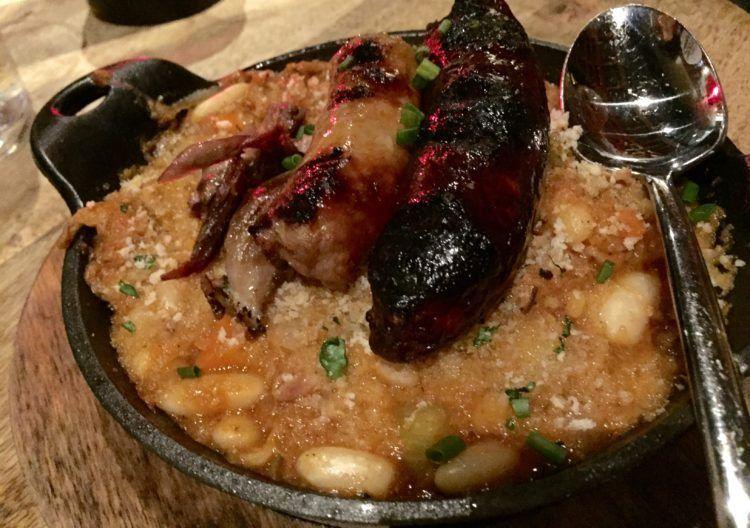 The "Pulpo"-grilled Spanish octopus with potatoes and piquillo emulsion was also tasty with the octopus cooked to perfection. We did not sample any of the "Asador" which are wood fire grilled meats and fishes or the "Postres"-desserts but we did enjoy a side of Charred Buttered Vegetables. I may have to go back for the "Fruity Pebbles" dessert described as cereal croquetas, goat's milk gelato and marshmallows.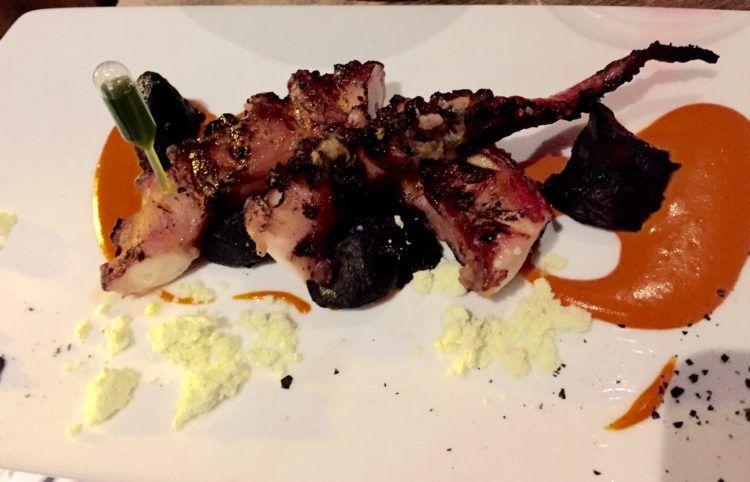 Overall Impression of Cooks & Soldiers: I appreciate the convenient location, the interior is simple, stylish and contemporary and the service was excellent. Not only was our server, the beverage manager, courteous and informative but the hostess gave us a food gift certificate to use in the future since they were unable to seat us in the main dining room. The prices are reasonable for this type of new specialty restaurant. However, the " Asador" section had meals ranging from $22 for prawns to $74 for a 1 kg bone-in rib eye! In terms of the food, we all agreed many of the dishes were too salty. Out of the 7 dishes we sampled I would say we all agreed on 4 being flavorful and well executed. These 4 were the clams, the "piperade" , the "pulpo" and the charred buttered vegetables.  The veel cheeks get honorable mention. While at the restaurant I couldn't help feeling as if the restaurateurs and chefs of Cooks & Soldiers were trying too hard with this menu and type of restaurant. I appreciate the uniqueness and bringing new cuisine to West Midtown and Atlanta but unless you have been to or are from Basque country I feel you will struggle a bit with the menu and dishes. If like me you are an adventurous eater willing to try something at least once and love International cuisine then definitely make a stop here. The good thing is I learned a lot of history about Basque culture and food while researching this post! (I love to learn) AND it is close to my house so I can make a return trip.
Yelp reviews give Cooks & Soldiers 4 ½ out of 5 stars based on 29 reviews. I find that to be a bit high and would give it 4/5 for reasons mentioned above.
Have you been to Cooks & Soldiers? For more information visit their website. If have you been to Cooks & Soldiers or Basque country share your thoughts with us!
N.S.W.