The Carnival Breeze cruise ship! I am delighted to have my cousin, who loves to cruise, share his experience on Carnival Breeze. He discusses the rooms, restaurants, drink options and excursions in Jamaica and Grand Cayman! This is a great addition to the cruise section of the website!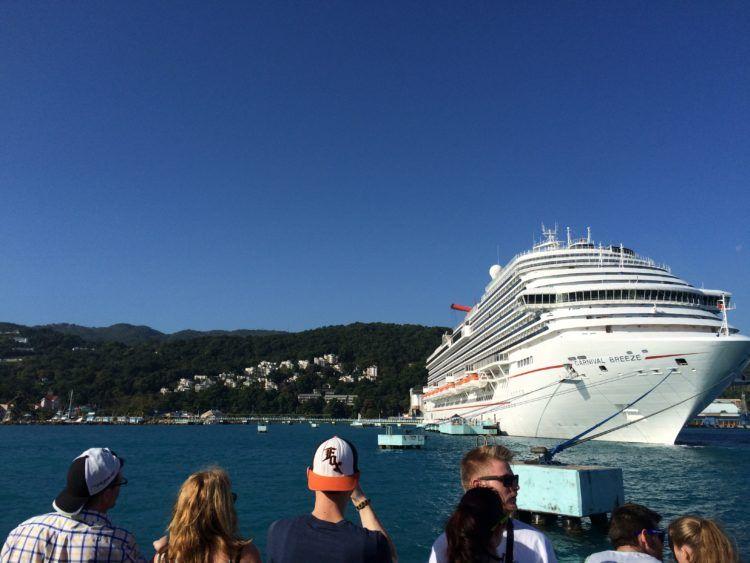 From Kurt (who cruised with his wife Kara)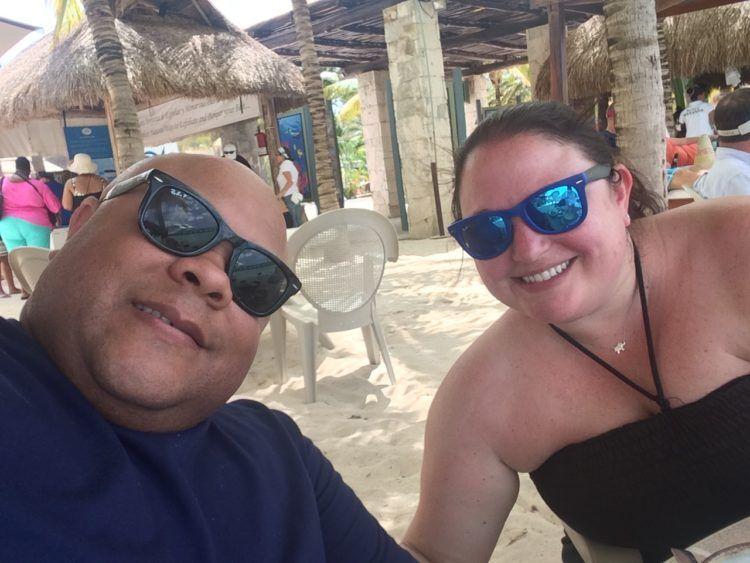 How long was your cruise, where did it cruise to and out of which port? We went on the Carnival Breeze for 6 nights out of Miami to the Western Caribbean.
What did you think of the cost? It was definitely affordable. Actually it was absolutely worth every penny. Our previous 2 cruises were around the same time on Royal Caribbean for 7 nights and we paid a 1/3 of the price for this Carnival Breeze cruise.
Which countries did you visit and for how long? This Western Caribbean cruise on Carnival Breeze went to Ocho Rios in Jamaica, the Cayman Islands, and Cozumel, Mexico.  We stayed roughly 8 hours in each port.
Did you go on any tours/excursions? We did 2 different excursions, one in Ocho Rios and one in the Cayman Islands.  We booked both through the Carnival Breeze cruise ship.  In Ocho Rios, we did the Dunns River Falls party cruise.  It was a blast!

Kurt and Kara at Dunns River Falls

In Grand Cayman, we did a submarine tour which was amazing!  It takes you down about 115 feet under water.  I think each was $99/person.  In Cozumel we had lunch at a restaurant at the Port called Pancho's Backyard Mexican Restaurant.  Good food and Great view!!!

Which port or excursion was your favorite? I might come off as bias since I am Jamaican, but I loved Ocho Rios and going to Dunns River Falls.

Climbers at Dunns River Falls in Jamaica.

It had been years since I visited Dunns River!  It is definitely a must see…

Give a basic description of the ship. The Carnival Breeze cruise ship is fairly big.  What I loved were some of the food options that were included like Guy Fieri's Burgers, Blue Iguana Mexican Restaurant, & the Hot Dog stand.  The comedians we had on the cruise were amazing and the place we hung out at the most was the Piano bar.

Kurt and Kara hanging out on Carnival Breeze

We had a balcony room and were very impressed with how big it felt compared to our balconies on Oasis and Allure.   The only downfall for us were the amount of spring breakers since it was March (now I know we're old…).  I will say we did the drink package for the all-inclusive drinks which actually limits you to 15 drinks per day.  What I didn't like is that it gives you less options than the drink package on Royal Caribbean so next time we will likely pass on their drink package.  We did eat at two of the specialty restaurants on Carnival Breeze, a Steakhouse & an Italian Restaurant, and they were both worth it.

How does it compare to other cruise ships you have sailed on? Carnival Breeze is definitely different from the Allure and Oasis ships of Royal Caribbean. Royal Caribbean ships are more elegant but what we liked about Carnival is we had more fun!  If you're looking for a more romantic & relaxing cruise, I would suggest Royal Caribbean. However, if you are looking for a fun cruise for a large group of people then Carnival Breeze is for you.  The Carnival cruise line is known to have passengers of a younger age.
Thank you Kurt for sharing this valuable review with us! Although I have cruised many times on Norwegian, Royal Caribbean and Princess cruise lines I have not cruised on Carnival line-yet! If you are planning a cruise be sure to read the "Cruise Tips & Tricks" article to get the most out of your experience! Have you cruised on Carnival or Carnival Breeze? If so share your thoughts with us!
For more information on Carnival cruise line and Carnival Breeze please visit their website.
N.S.W.