I recently had the pleasure of vacationing at the luxurious and historic beachfront property Hotel Del Coronado. It is located in San Diego on Coronado Island. (Although I received a complimentary stay at Hotel Del Coronado, all opinions in this post are my own).
This had been a bucket list item of mine for 17 years! I visited Hotel Del Coronado in 2000 while on my first trip to California. It was love at first sight. Once I toured this beautiful beachfront resort, I was even more intrigued. In this post I will share with you 7 reasons why Hotel Del Coronado should be your next vacation destination.
1. The History of Hotel Del Coronado
"The Del" was built in the late 1800s and is the second largest wooden structure in the United States. Since opening in 1888, it has hosted dignitaries, presidents, royalty and celebrities. Several movies have been filmed there, including the classic "Some Like It Hot" starring Marilyn Monroe, Jack Lemmon and Tony Curtis. If you are a fan of the Wizard of Oz you will be interested to know that author L.Frank Baum wrote several of his books at Hotel Del Coronado. Some have even said that Emerald City was based on the look of Hotel Del Coronado. In 1927 there was a banquet for Charles Lindbergh in the "Crown Room" of the hotel to celebrate his trans-Atlantic flight. There are walls of pictures of these events at Hotel Del Coronado which gives it a rich historic feel.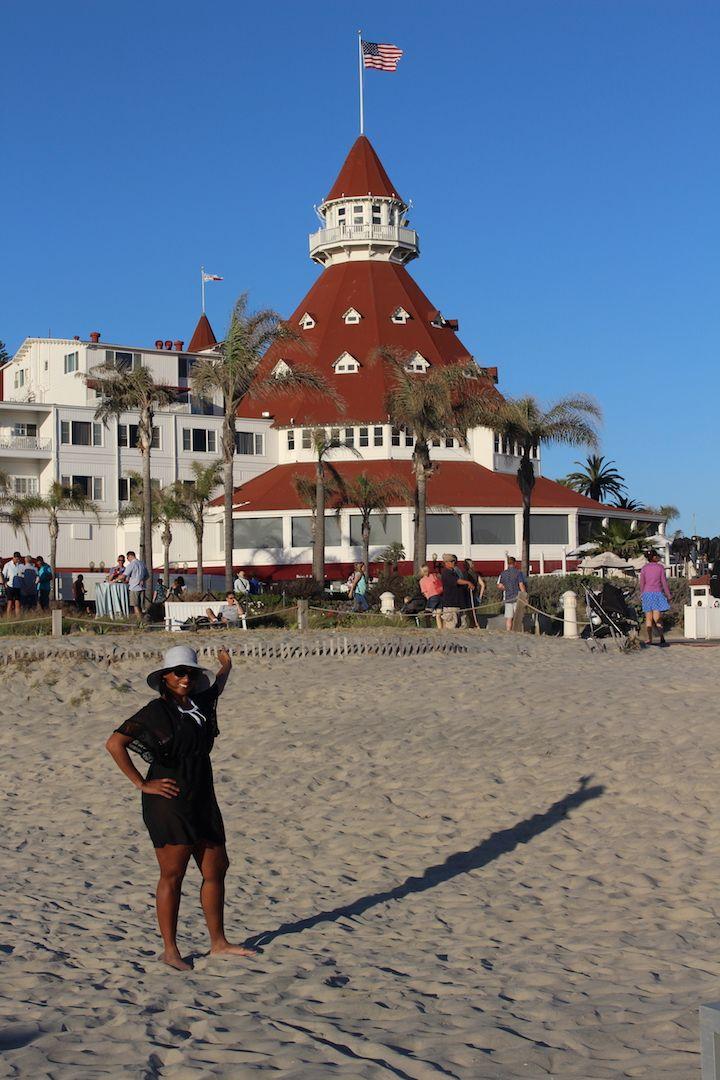 2. The Accommodations
Our luxurious stay at Hotel Del Coronado began when we pulled up to the hotel and were greeted by the valet. We had the privilege of being checked in by guest services curbside on arrival. After a brief tour of the hotel, we were escorted to our oceanfront suite. Our bags were brought to our room by the bellman which was helpful.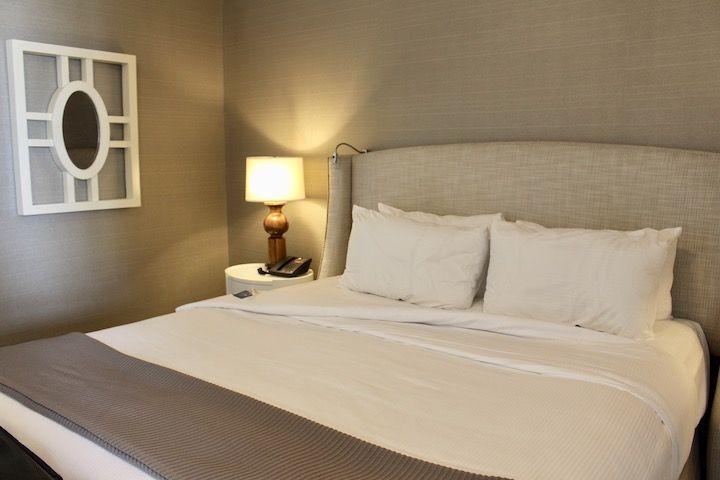 As soon as I walked in I noticed the beautiful views! The suite itself was very spacious with a king size bed, a living room area and an office area. Simple things like a note with a shell on the bed welcoming us to the hotel, was a nice touch. There were not 1 but 2 televisions in the suite! The TVs had my name on the screen with information available about the hotel. Although the bathroom was smaller than most modern hotels, the bath products were luxurious and the linens plentiful.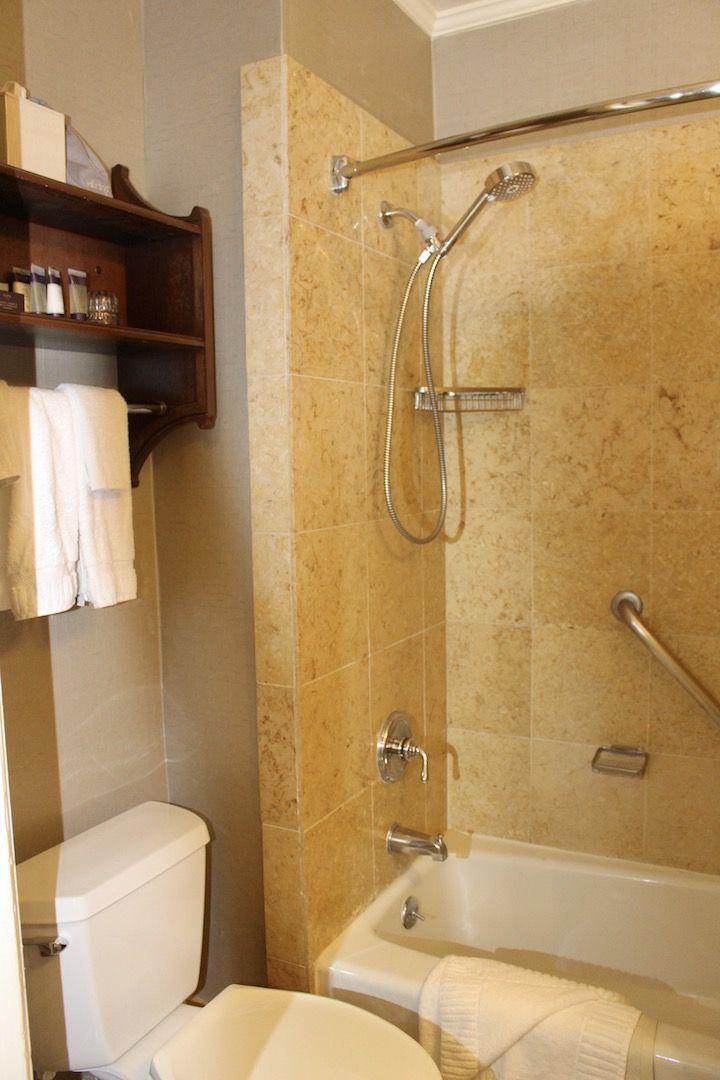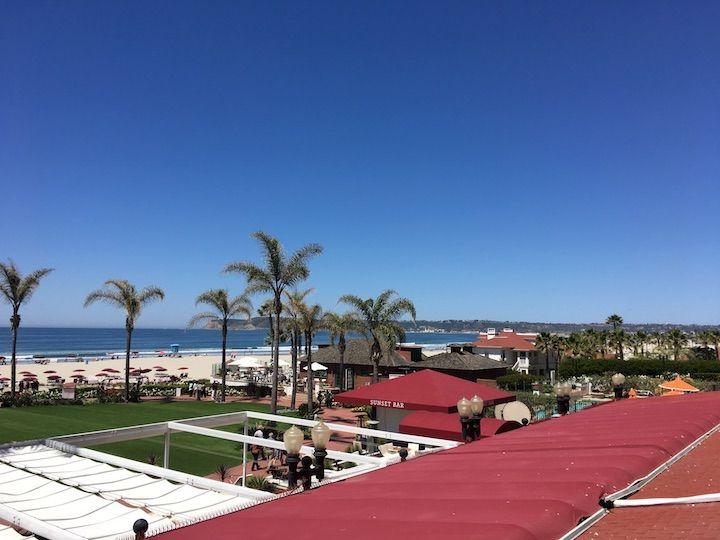 The patio had comfortable chairs for taking in the views and activities on the resort. There was complimentary water, coffee and tea in the room. The room also came equipped with a refrigerator and ice available down the hallway. I may have enjoyed this suite even more once I was told it was once frequented by THE actress Audrey Hepburn.
3. The Service
The service at Hotel Del Coronado was impeccable. I mentioned above about the convenient valet and guest services at check in. Everyone called us by our names from arrival to departure. This was true even in the restaurants. The Del utilizes texting to communicate with their guests. Such a genius idea! I received daily texts about resorts activities. I was also able to text housekeeping to request linens and room servicing. The staff at The Del was friendly and informative. Here is a great example of how important good service is to this hotel. While having lunch on our daybed on the beach, there was delay in an order of drinks. When they finally arrived we were told they were being comped. Very nice!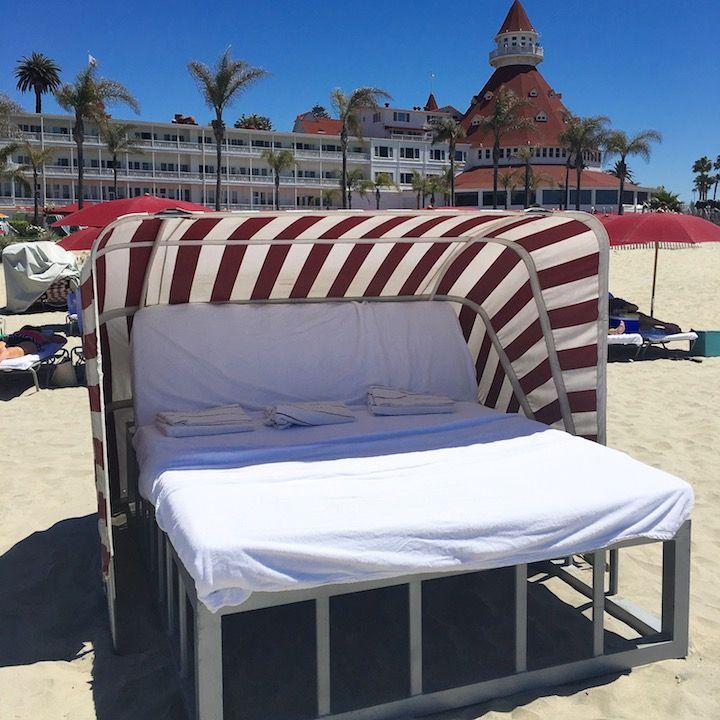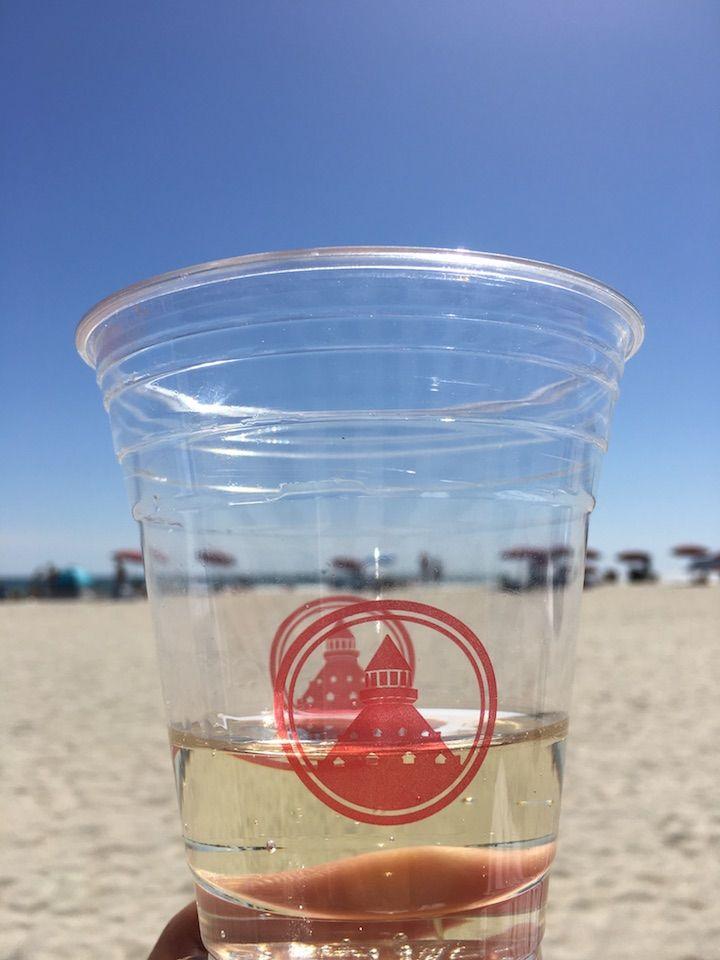 4. Hotel Del Coronado Restaurants
Eno Pizza & Wine Bar
There are multiple drink and dining choices at Hotel Del Coronado. Whether you are looking for something casual, a quick snack, cocktails at sunset or a romantic dinner setting, you will find it here. One of the best things about this resort is that the majority of bars and restaurants have an ocean view! On our first night we tried their pizza & wine bar-Eno. Specialty wood fired pizzas were served tableside next to fire pits. It was very romantic and the pizza and wine were delicious.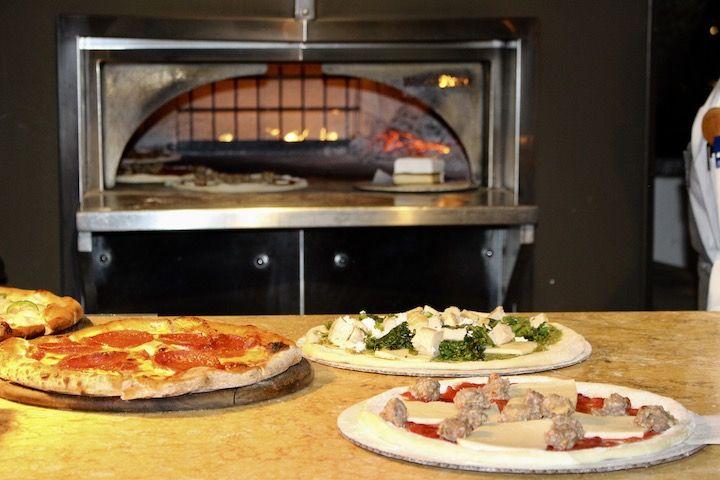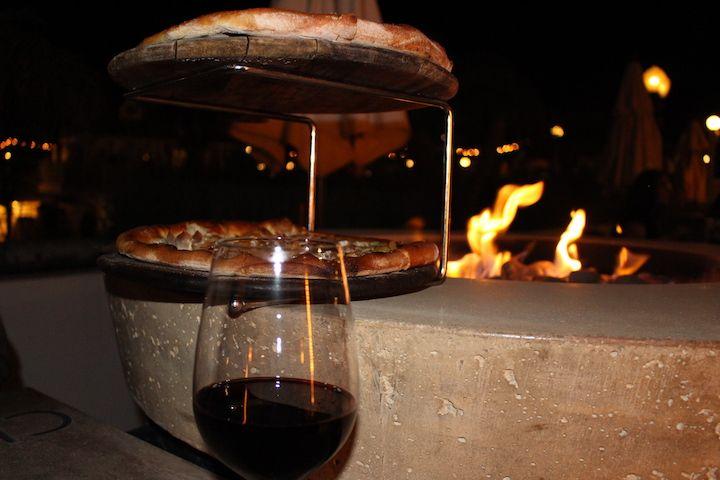 Sheerwater
On our second night we visited their beachfront restaurant Sheerwater. Luckily we arrived in time to catch a remarkable sunset! Sheerwater is known for serving local seafood so I tried the halibut which was cooked to perfection. My husband enjoyed the short ribs with a decadent dish of macaroni and cheese. We also had complimentary crab cakes for an appetizer.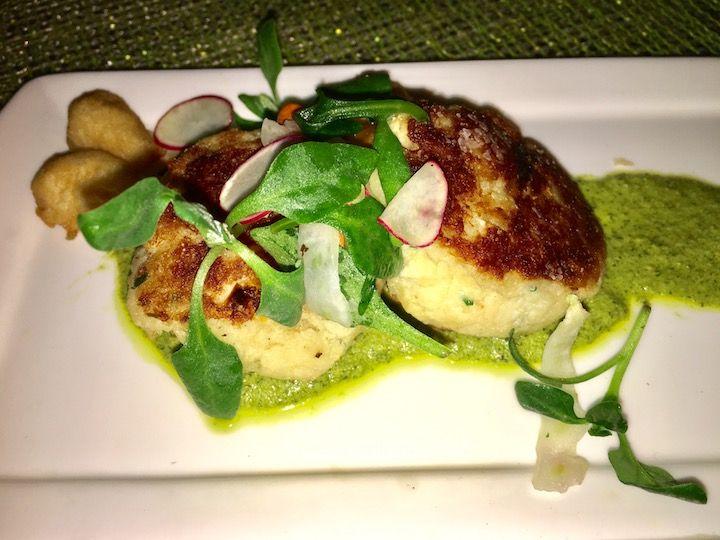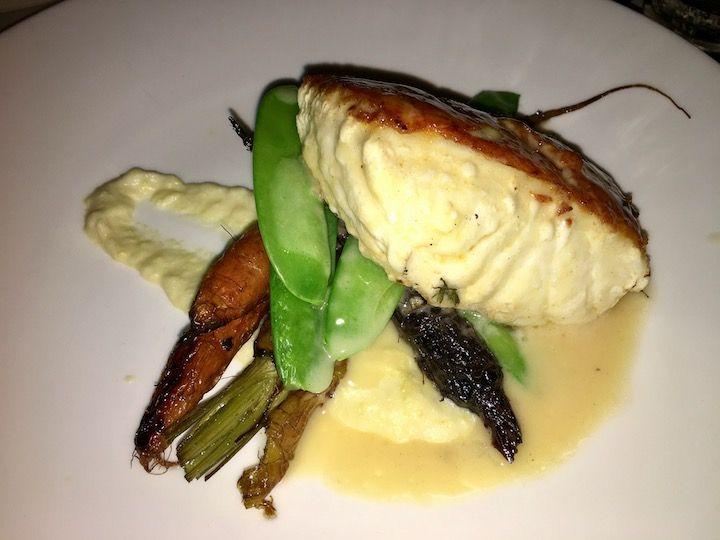 MooTime Creamery
During our stay I made regular stops to the ice cream parlor called MooTime Creamery. It is a 1950s-style ice cream parlor that serves sundaes, ice cream cones, sherbet and yogurt. Specials include the s'mores sundae. I personally enjoyed the coconut ice cream served in a waffle cone. Creamy, delicious goodness!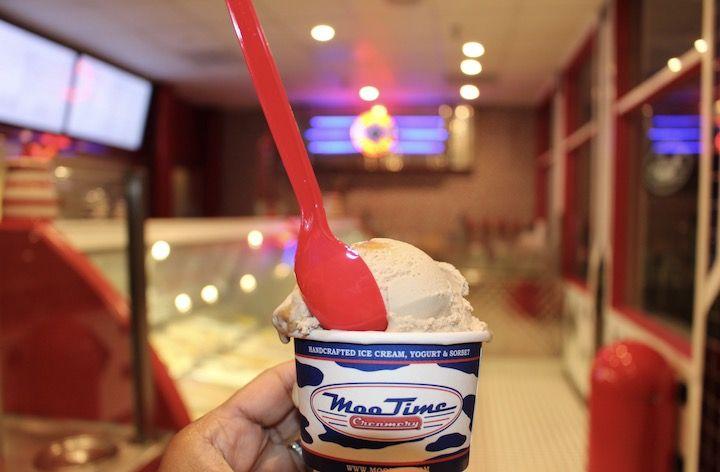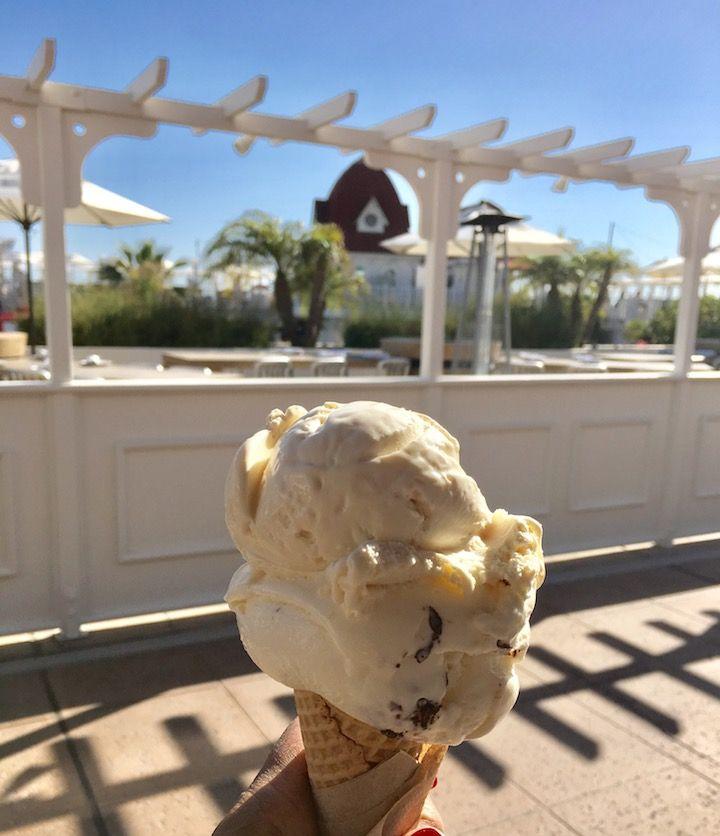 The Crown Room
Sunday Brunch in the Crown Room. Honestly, this really deserves its own blog post! The Crown Room brunch is known as one of the best brunches in the world! I now know why. From the moment you walk in you will be in awe of the grandeur and architecture of this wooden room with 4 bejeweled crowns going down the center. Author L.Frank Baum designed the crown chandeliers. As for the food, there are stations set up all around the room with everything your mind can imagine. There are omelet and breakfast stations, meat carving stations, seafood and soup stations and dessert stations. There is a bar with unlimited mimosas, glasses of champagne and Rose wine and Bloody Mary's topped with bacon. There is even a sushi station and a poke station. And of course I had to try the "design your own donut" station. I highly suggest making plans to stay for a few hours to truly enjoy this legendary brunch.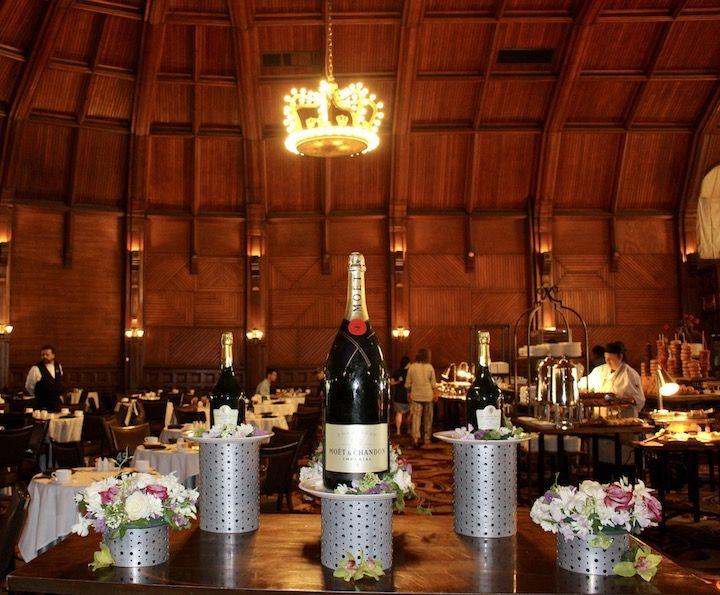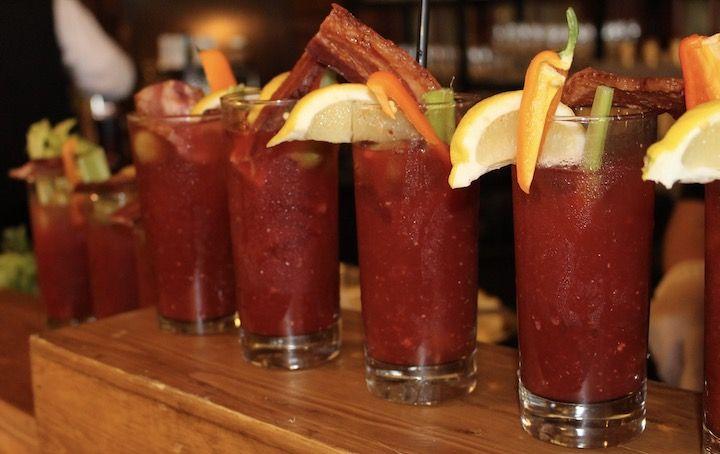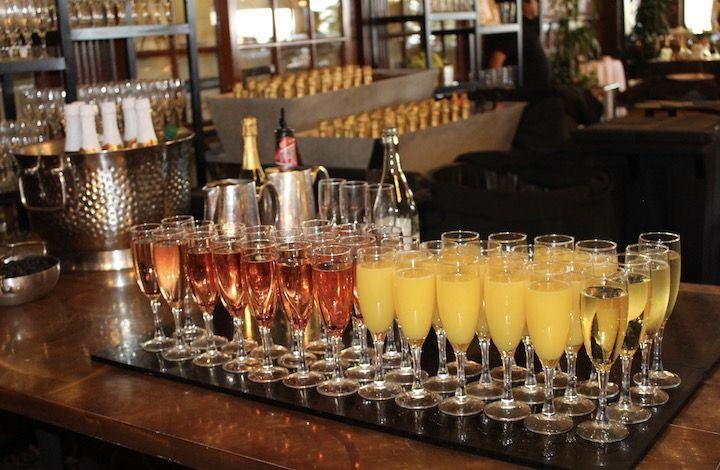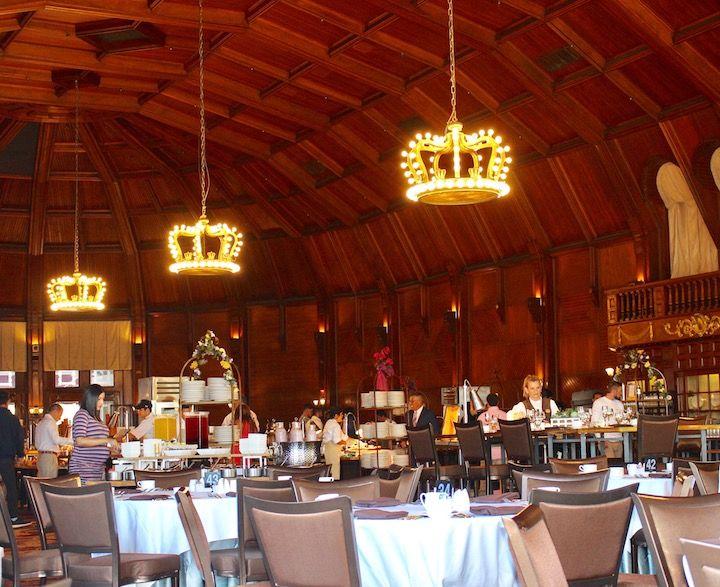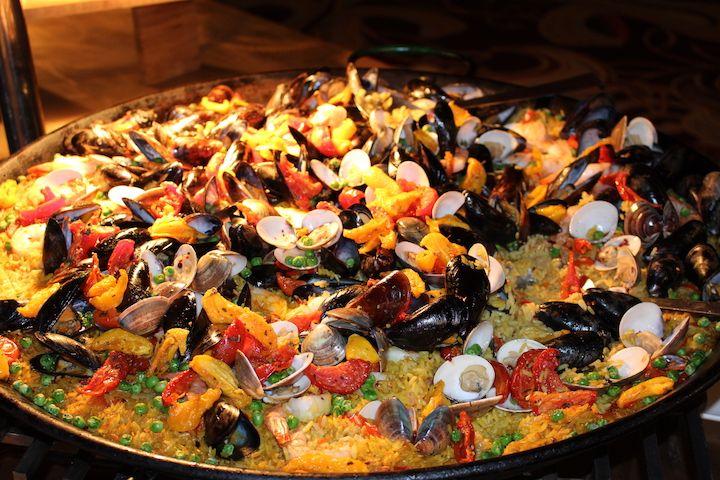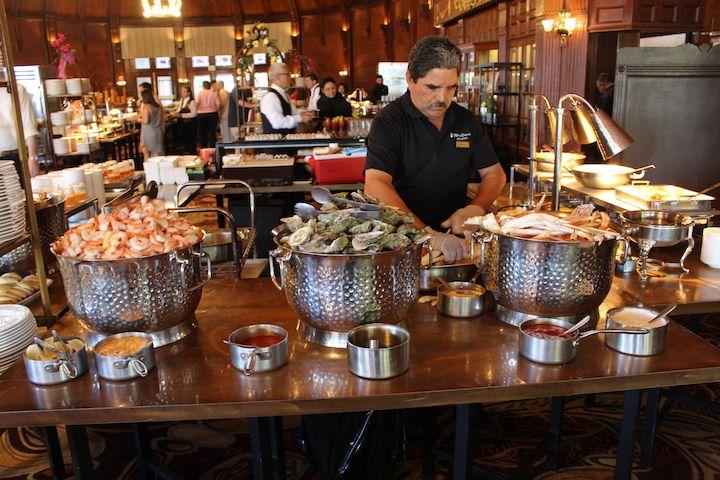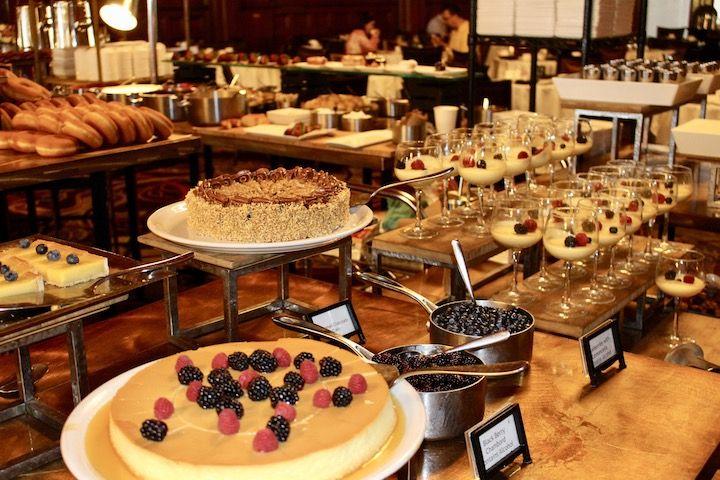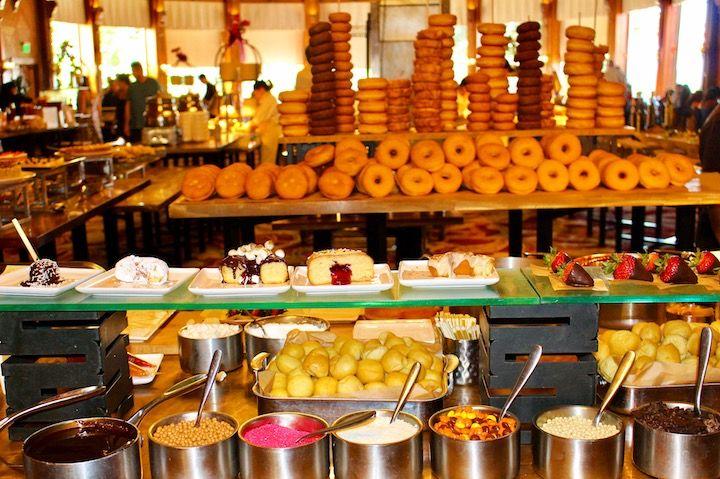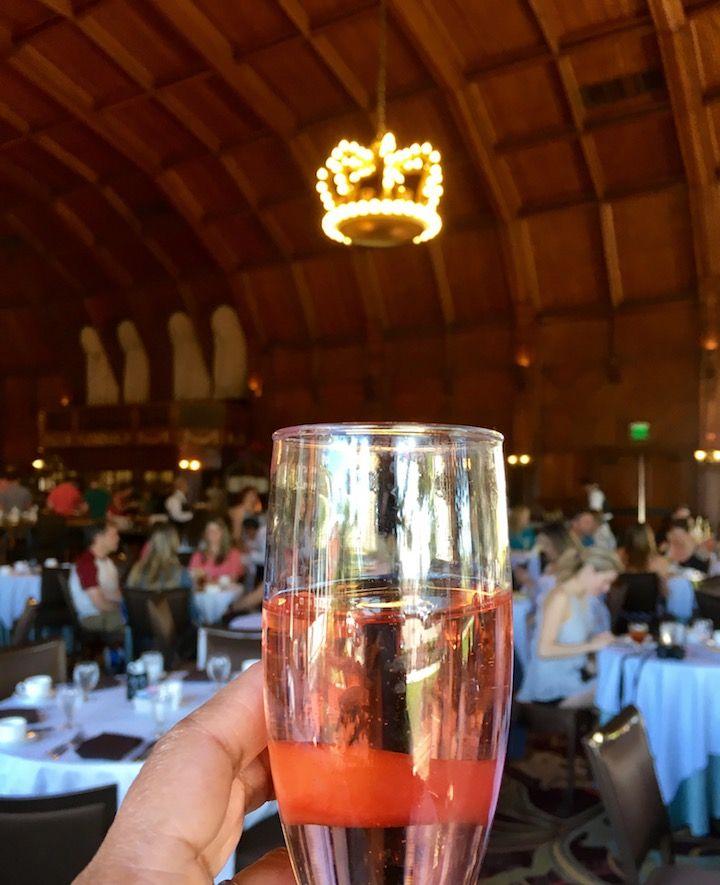 5. The Activities at Hotel Del Coronado
Trust me when I tell you that you will not get bored at Hotel Del Coronado! There are different types of activities at the resort throughout the day. We went bike riding from the resort around Coronado Island, enjoyed our first beach spinning class then relaxed on a daybed. Other beach activities include beach yoga and bonfires!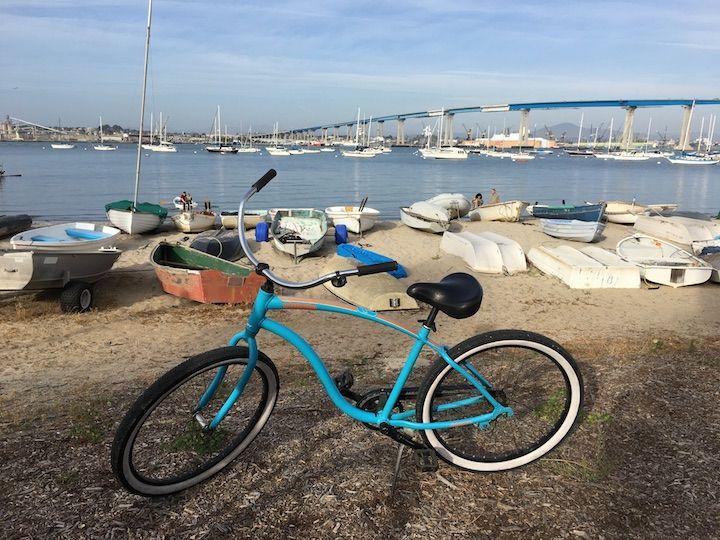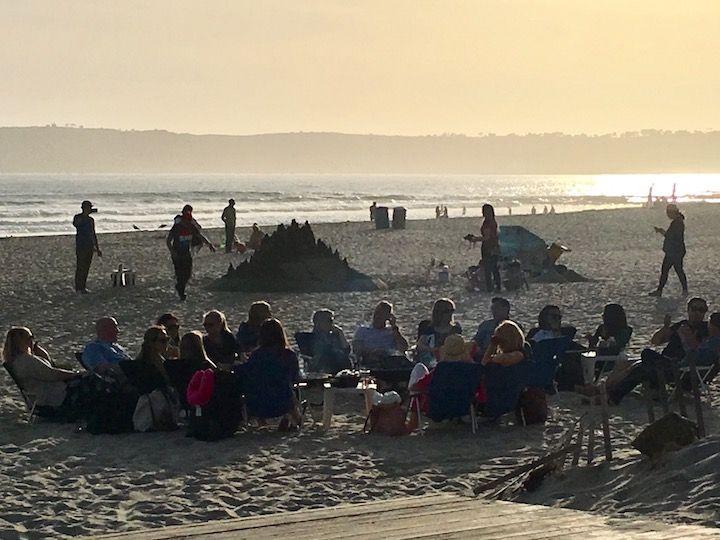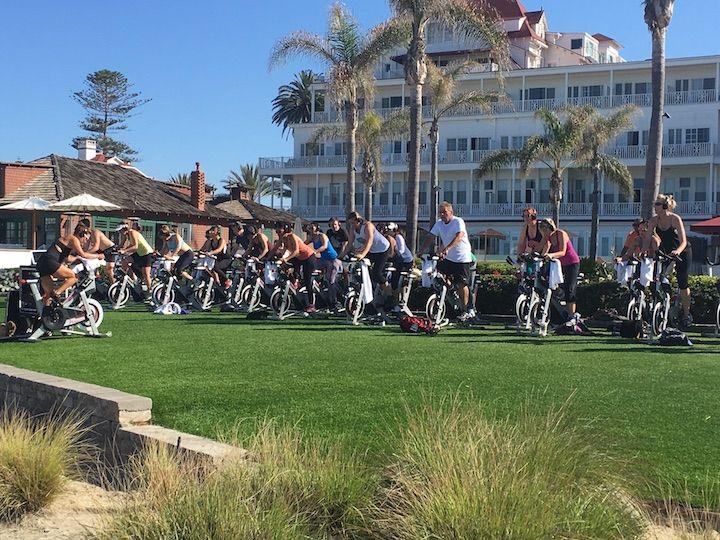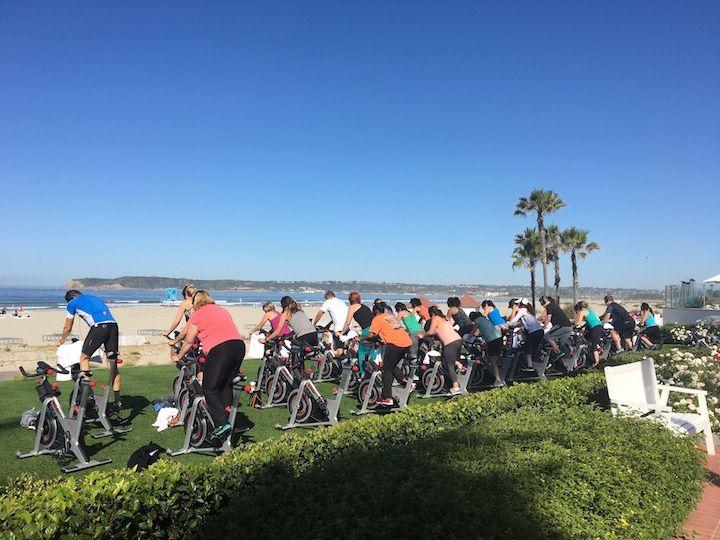 You can shop till you drop at The Del shops. Definitely check out the 1888 vintage shop. Relax in the spa or exercise at the fitness center. Although I spent most of my time on the beach, The Del has several swimming pools with cabanas. Try out the "mermaid fitness" class while you are there. Hotel Del Coronado hosts conferences, proms and nighttime events. You can also enjoy live music in the Babcock & Story Bar. The Del is also very kid and pet friendly! There is even a store for dogs and a doggy happy hour.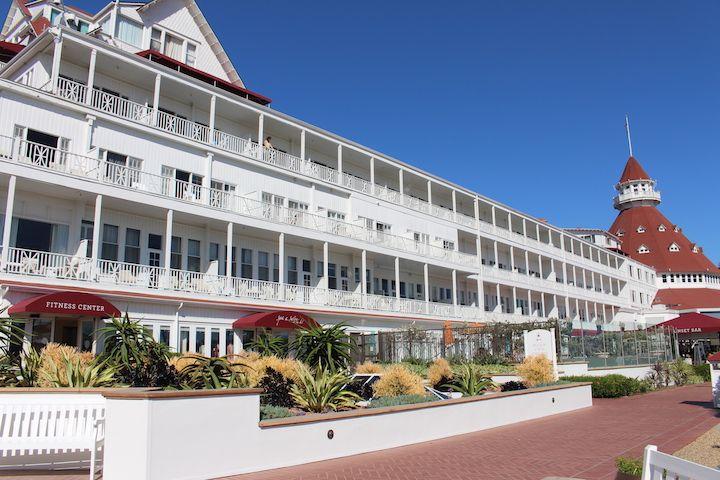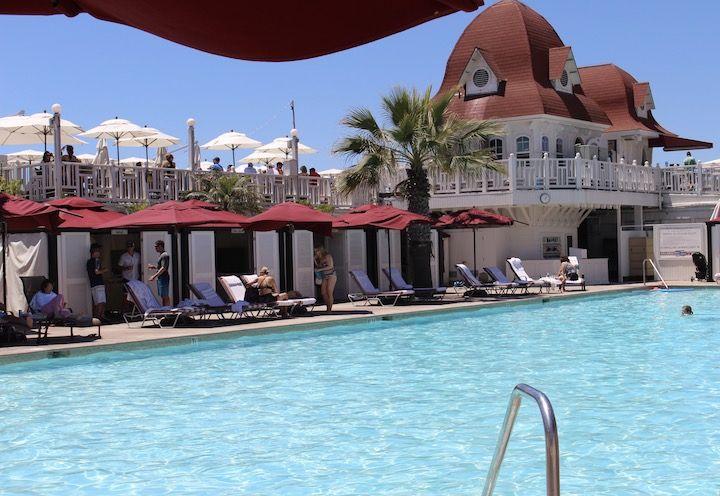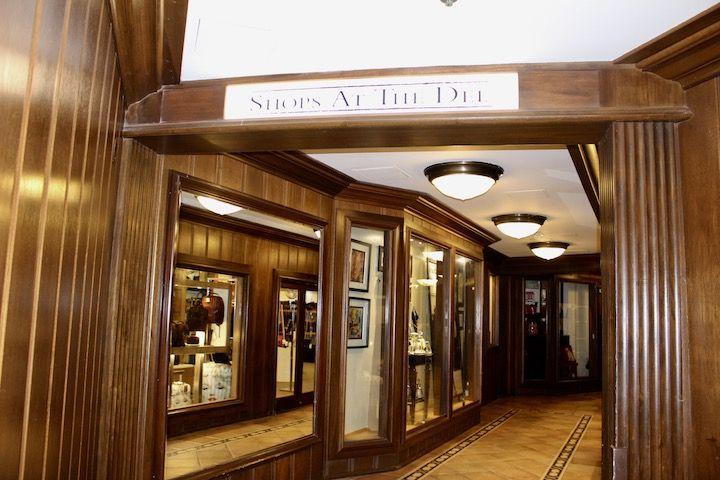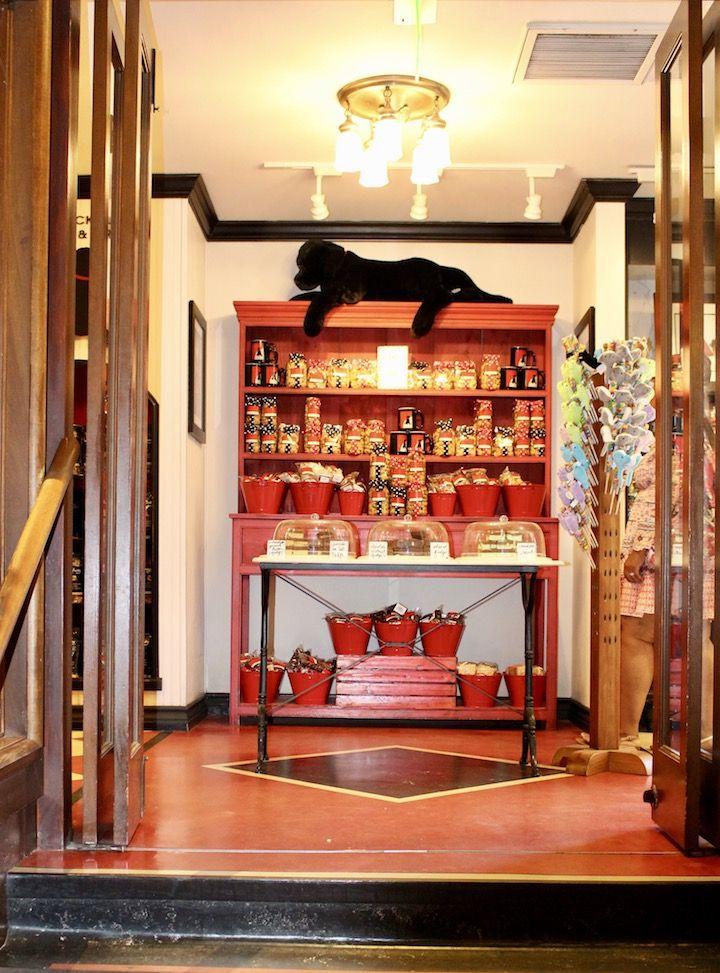 6. The Sunsets on Coronado Island
This may not seem like a big enough reason to visit Hotel Coronado for some people, but if you do love sunsets, take a look at these! We only had a weekend visit to The Del but we enjoyed the sunsets both nights from our room patio and during oceanfront dining.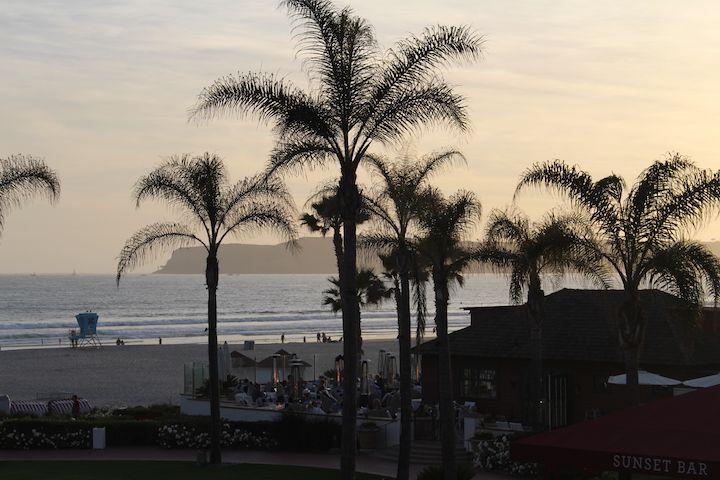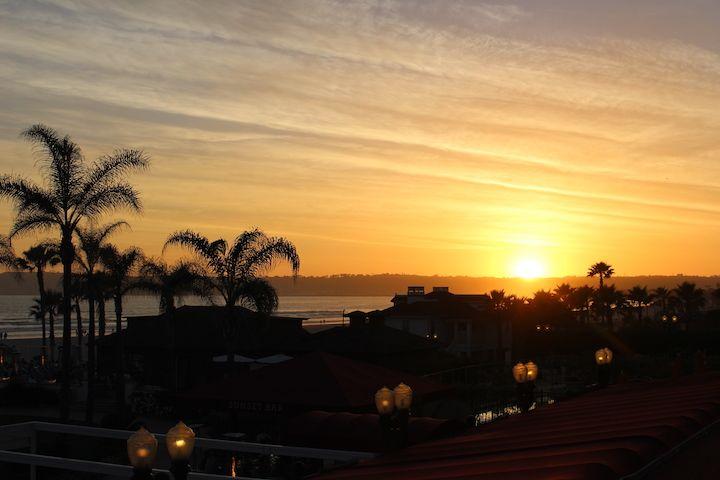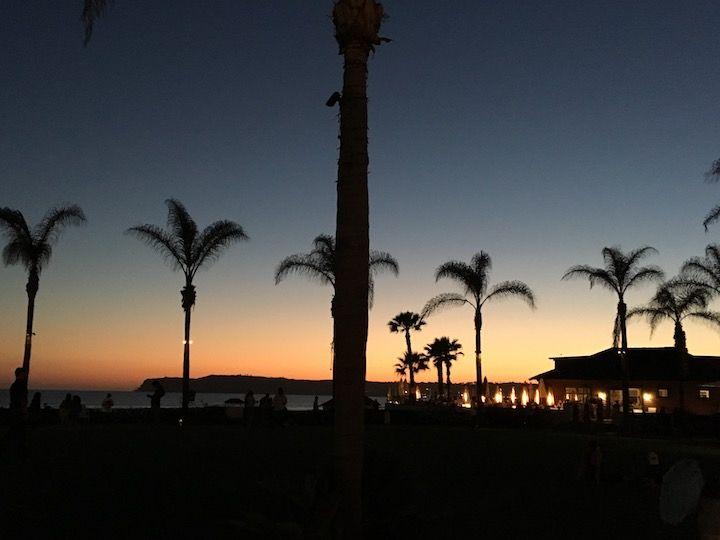 7. The Location of Hotel Del Coronado
Hotel Del Coronado is located just across the bay from downtown San Diego. I spent the first few days of our trip sightseeing in San Diego and then the weekend relaxing at The Del. It was the perfect combination. We decided to spend all of our time at the resort, but Coronado Island is a very quaint place with lots of shops and restaurants to explore.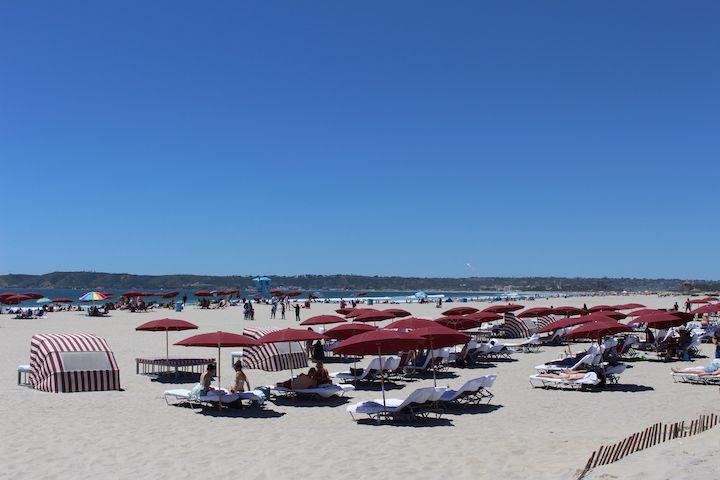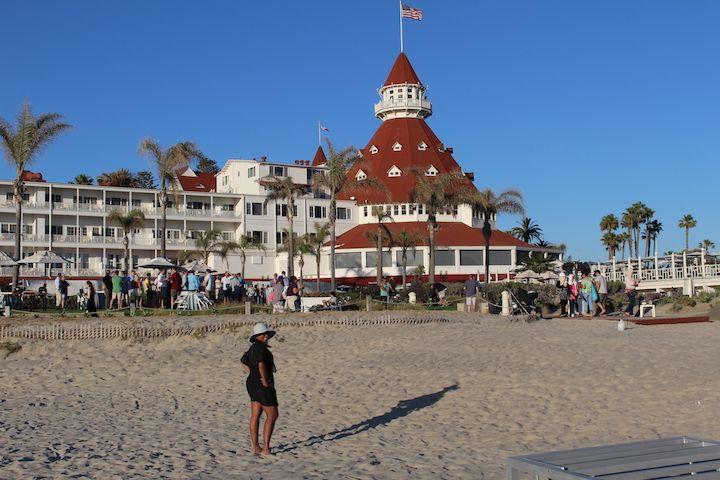 So, what do you think? Are these 7 reasons enough for you to plan a vacation to Hotel Del Coronado? Be sure to visit their website for more information! It is perfect for solo travelers, couples or for families. Have you been there? If so share your thoughts with us below.
This was an amazing and luxurious vacation so I would like to thank Hotel Del Coronado for sponsoring this trip and for their hospitality! I hope to return soon to create more "Del Memories"
Enjoy this slideshow of my favorite Del Memories!