This post contains affiliate links. However, all opinions expressed here are original. If you click through on a link, you won't pay a penny more, but we'll receive a slight commission which helps us keep this information available to you. Thanks!
Since February is the month of love, I have decided to share details of our epic 7 day Paris itinerary. Last fall my husband and I celebrated our 2 year anniversary. The year prior we visited Myrtle Beach for our anniversary. Although it was relaxing, which is what we needed at the time, this year I decided to plan something extra special.
I visited Paris for the first time years ago with my Mother. It was as enchanting as I imagined it would be. I was hoping that I felt the same way on my return visit. This was my husband's first trip to Paris and I hoped he would love it as much as I did. I have written about the benefits of traveling with my husband. Well, two things he has taught me since I wrote that article is the art of compromise and "slow travel". In the past, I would pack as much sightseeing and activities in as possible during a vacation. I want to see all the things I have read about and heard about. My husband on the other hand enjoys relaxing, taking in his surroundings and spending time with locals.
While planning our trip to Paris, I took both our travel styles into consideration. I think this 7 day Paris itinerary will work for most couples looking for an epic and romantic vacation. If you want to start from scratch, though, I highly recommend the Lonely Planet City Guides to help you get started!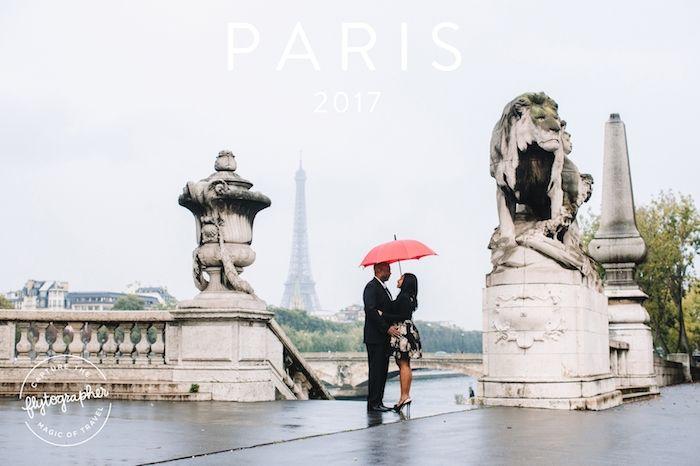 One of the first things you should do when planning any itinerary is to ask your travel partner what their interests are in that destination. Since I had been there before, my husband trusted me with most of our 7 day Paris itinerary. I did email him articles on the top things to do in Paris, including my own. I knew that the Louvre museum, Notre Dame and the Eiffel Tower were high on his list. Since we were spending 7 days in Paris, we had time to fit in a few Paris day trips. Picking which ones wasn't difficult based on our love of food and wine. The key was having a mixture of active days and restful days. One of my other ideas was having a professional photo shoot for our anniversary. We had not been professionally photographed since our wedding. He was really thrilled about this idea-NOT lol
Top tip: Get the best prices on Paris food, tours, and hotels through Viator! Use this link to get a discount.
Day #1:
On the 1st day of our 7 day Paris itinerary, we headed out for the Black Paris Tour. This is an all-day walking tour exploring the contributions of Black people in Paris. I wrote about our tour previously on the blog. This is one of several tours of its kind in Paris. After a long day of touring, we were happy to find a cozy restaurant near our hotel. Chez Barbara in the 8th arrondissement is owned by a French lady who was in the restaurant serving us on all 3 visits. Yes we ate here 3 times. We particularly enjoyed the Croque Madame and French fries. Since we were staying just a few blocks from the Arc de Triomphe and the Champs-Elysees, we spent some time strolling around the "City of Light" and doing some shopping.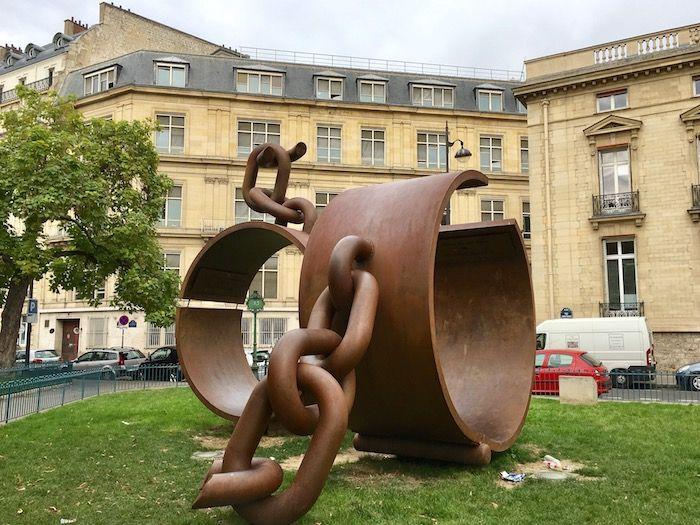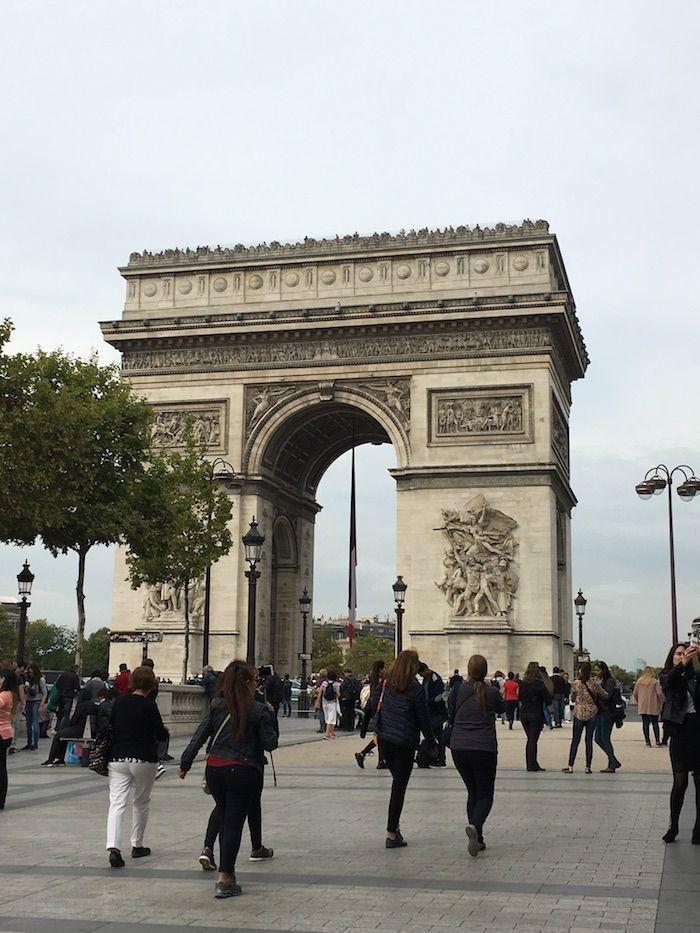 Day #2:
On the 2nd day of our 7 day Paris itinerary we started out with our photo shoot. It was our anniversary so I thought we should do something memorable. After being introduced to Flytographer by friends and fellow bloggers, we decided to use their services. For those of you not familiar with Flytographer, the company uses local professional photographers to take unforgettable photos in iconic places.  Since we were in Paris, we definitely wanted views of the Eiffel Tower. Our photographer Olga recommended the Pont Alexandre III Bridge. We met early in the morning to avoid the typical crowds on this gorgeous bridge. Although we were both initially nervous, we ended up enjoying the experience. In just 30 minutes Olga captured some beautiful images.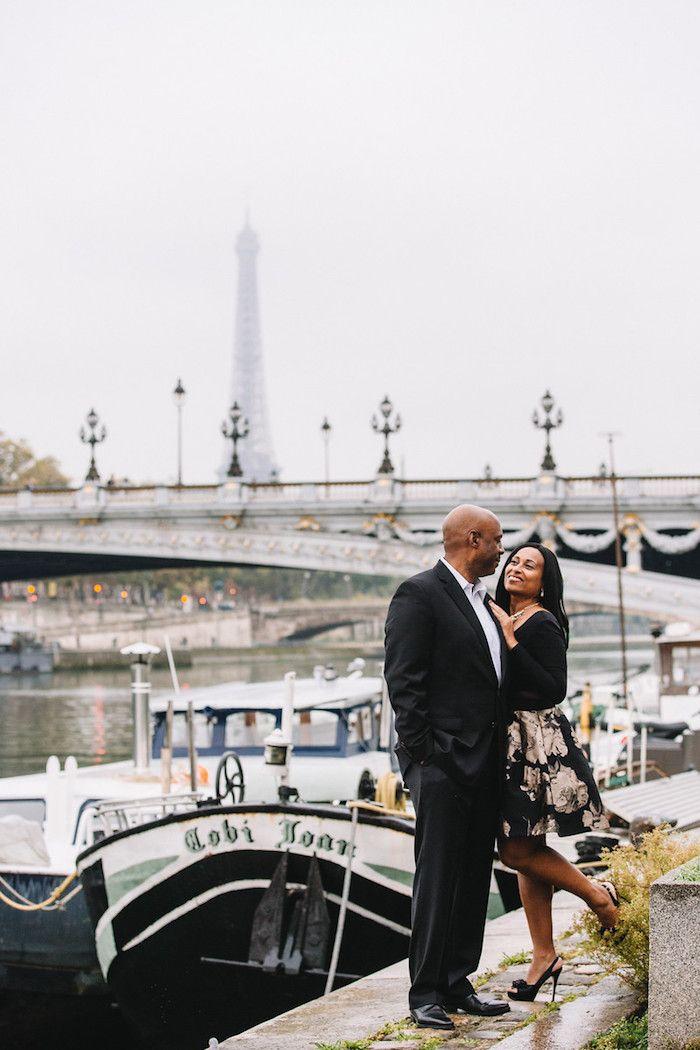 After our photo shoot, we walked over to "La Creperie" for breakfast. Their window has a quote from Beyonce "This is the best crepe I ever had". Well, if it was good enough for Beyonce it was good enough for us. The crepes and waffles and cappuccino were delicious. Look out for a full blog post later this month on all the foods we ate in Paris. After a nap in our hotel, we headed out to the Eiffel Tower. Prior to leaving for Paris, I tried purchasing tickets online to the top of the Eiffel Tower. They were sold out! In order to get to the 2nd level of the Eiffel Tower, I had to purchase tickets with "Get Your Guide". Once in the Eiffel Tower, there was still a chance we could get to the top from the 2nd level. Unfortunately, tickets at the tower were also sold out. This is part of my dilemma when not planning too many things ahead of time. If you know this is an activity you would like to do, purchase tickets in advance. We still enjoyed our visit and took in marvelous views of Paris.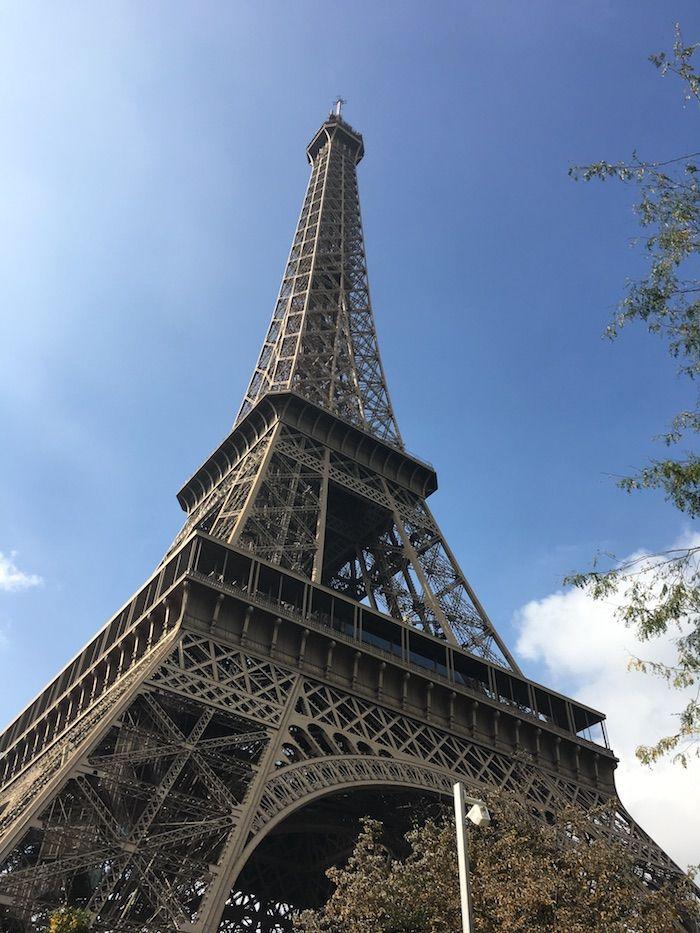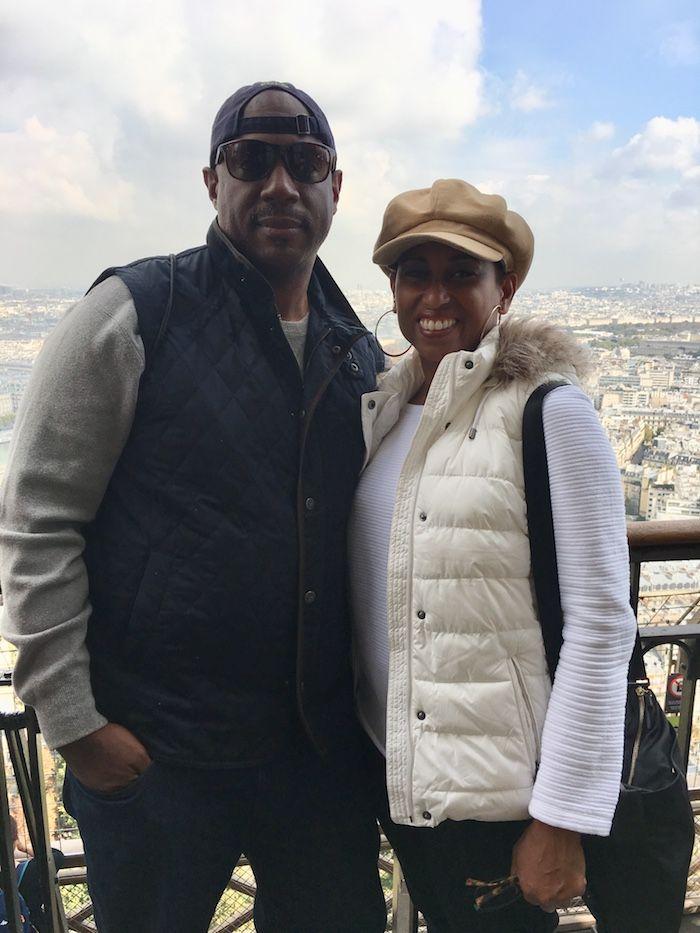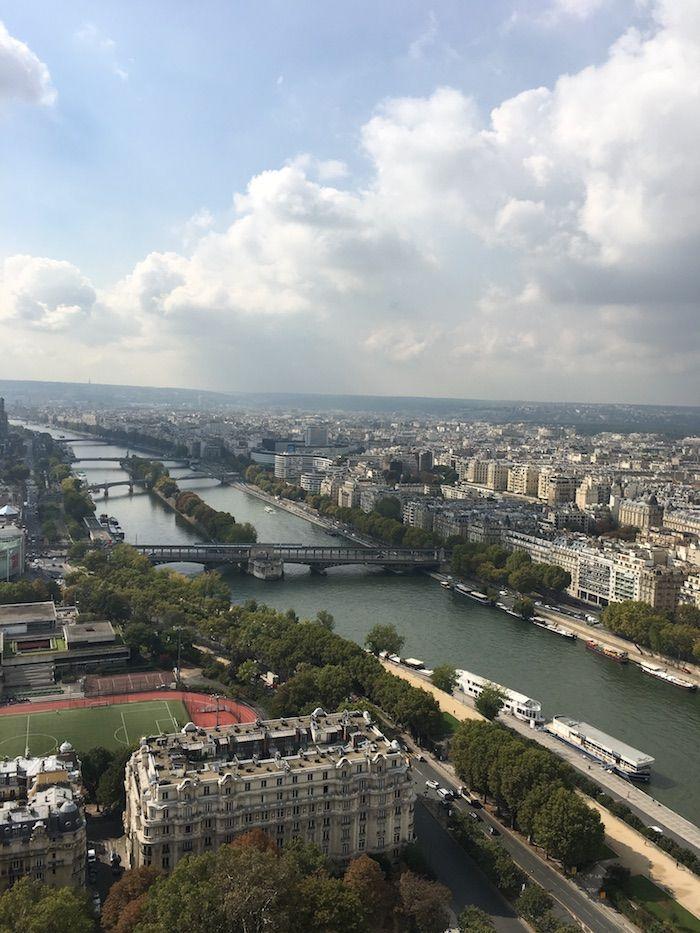 After our visit to the Eiffel Tower, we hopped into a taxi to Notre-Dame Cathedral. We walked around and admired its beautiful façade. We even caught a wedding photo shoot! We sat at an outdoor café nearby for appetizers and later had ice cream as we walked around the area. It turned into a beautiful, sunny and warm day in Paris. Magnifique.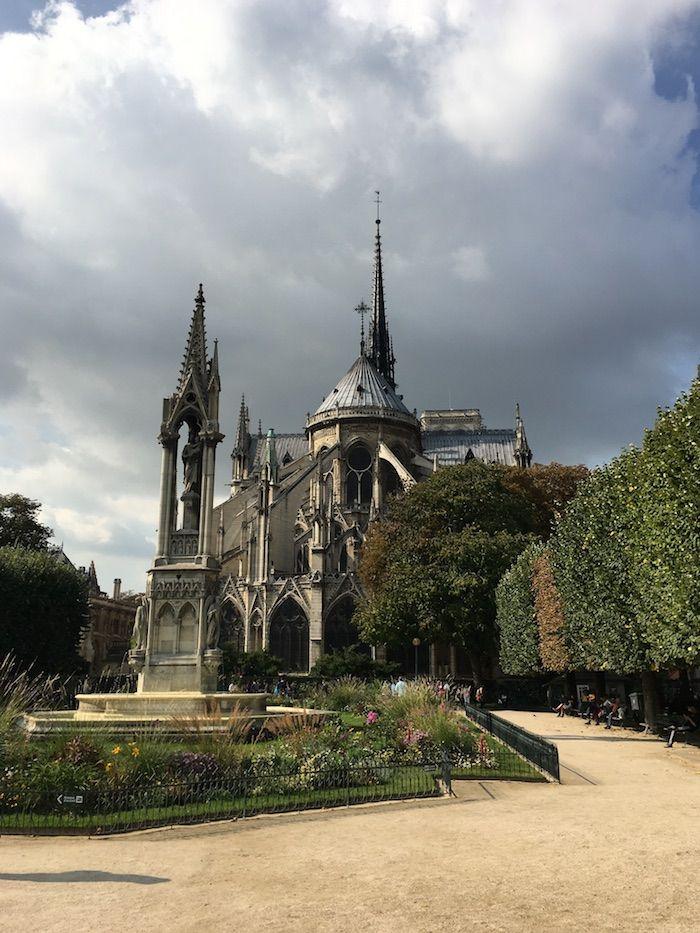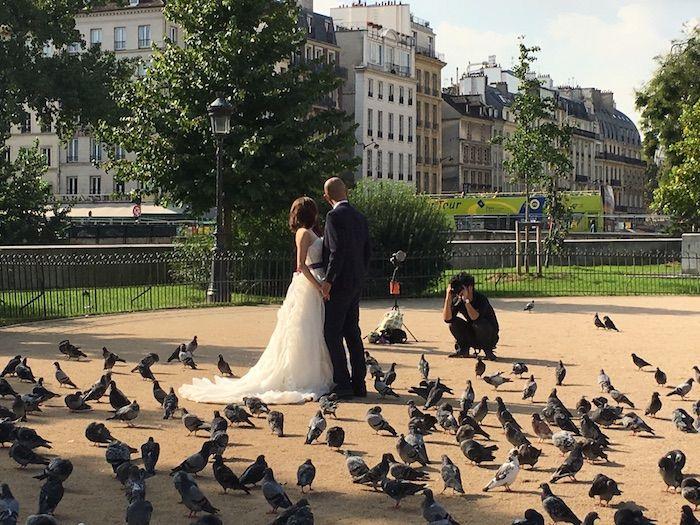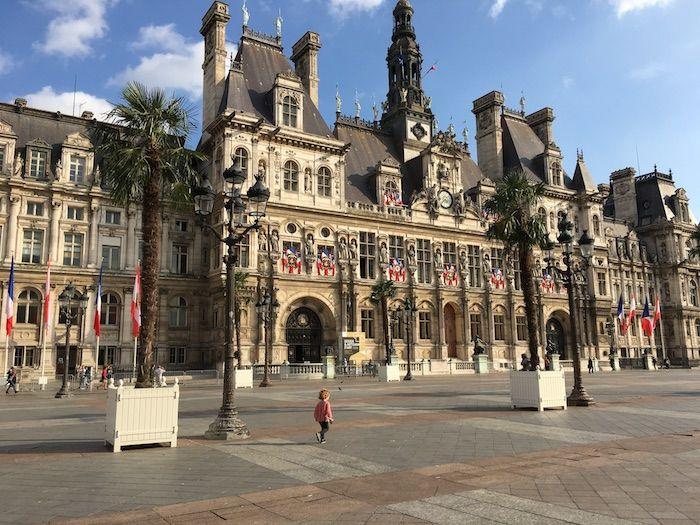 For our evening activity I booked a dinner cruise on the Seine. After a bit of research on Tripadvisor, I picked the Calife Boat. The interior of the boat was intimate and romantic. While cruising on the Seine River, they served us a 3 course meal, wine and cocktails. We were able to relax and take in the Paris attractions at night. They timed our arrival to the Eiffel Tower perfectly. We had a perfect view of the nightly light show. I actually had plans to stay in a hotel with a view of the Eiffel Tower. However, our anniversary was during Paris Fashion Week so hotels were either fully booked or very expensive. We didn't get to attend any shows but it was quite fabulous to be in Paris during this time.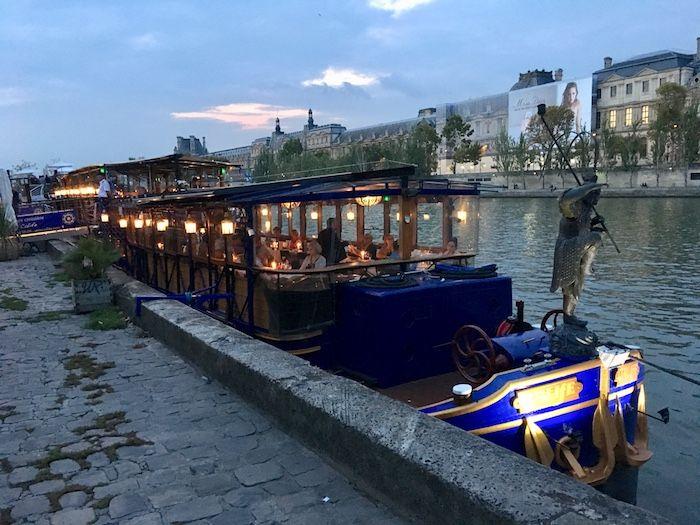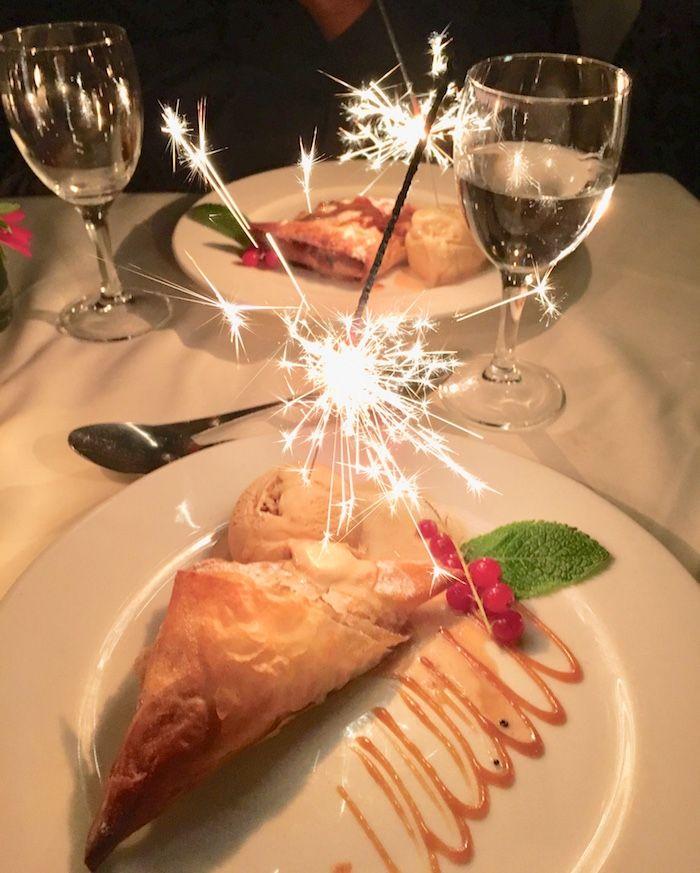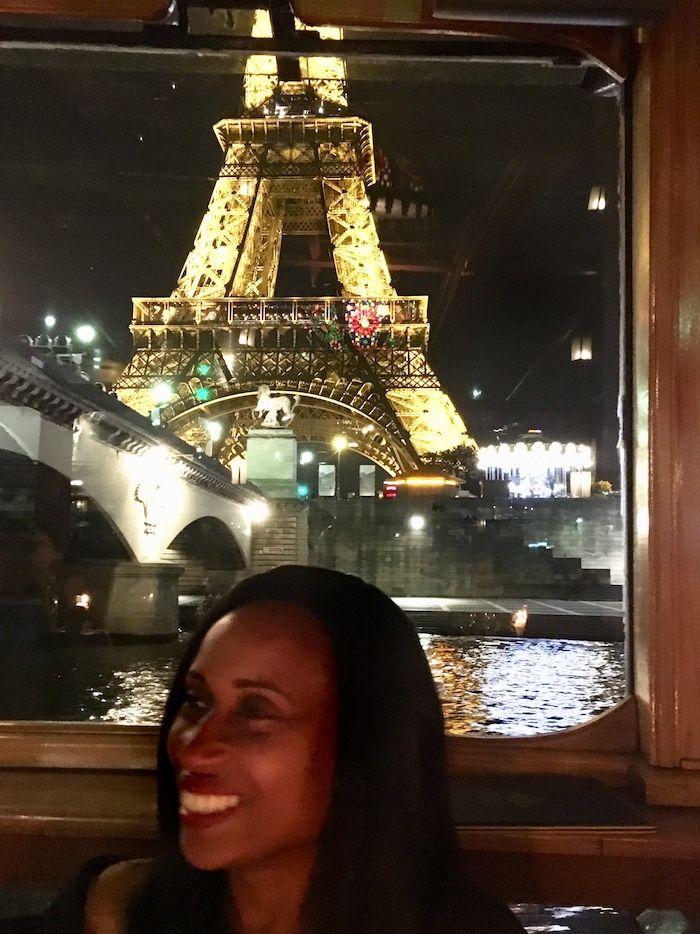 Day # 3:
On the 3rd full day of our 7 day Paris Itinerary, we took a day trip to Brussels Belgium. I knew I wanted to go to Belgium to eat (really) but I was torn between Bruges and Brussels for a Paris day trip. After doing some research, I decided to go with the closer location of Brussels. I bought our train tickets in advance online. If you know the date, time and seats you prefer, I suggest booking train tickets in advance. The Thalys train leaves regularly between Paris Gare du Nord Station and Bruxelles MIDI station. It is a 1 hour and 40 minute train ride each way and it is very relaxing. We spent most of the day in Brussels in the Grand Place eating and drinking. However, we also took the hop on/hop off bus to see some of its famous sights such as the Royal Palace and the Atomium. Be sure to read my blog post on traditional Belgium foods and beer.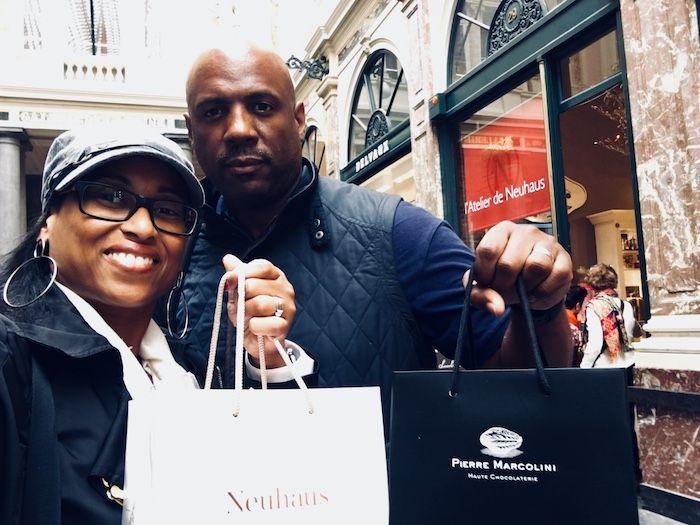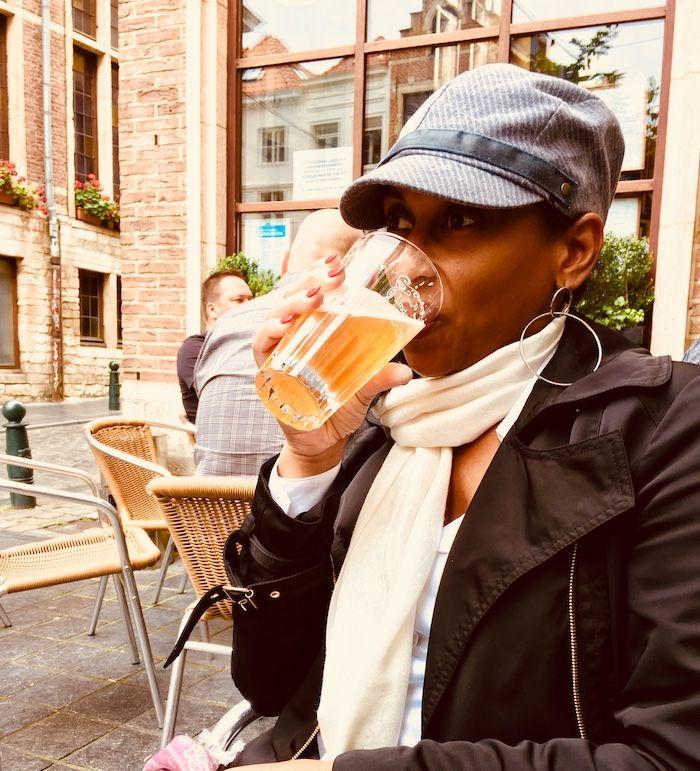 Day #4:
On the 4th day of our 7 day Paris itinerary, it was cloudy and rainy. I specifically made this a rest day after our Paris day trip to Brussels. We relaxed at the hotel, had lunch in a quaint Parisian café, and went shopping along the Champs-Elysees. This included a trip to a very crowded Louis Vuitton store and picking up chocolates at the famous La Maison Du Chocolat. That evening we went to a jazz club. The hotel recommended Le Duc des Lombards. It was fantastic. We booked the show plus dinner option. The performance that night was from Abbe Ngayihi and his band performing "Boarding Pass to Cameroon". They encouraged audience participation and dancing which was fun. The food servings were small so you may need to eat and drink elsewhere after the show.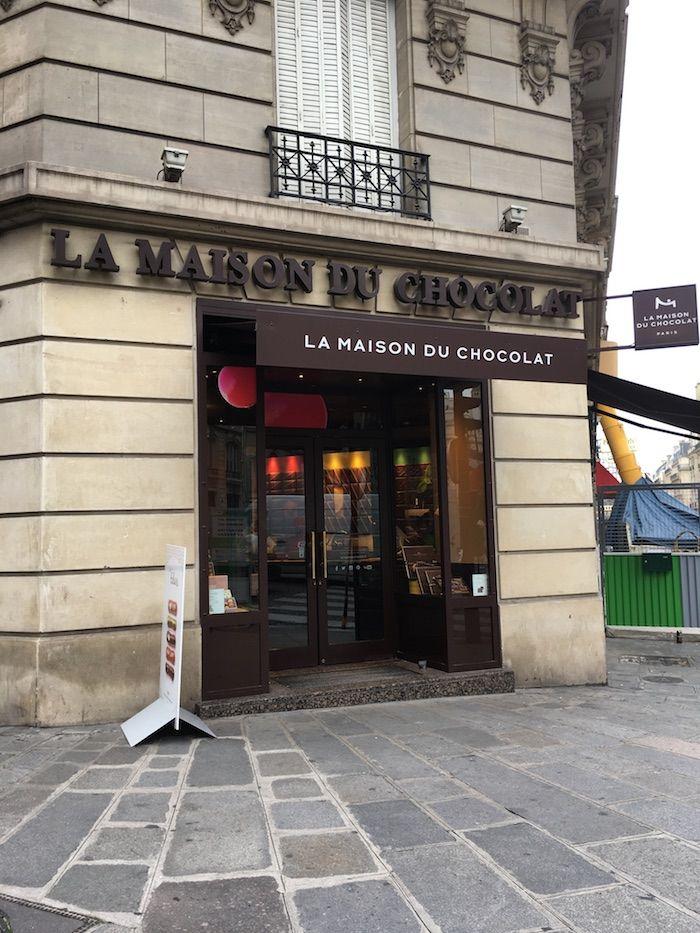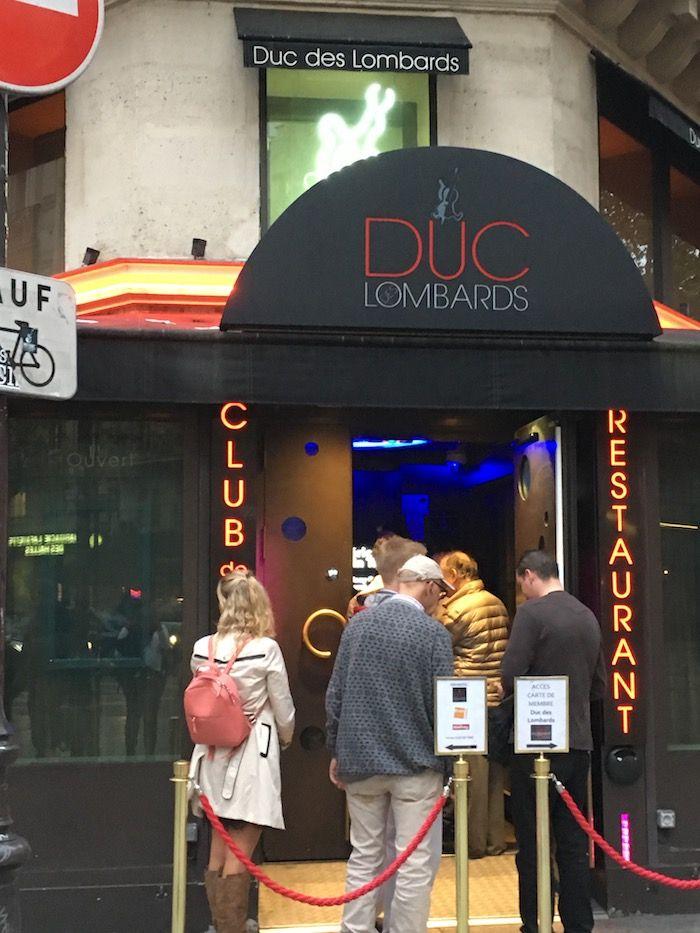 Day #5:
On the 5th day of our 7 day Paris itinerary, we took another Paris day trip to the Champagne region of France. I love Champagne so this has been a bucket list item of mine for quite some time. As you may know, champagne was created here. Sparkling wine can only be called "champagne" if it is from this area. We booked a tour of the city of Reims which is the capital of Champagne. There are several tours available to Champagne France so be sure to read reviews on TripAdvisor. Our tour wasn't my first choice but the others were booked months in advance for this weekend. Our tour guide took us to the vineyards, a small champagne house named "Cuperly" and a larger one named "Taittinger". We also visited the cathedral in Reims and had lunch by a Michelin starred chef. Expect a full blog post on this Paris day trip later this month.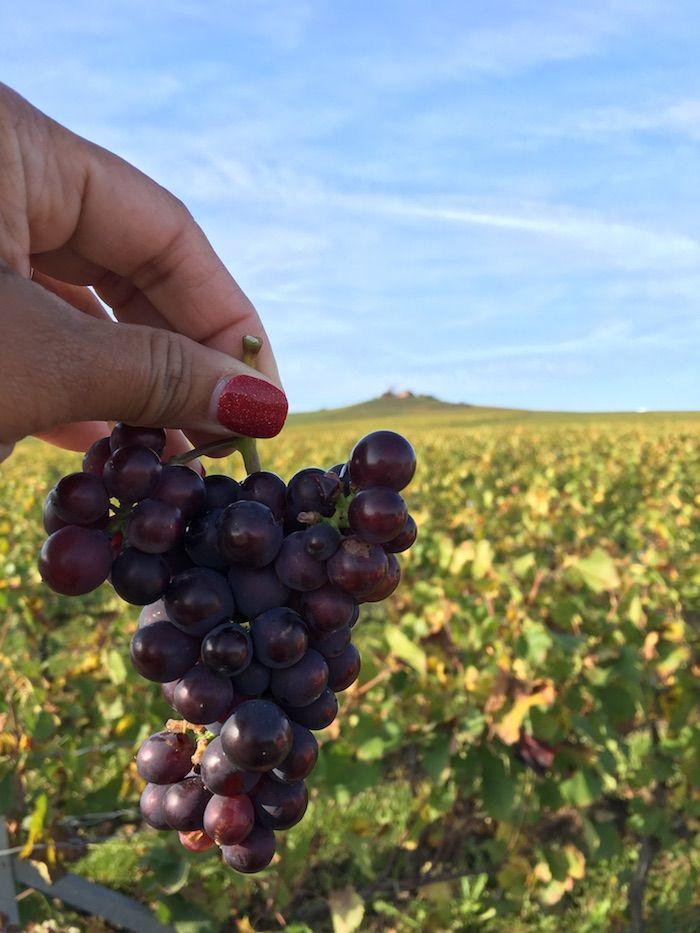 Day #6:
On the 6th day of our 7 day Paris itinerary we had planned to do a morning food tour with the company "Context Travel". I have heard amazing things about their tours from friends and fellow travel bloggers. Context Travel employs local experts to do small tours on topics ranging from gourmet food markets to architecture and museums. However, we had to cancel. I had injured my foot the day prior and was not up to a walking tour. In the afternoon, we took an UBER up to Montmartre. On my first visit to Paris, this was my favorite area. The Basilica of the Sacred Heart of Paris or Sacre-Coeur Basilica is located here. It is a must on your visit to Paris.
The cobblestoned streets of Montmartre are lined with outdoor cafes and souvenir shops. There is live music in the streets and locals creating and displaying art. That night we had dinner at the luxury property La Reserve Paris Hotel in La Pagode restaurant. I wrote a full blog post on this memorable fine dining experience.
After dinner, we visited the jazz club "Le Caveau de la Huchette". It was featured in the movie La La Land. Upstairs is a bar area while downstairs is a cellar. There was live band playing and patrons dancing. The night we visited it was a swing band. Although I enjoyed watching the dancers, it was standing room only so we didn't stay very long. However, it is a cool spot in the Latin Quarter.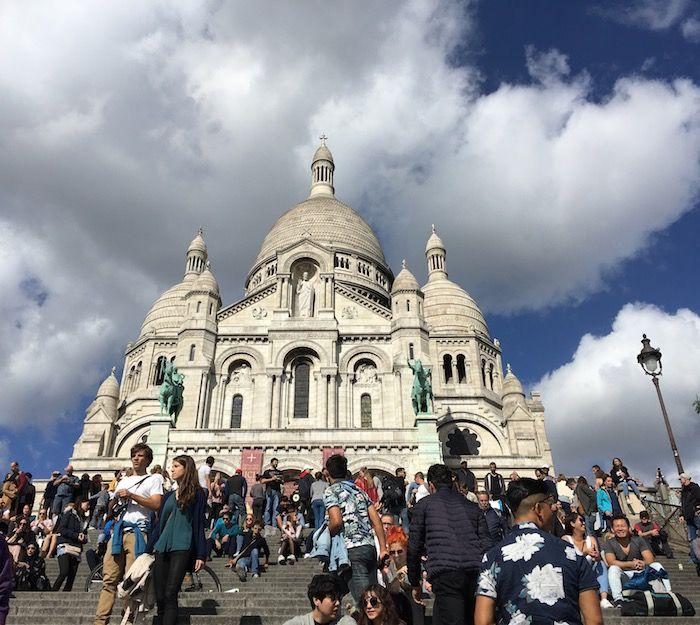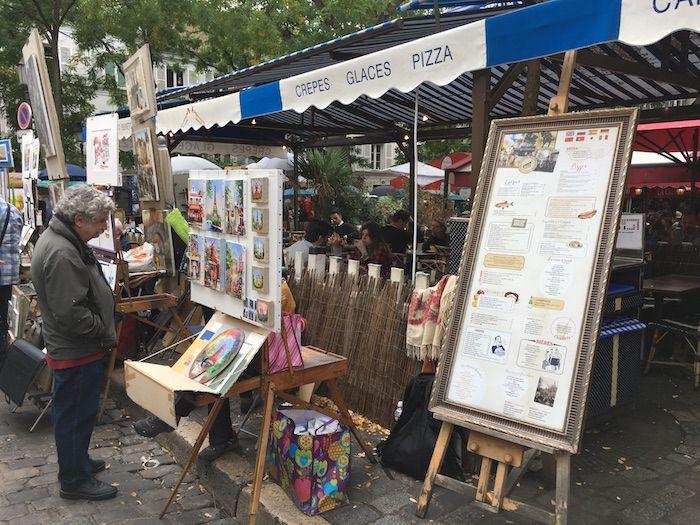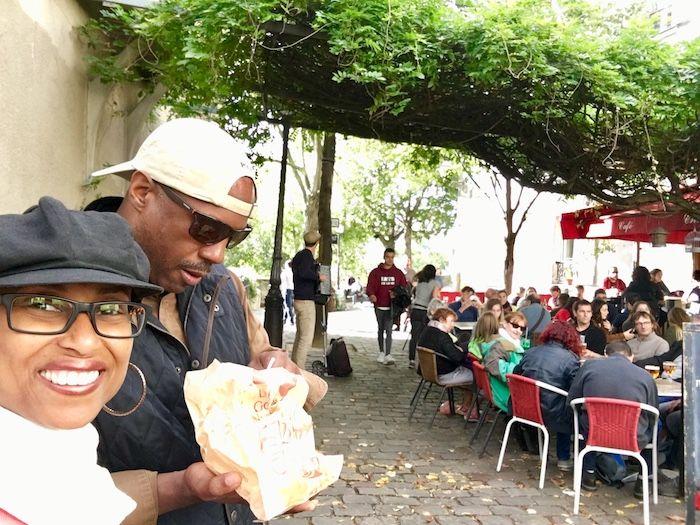 Day #7:
On the 7th and last full day of our 7 day Paris itinerary, we faced our coldest and rainiest day yet. We had considered heading out to the Palace of Versailles. But, based on the weather, it was the perfect day to spend in a museum. We made our way to the Louvre realizing that the first Sunday of every month has free entrance. My husband wanted to see the Mona Lisa. After waiting in a very long line outside, we headed in to see the spectacle of tourists snapping pics, videos and selfies in front of the Mona Lisa. We then spent some time exploring the Egyptian artifacts. The Musee d'Orsay was on my list of things to do but we didn't make it there. We headed off to eat at "Café Le Comptoir". After a scrumptious meal, we relaxed in the hotel. We packed, shopped for a few Parisian gifts and bid Adieu to Paris. During our time in Paris we enjoyed our stay at the Hotel Champs-Elysees Friedland in the 8th arrondissement.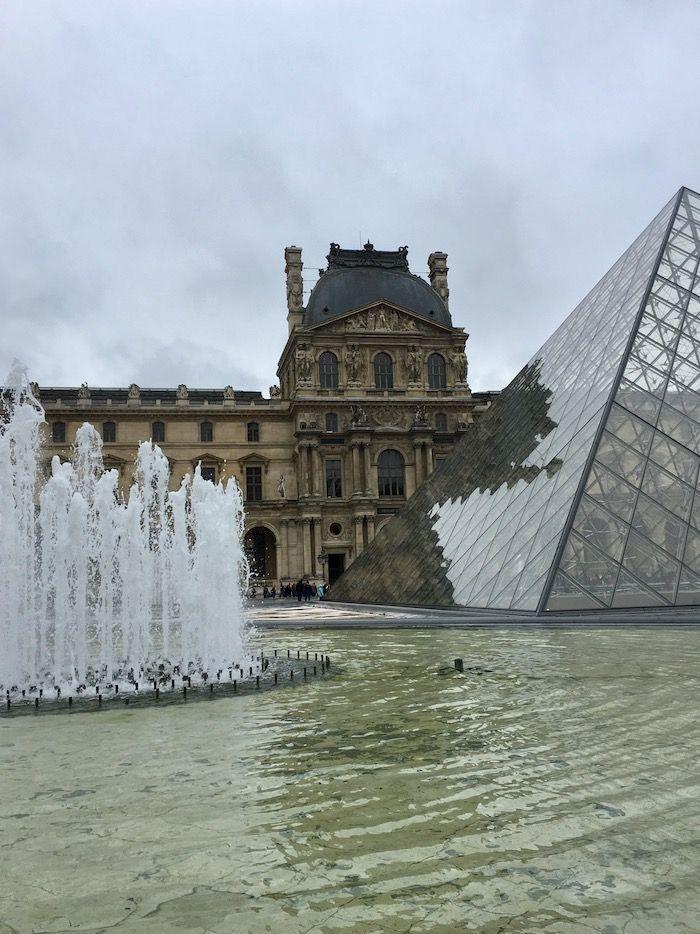 So, what do you think? Was this an epic and romantic 7 day Paris itinerary? I hope this post has given you some great ideas of things to do in Paris! Be sure to mention The Sophisticated Life Blog if you use any of this information. Thank you in advance and enjoy your next Paris day trip!
Pin this post for future reference. Also, be sure to look out for additional posts on Paris this month. I will be writing about our trip to Reims in the Champagne region of France and a post on all the delicious foods we ate in Paris. Au Revoir!