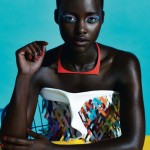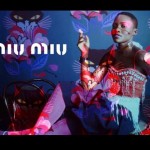 Sophistication and Grace. Those are the two words that first come to mind when I think of this woman. And then I think of that mesmerizing smile and flawless skin! I promise I will let the pictures do the talking on this one but how can I not give some background about this newcomer that we have all been admiring for months?
When I first saw her on screen in the movie "12 Years A Slave" I hoped The Academy would get it right and nominate her for an Oscar. They did. Her performance as the slave Patsey who was repeatedly victimized by her slave owner and his wife was gut wrenching and wreaked of natural talent. Her relationship and friendship with the main character Solomon played by Chiwetel Ejiofor was touching and therefore particular scenes so extremely difficult to watch. (For those that have not seen the film, I will hold back on any spoilers). I later read that she was cast in this role immediately after graduating from the Yale School of Drama. Astonishing! She has garnered countless nominations and won  awards for her role including the Screen Actor's Guild Award and Critics' Choice Movie Awards for Best Supporting Actress. During this time, Ms.Nyong'0 has given numerous interviews in which her style and smile have captivated audiences and the country! Her red carpet arrivals have flooded internet sites. Her fashion pictorials have plastered magazine pages with many people asking "Who is this woman? Who is her stylist?".
So here is a some basic background. Ms.Nyong'o was actually born Mexico! She is of Kenyan descent and at the time of her birth her father was working as a visiting lecturer in political science in Mexico City. She returned to Kenya prior to her first birthday. Ms.Nyong'o attended college in the United States at Hampshire College in Massachusetts and graduated with a degree in film and theater studies. She actually worked on the production crew of familiar films such as "The Constant Gardener" with Ralph Fiennes and "The Namesake" and starred in a short film prior to returning to Kenya in 2008. While in Kenya, she starred in a television series Shuga and wrote, directed and produced a documentary about the treatment of the albino population in Kenya called "In My Genes". She then returned to the US to attend a masters program at Yale University's School of Drama graduating in 2012. And as they say, the rest is history. She will next be seen in the film "Non-Stop" also starring Liam Neeson.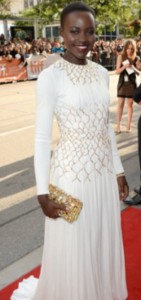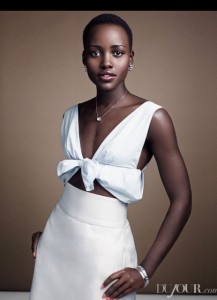 As far as her style, I have been posting pictures of her this entire awards season with the caption "her stylist keeps getting it right"!! Well Ms.Nyong'o has credited her stylist in interviews for working in collaboration with her in making great choices and making the process "fun". And who is this stylist? Micaela Erlanger who has also worked with Martha Pimpton and Winona Ryder. There is no doubt all eyes will be on this team when Lupita Nyong'o arrives on the red carpet on Oscar night. In addition, for her brilliant style and beauty, Ms.Nyong'o was recently chosen as one of the faces for Miu Miu's Spring 2014 campaign along with Elizabeth Olsen, Elle Fanning and Bella Heathcote. I am sure this intelligent, talented actress and sophisticated style icon has a long future in Hollywood. I look forward to her future projects and red carpet appearances. Continue to shine Ms. Lupita Nyong'o. We can all feel your glow.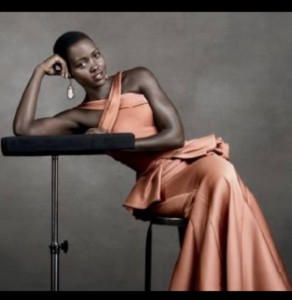 Comments
comments