8 Unique 4th of July Celebrations & Destinations!
It is finally summertime! During the summer I plan to share with you some fun posts including this one on 4th of July celebrations. Which cities come to mind for celebrating the 4th of July? I think most people imagine Washington DC, New York City, Boston, Philadelphia, Chicago…The idea being patriotic cities and/or big cities with over the top celebrations. I lived in Washington DC for 8 years and I have fond memories of the 4th of July celebrations there. My friends and I would pack picnic baskets and settle on the National Mall in preparation for the fireworks at the Washington Monument. They were amazing! And, I definitely felt very patriotic during those times. Since I spent part of my childhood in NYC, if I am not at a live fireworks display, I watch the New York City fireworks on TV. The views combined with the music never disappoint. I currently live in Atlanta and I was actually surprised to see it listed as #1 in several articles for 4th of July celebrations. I have to admit, I have never been to the 4th of July fireworks downtown at Centennial Park! But what if you are in the mood for celebrating the 4th of July in a unique way? Maybe visiting a small town or doing something besides watching fireworks? In this post I will share with you my finds for unique 4th of July celebrations and destinations!
Washington, Georgia: If you live in the Atlanta area but would like to get out of the city for 4th of July celebrations, head about 2 hours to Washington, Georgia. Washington, Georgia is known for the location of Gone with the Wind and it is actually named after President George Washington. It has over 200 antebellum homes to explore. On the 3rd of July you can enjoy fireworks on the town square. But, if you are looking for a unique way to celebrate the 4th of July here, try their zipline, watermelon eating contest or a dance-off!
Kaboom Town in Addison, Texas: Addison, Texas is located 20 minutes north of Dallas, Texas. I will admit, I do not know a lot about Texas but I have never heard of the "Kaboom Town" fireworks. It is the largest fireworks display in the Dallas-Fort Worth area. This 4th of July celebration actually takes place on July 3rd so plan accordingly. The Kaboom Town celebration also includes an air show with historic war planes!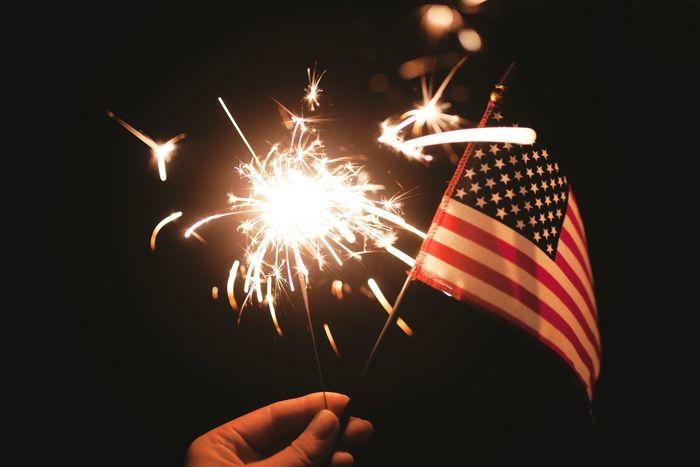 Asheville, North Carolina: I have visited Asheville once and it is a tranquil city set in the Blue Ridge Mountains. I stayed at the Biltmore Hotel during Christmastime and I highly recommend it. There are a lot of outdoor activities to partake in Asheville as well as a booming beer craft scene. For their 4th of July celebrations they have not one but multiple sets of fireworks in the city and surrounding areas. The main attraction takes place in Pack Square Park in Downtown Asheville. There are food trucks, family activities and fireworks at night.
Williamsburg, Virginia: During my time in college at the University of Virginia in Charlottesville, I made a trip to Williamsburg, Virginia. You will literally feel as if you have stepped back in time in Colonial Williamsburg! I can only imagine the patriotism displayed during the 4th of July! For their 4th of July celebrations they actually do a reading of the Declaration of Independence and a Fife and Drum Corps salute at the courthouse.
Nashville, Tennessee: If you are a country music fan then Nashville is the place to be for the 4th of July. There is a reason it is called "Music City". Headliners for their 4th of July "Let Freedom Sing" celebration include headliner Chris Young, the Nitty Gritty Band and the Nashville Symphony. Best of all, the concert is free! Take my advice, do not leave Nashville without trying their "hot chicken" or pancakes at the Pancake Pantry. I will be heading back there at the end of July so expect new posts soon!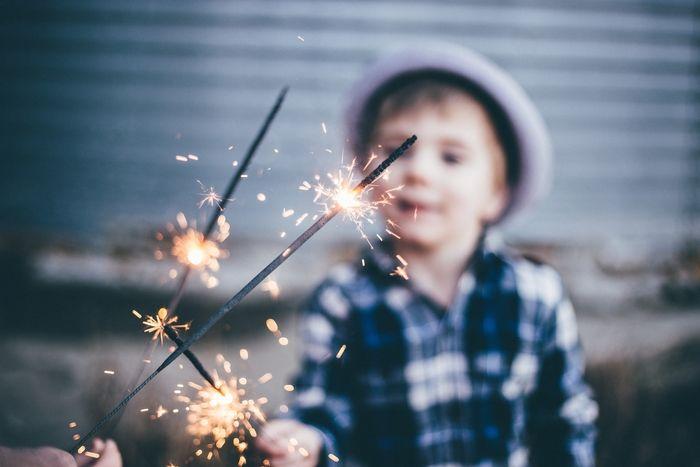 Lake Tahoe, California: Let's head west to Lake Tahoe in California. In South Lake Tahoe their 4th of July celebrations include "lights on the lake" fireworks. The fireworks can be seen all over town. You can also take a cruise on the lake and enjoy dinner, cocktails and music while watching the fireworks. Or, how about taking a helicopter ride to watch the fireworks? (this actually sounds kind of scary lol)
San Diego, California: I made a return visit to San Diego in April and I was blown away by the perfect weather, clear blue skies and the beautiful beaches! If you are looking for a patriotic, relaxing and scenic place to spend the 4th of July, San Diego is it. Their 4th of July celebrations include their annual "Big Bay Boom" fireworks display, Sea World and Legoland firework displays (perfect for the kids), and a parade with arts and activities in Old Town. Or, head over to Coronado Island for an entire day of 4th of July celebrations with a parade, a concert and fireworks. I have a few more posts coming out this month on my trip to San Diego so stay tuned!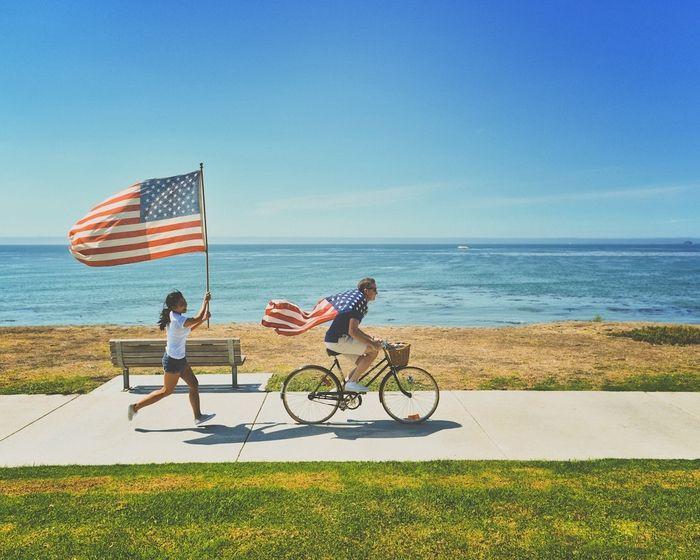 Miami Beach: I lived in the Miami Beach area for 8 years but I actually avoided South Beach and other touristy areas based on the crowds and the heat. However, if you are young and like to party :-), splurge on a South Beach Hotel for the 4th of July. View the free fireworks display from Ocean Drive. Attend the Miami Beach "Fire on the Fourth" festival at North Shore Park Bandshell which includes food trucks, live entertainment and fireworks. You can also head to Bayfront Park for family friendly activities. The best part about being in Miami is trying out delicious international cuisine including Cuban food! Check out my picks for restaurants on Miami Beach.
Have you been to any of the 4th of July celebrations above? If so share your thoughts with us below! If not be sure to put them on your 4th of July bucket list!
Be sure to pin this post for future reference!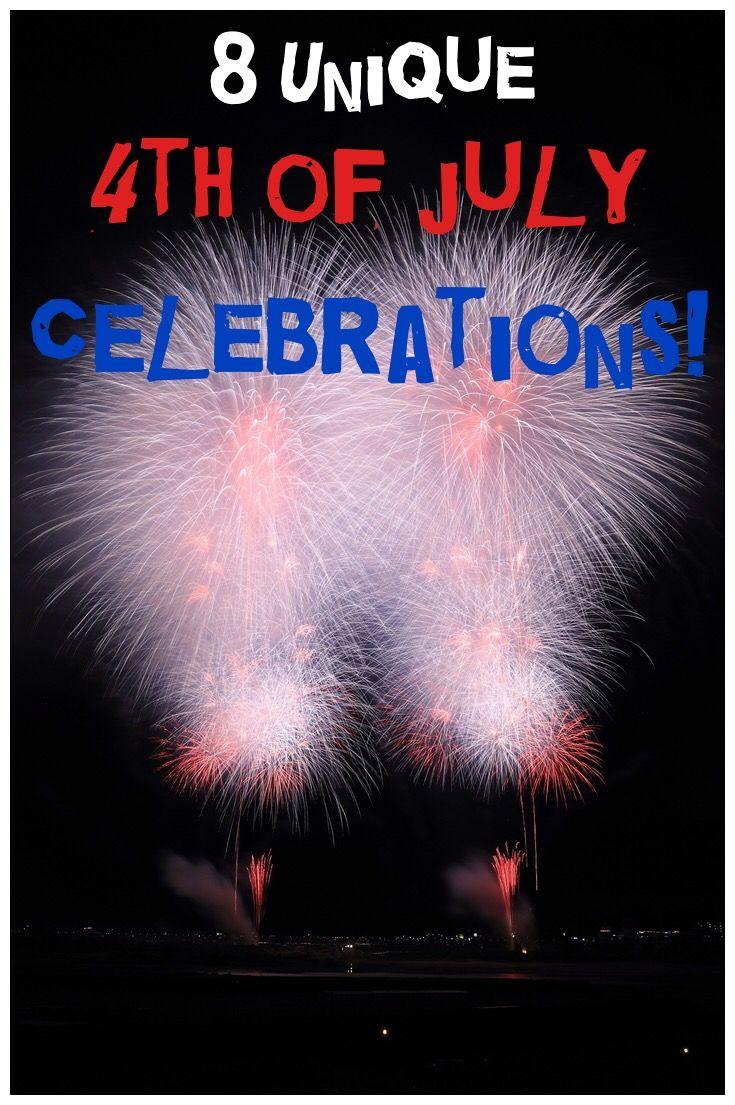 These fun 4th of July pics are courtesy of Unsplash.com