This post contains affiliate links. However, all opinions expressed here are original. If you click through on a link, you won't pay a penny more, but I'll receive a slight commission which helps me keep this information available to you. Thanks!
---
In my recent post this week I spoke of the "5 Best Napa Valley Wineries to Visit". Well, you cannot drink all that wine and not eat! There are hundreds of restaurants in Napa Valley to choose from. There is casual roadside dining to Michelin star restaurants. In my post "The Novice's Guide to Napa Valley" I mention great Napa Valley restaurants including Oxbow market, Kitchen Door and The Thomas Keller restaurants of Bouchon and The French Laundry (#bucketlist). On my recent trip to Napa Valley I was able to experience delicious food in exquisite settings and look forward to sharing these places with you.
Best Napa Valley Restaurants
1) Farmstead at Long Meadow Ranch:
Long Meadow Ranch, often referred to as LMR, has origins dating back to the 1800s with revitalization in 1989. Their mission is to produce world class wine using organic and sustainable farming methods. The winery specializes in Bordeaux-style wines. They have 2 properties in Napa Valley that produce estate wines, grass-fed cattle, honey, organic grapes and premium olive oils from the oldest olive orchard in Napa Valley. At their restaurant –The Farmstead– all of these come together for an exceptional gustatory experience. Executive Chef Stephen Barber serves up fresh, seasonal farm-to-table meals in a beautiful farmhouse in St.Helena. I loved the charming while sophisticated farmhouse interior with an open floor plan and family style dining. The vibe and delicious food make it one of the top Napa Valley restaurants.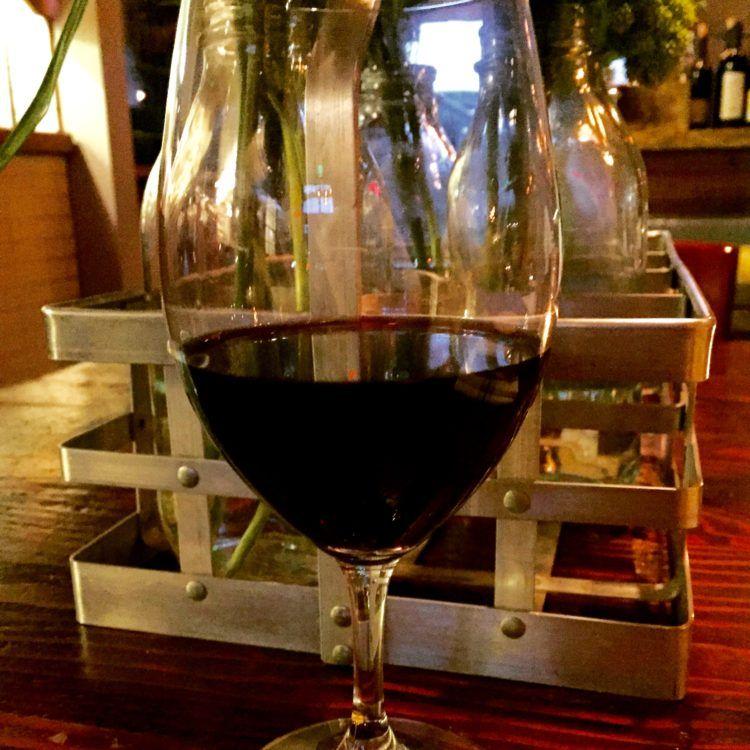 Their menu has items such as "wood grilled castroville artichoke with sauce gribiche and lemon" to comfort food style items such as "LMR grass-fed cheeseburger on a potato bun with cheddar, arugula and crispy potatoes." I had the grilled California rainbow trout with mushrooms, fennel, almonds and bacon vinaigrette and it was to die for!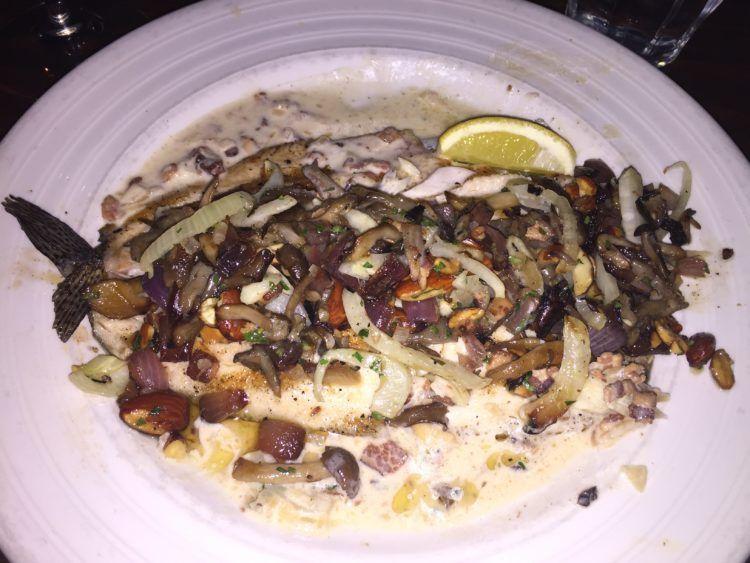 The Farmstead has weekly themes such as fried chicken night on Tuesdays, grass-fed lamb night on Wednesdays, a farmer's market on Saturdays and Sunday brunch. Based on its authentic and delicious farm-to-table menu and its unique and charming setting, Farmstead at Long Meadow Ranch is one of the 5 best Napa Valley restaurants.
2) Solbar Restaurant at Solage Calistoga:
A gem among Napa Valley restaurants, Solage Calistoga is a luxury spa located in Calistoga. It sits among scenic mountains and palms trees and the views are amazing! Expect a contemporary style at this spa and restaurant complex. Solbar is a Michelin rated restaurant under the helm of Chef Brandon Sharp. In true California style, they serve farm fresh, local, seasonal ingredients with a twist. At Solbar there is a large outdoor seating area, a chic contemporary indoor seating area as well as a Chef's Atrium for private dining.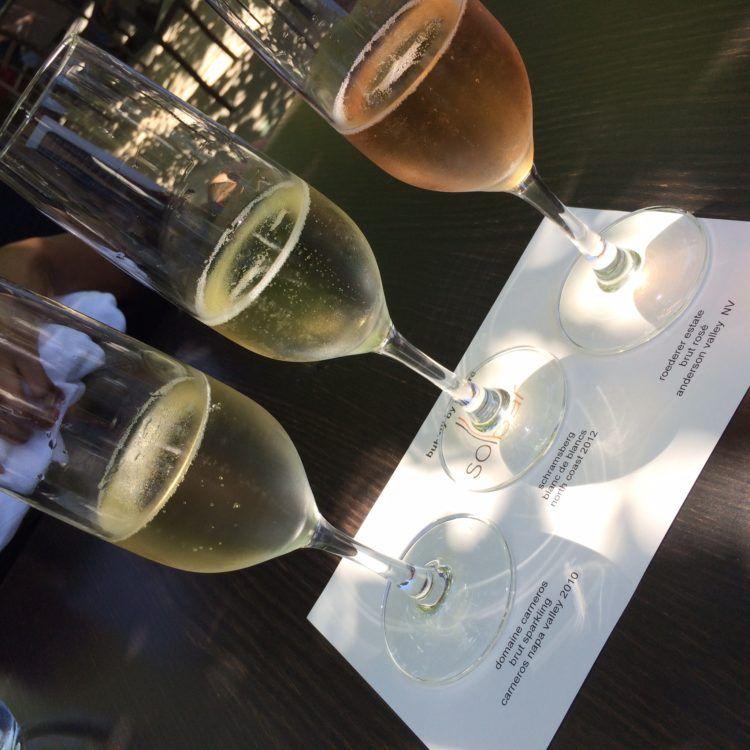 The Chef's atrium offers a five-course tasting menu with sommelier-paired wines. Our group enjoyed dining on the outdoor patio. We sampled quite a bit from their menu including crispy petrale sole tacos, crispy chicken sandwich, loch duart grilled salmon and sol fries dusted with picante sauce. Solbar also has an extensive wine list with flights and half bottles. Based on its contemporary style, outdoor dining with amazing views and fresh and tasty meals, Solbar is one of the 5 best Napa Valley restaurants.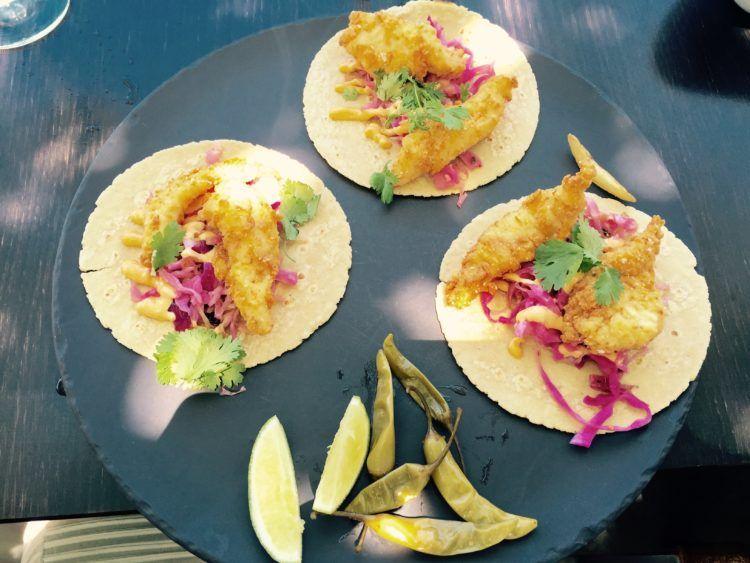 3) Auberge du Soleil:
Auberge du Soleil is a luxury resort in Rutherford known for panoramic views of Napa Valley. The property includes an inn, a spa and a restaurant. Once again we have a Michelin rated restaurant. This one is led by executive Chef Robert Curry.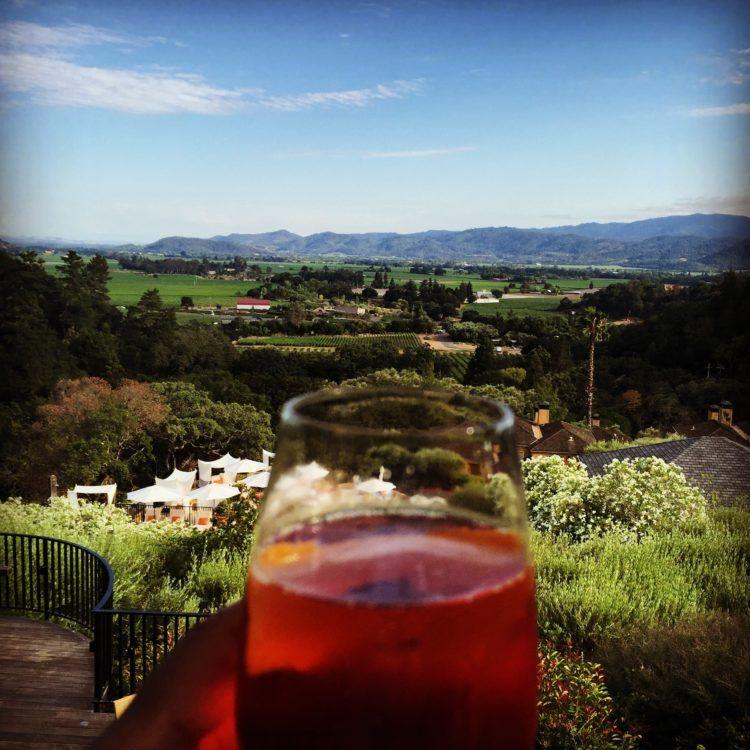 Not only is the resort based Mediterranean style but the restaurant also features Mediterranean inspired dishes. Adjacent to the main restaurant is Auberge du Soleil's Bistro & Bar which is available for casual dining. What was most impressive at Auberge du Soleil besides the view and the food was the service! The servers were patient, attentive and informative.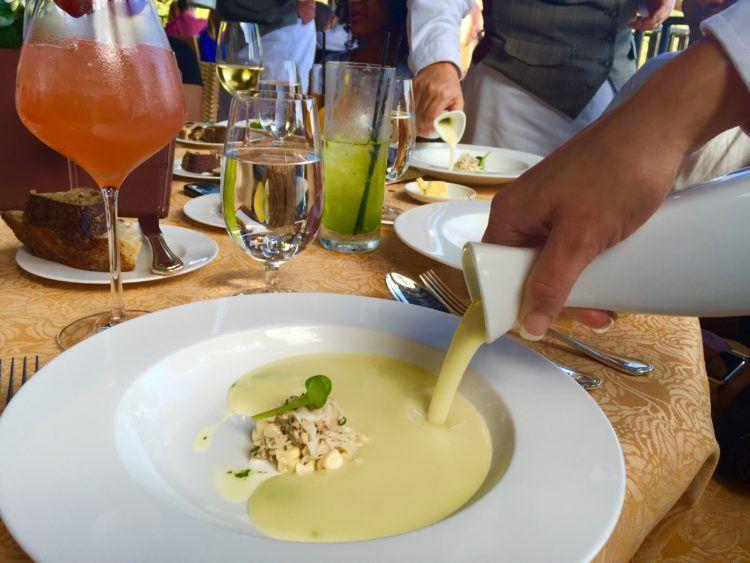 On the evening that we visited, they offered 3 and 4 course menus with wine pairings. Menu items included poached Maine lobster, roasted pork belly, watercress soup with Dungeness crab, spiced local lamb and the winner-Japanese Kuroge Wagyu A5 with bok Choy, scallion, picked shitakes and Hong Kong Sauce. I must warn you, this restaurant is very expensive. The Wagyu beef dish was $65. While I enjoyed it, the food did not blow me away. However, the service and the view did. We dined here for 3 hours and no one rushed us from our table. Since you will not dine at many restaurants with the level of sophistication and service as Auberge du Soleil it is one of the 5 best Napa Valley restaurants..
4) Mustards Grill:
Mustards Grill, located on St.Helena Highway in Yountville, is one of the top Napa Valley restaurants. This restaurant is named after the wild mustard flowers that bloom every spring in the Valley. Mustards Grill has been in Napa Valley for over 30 years and is nicknamed the "Deluxe Truckstop". Chef Cindy Pawlcyn is the mastermind behind this restaurant which is known for its wood-burning grill and American farm-to-table cuisine. Their website describes their wine list of "way too many wines." Popular dishes here are the Mongolian pork chop, the onion rings and the daily "truckstop deluxe". This is described as "always meat, often potatoes, rarely vegetables." Clever! Although our server was subpar compared to others we had had on our trip, I enjoyed the casual atmosphere, the food and the wine. Because of its history, unique setting and foods from its wood burning grill and oven, Mustards Grill is one of the 5 best Napa Valley restaurants.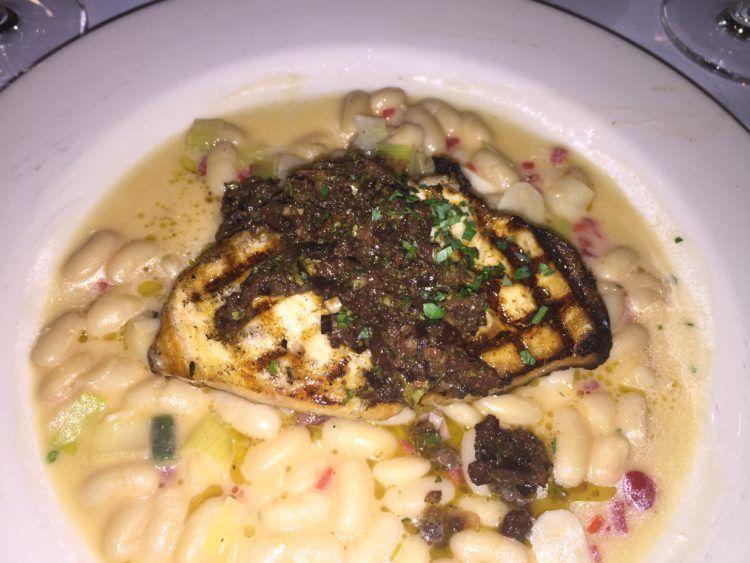 Fyi: We had plans to eat at Rutherford Grill however we were still full from brunch so needed a later time slot which they could not accommodate. I have heard great things about Rutherford Grill as one of the best Napa Valley restaurants, so I am giving it honorable mention until I can return to experience it.
5) Tra Vigne!
I saved the best for last again! Tra Vigne is an Italian restaurant located in St. Helena. Tra Vigne has been one of the list of Napa Valley restaurants for over 28 years! There is an outdoor covered patio along with a main indoor dining room described as neo-Italian. Although we did not get off to a great start with the hostess telling us they had no record of our reservation and asking if we had made it at their sister restaurant-Pizzeria Tra Vigne-we were still escorted in and seated by another employee at the restaurant. Our server arrived and he was lively, funny and informative. He gave 9 slightly rowdy women a wonderful experience.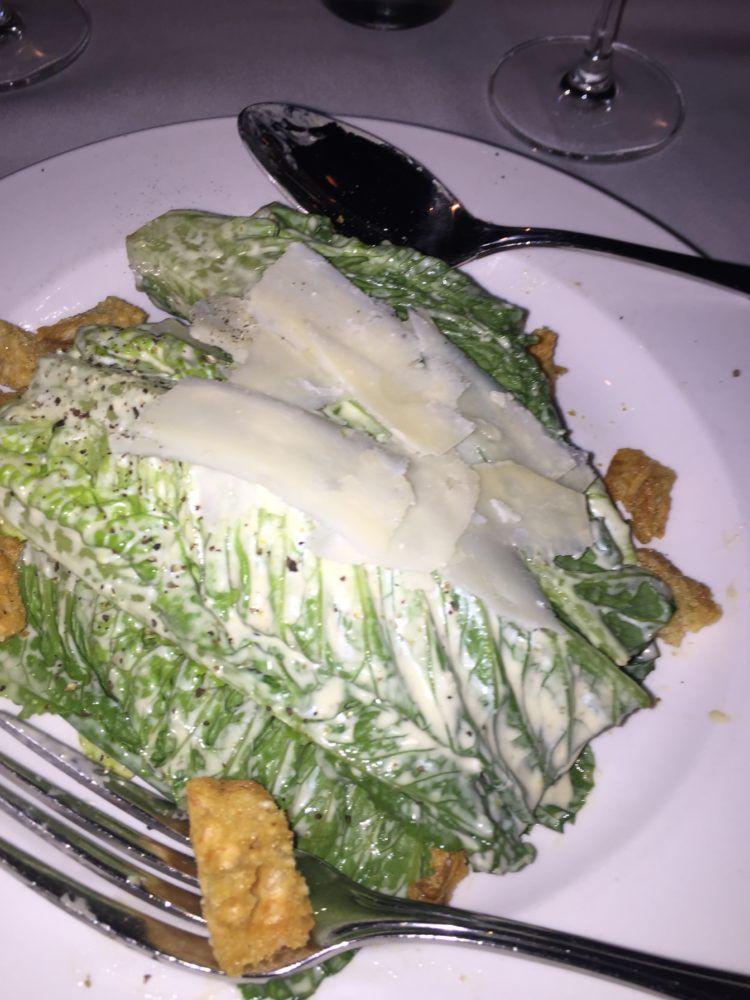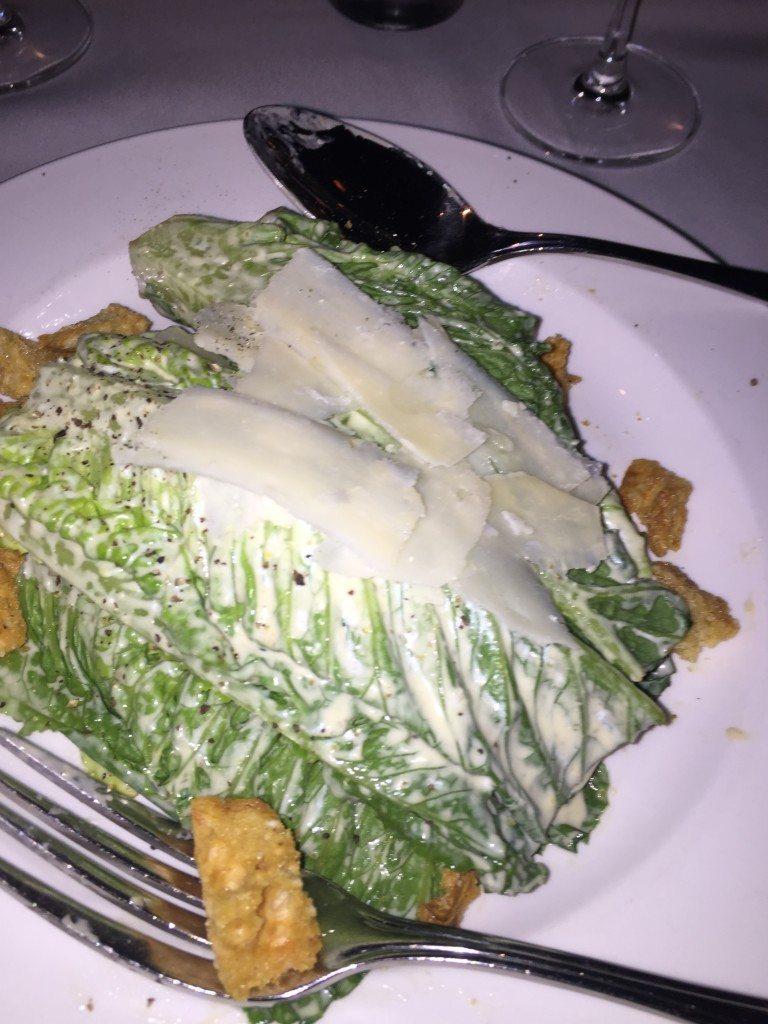 The food was rich, flavorful and filling. We sampled so many items such as the mozzarella cheese "al minuto". This dish was prepared and served table side with grilled bruschetta and Napa valley olive oil. There was the Caesar salad, the wood oven baked fig pizza (excellent), the fritto misto, the sage infused pappardelle, the smoked and braised short ribs and the "dry aged bistecca alla fiorentina" which is a Tuscan porterhouse served with garlic and rosemary roasted potatoes, bloomsdale spinach and Napa Valley olive oil.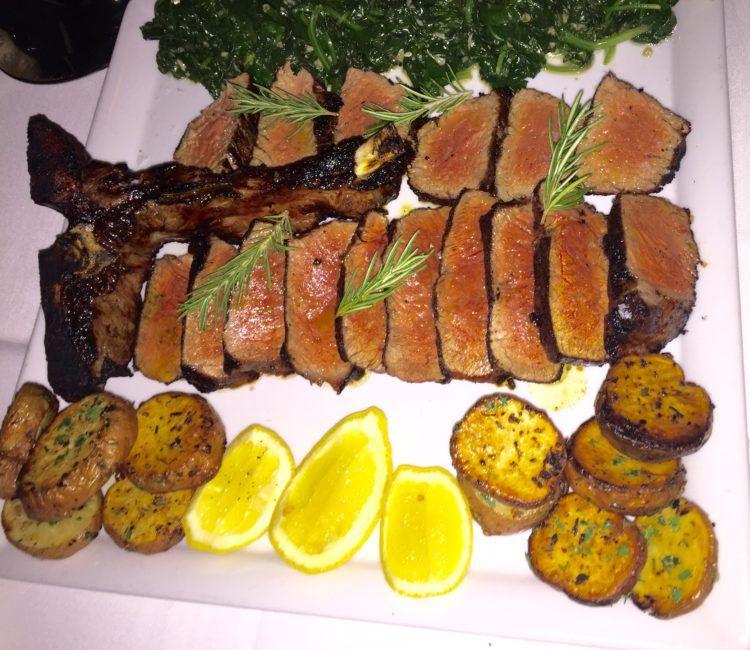 The wine list extensive and they offer free corkage for your first bottle of wine. The desserts were also delectable especially the strawberry shortcake shown below. Due to its authentic Italian décor, excellent service and the food-seriously the food!!! Tra Vigne is one of the 5 best Napa Valley restaurants.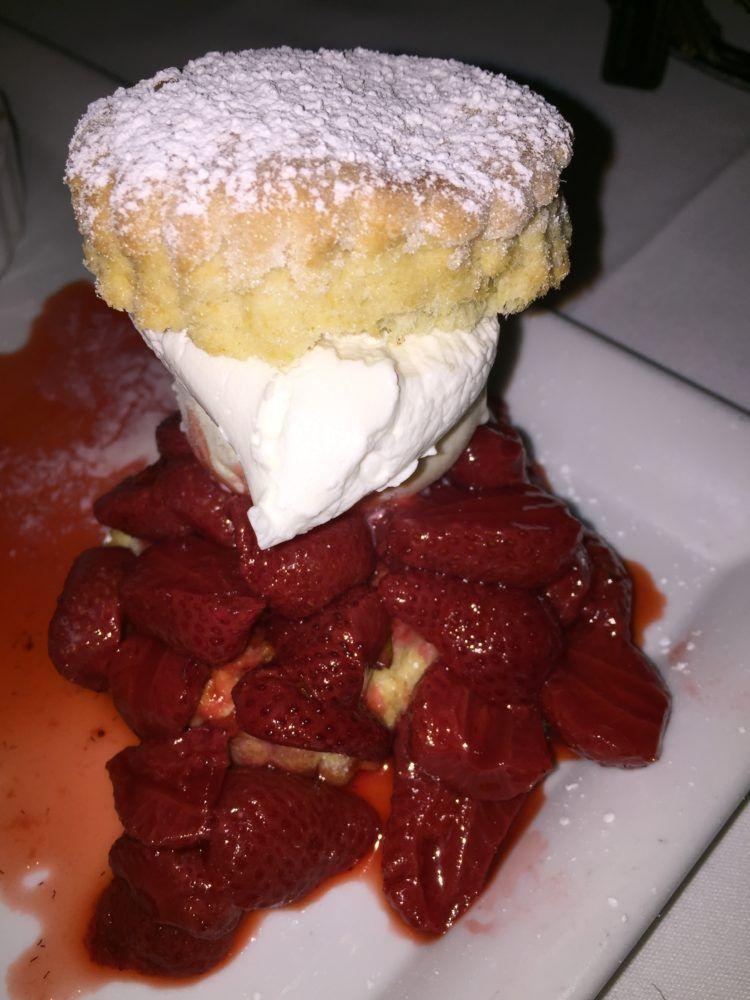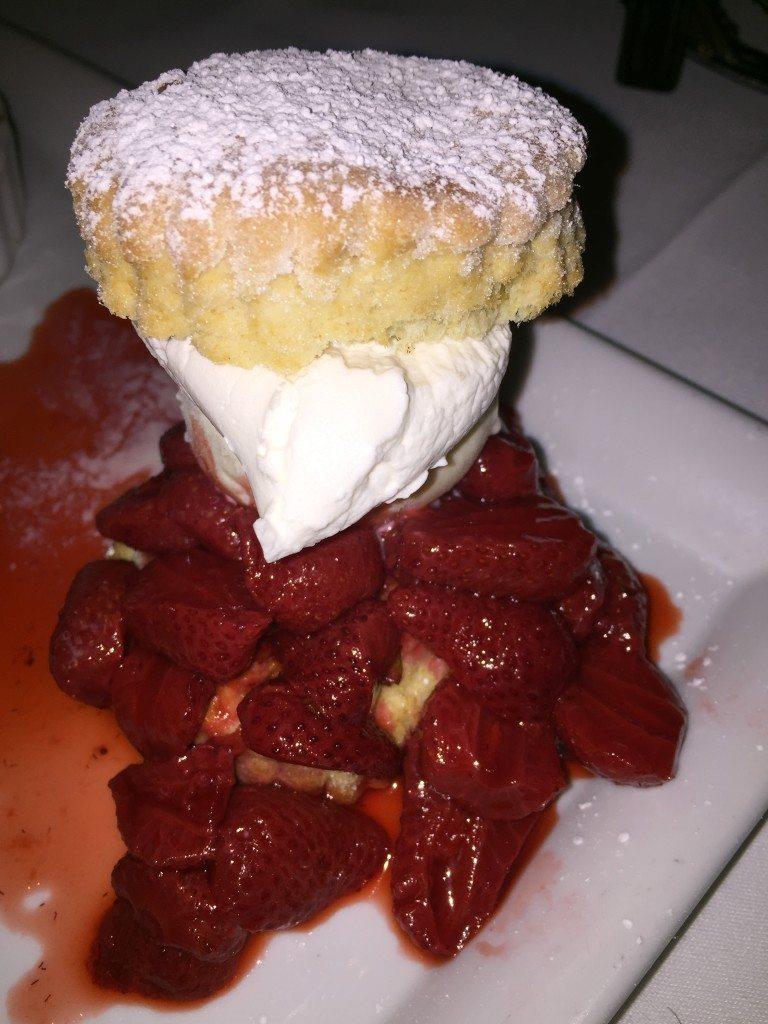 I hope you have enjoyed this food tour through Napa Valley! Have you been to any of these Napa Valley restaurants? If so share your thoughts with us below! Before you leave be sure to read my two previous Napa Valley posts- "The Novice's Guide to Napa Valley" and "The 5 Best Napa Valley Wineries to Visit"!