Are you a traveler or a tourist or both?
Introduction:
This topic has been repeatedly discussed in my travel groups but I would love to hear the opinion of my readers. I will share the main points of discussion that many avid travelers feel distinguishes them from "tourists". The word "tourist" has become somewhat of a dirty word in these travel groups so first let us review some definitions to help distinguish if you are a traveler or a tourist or both.
Definition of Travel [trav-uh l] per Dictionary.com
to go from one place to another, as by car, train, plane, or ship; take a trip; journey: to travel for pleasure.
to move or go from one place or point to another.
to proceed or advance in any way
Traveler [trav–uh-ler, trav-ler]
noun: a person or thing that travels.
Tourist [too r-ist]
noun: a person who is traveling, especially for pleasure
As you can see the definitions are not very different. If you are traveling anywhere that is not your hometown-you are a tourist. But, we have all seen the fanny pack wearing, camera carrying, map holding, selfie stick taking groups of tourists while traveling. "Travelers" tend to despise these "tourists" and try to blend in with the locals. I found articles comparing travelers and tourists sighting differences in everything from clothing to using maps and guide books to sightseeing and travel experiences. I will be narrowing these down to 3 specific areas which seem to differentiate these groups.  Are you a traveler or a tourist or both when it comes to picking your destination, accommodations or your experiences? Let's find out!
Destinations:
I recall a conversation that I had with a fellow jetsetter as to places we had both traveled to. I started listing off cities and countries and he asked "Have you ever considered going back to the same place and really getting to know it vs. going to different places every time you travel?" His insinuation to me in this conversation was that he was a traveler and I was a tourist. I tried not to be offended and instead thought it through. I explained that since I was a little girl, thanks in part to my globetrotting Mother, I have dreamed of seeing the world. My desire is to visit every continent and all the wonders of the world. I would love to see with my own eyes the things and places I have read and learned about in school and as an adult. Yes, I struggle with going back to places I loved vs. going to new places but I prefer to see something at least once in my lifetime rather than not at all. In my travel groups there are many people who will seek out the most exotic destinations and places "off the beaten path" in popular countries. They make negative remarks to those who pick domestic travel destinations. Mexico, the Caribbean and even Canada are often looked down upon. In terms of international destinations-how dare you go to Paris and visit the Eiffel Tower or go to Rio de Janeiro and visit the Christ the Redeemer statue and take a picture in front of it? Oh my! These are all crowded "touristy" destinations that "real" travelers avoid. Instead, they seek out areas and landmarks recommended by locals that often times have fewer tourists. But can't you do both? And, what if you only have a short time in a particular place? Would you go Athens and not visit the Acropolis or go to New York City and not visit The Empire State Building or Times Square? There are many reasons including family and financial that persuades people to travel to some destinations over others. However, how you choose to spend your time there may determine which title best suits you (see experiences below).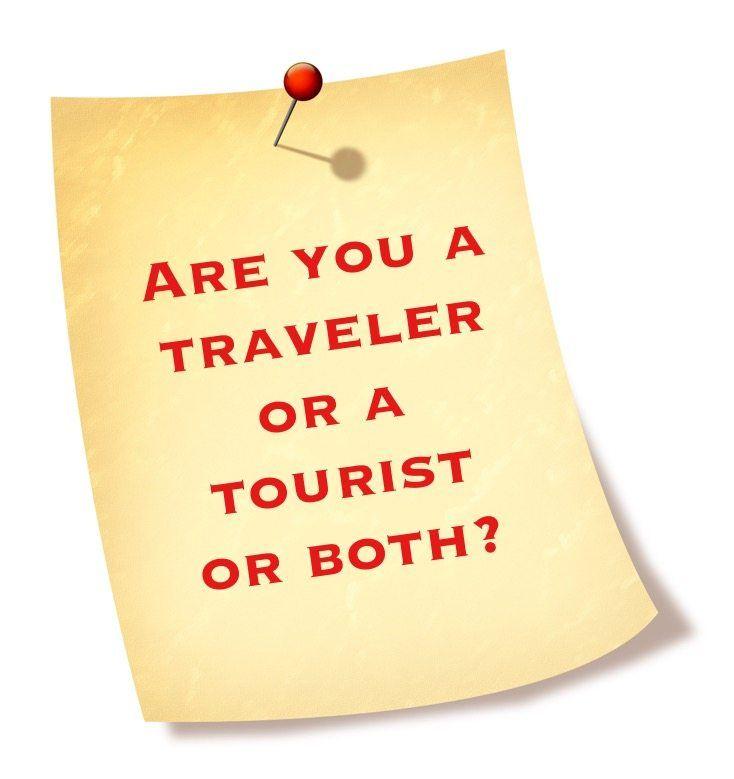 Accommodations:
Do your accommodations affect whether you call yourself a traveler or a tourist? In a recent Facebook post a travel agent stated that she is a "traveler" in that she despises resorts and will only stay in boutique hotels or rental homes. Travelers are known for seeking out hostels, using air bnb for rentals from locals and even couch surfing. But what if you choose to stay in a luxury hotel or resort does this make you less of a traveler for not sleeping with or alongside locals? I can definitely imagine it is a great way to get to meet new people and fellow travelers but these types of accommodations are not for everyone. I personally prefer my privacy and MUST have my own bed and clean and comfortable facilities when I travel. This does not by any means preclude me from meeting and getting to know locals. I will say, if you stay in an resort and never leave the resort or if you are on a cruise ship and never get off the boat, you are missing out on real opportunities to learn about the place from those who know it best.
Experiences:
I found in many articles that tourists are considered to be travelers that go to places simply to sightsee and take pictures in front of famous landmarks. They make no effort to learn the history or culture of the place, make no effort to speak the language, make no effort to eat the food or talk to locals. I do believe I have met several groups like this in my travels. It is unfortunate and I do hope that whether you consider yourself a traveler or a tourist or both that you try and get to know the place you are visiting. As mentioned above, there is nothing wrong with staying in a resort or on a cruise ship but if time allows take excursions and tours to broaden your travel experience. Do some research prior to your trip to learn and respect the local customs. Learn a few common phrases in their language. Do not expect everyone to speak English. Try new foods and new adventures. Speak to those aorund you and ask questions. Be polite.
[Tweet "Are you a #traveler or a #tourist or both?"]
In Conclusion:
I am sharing this post in hopes of putting my readers in the #nojudgezone. To me being a traveler means stepping away from the comforts of your home and experiencing a new place. This place may be another city in your area or another state or another country. Whether you are traveling throughout the US or the Caribbean or Europe or Africa you are still a traveler. To me the whole point of travel is to see and learn about other places, meet new people, try new foods, experience a different culture and believe it or not you can do all of that within America. I do believe that broader travel breeds tolerance and acceptance and that is one of its many benefits. Instead of shaming and judging people let us encourage them to step further out of their comfort zones to explore all that the world has to offer. I commend anyone who travels at all! I commend anyone who makes an attempt to see and learn about a different place and people. In terms of being a tourist, I found this article quite funny "Why it's better to be a tourist than a traveler." And, if you would like to get an idea if you are a traveler or a tourist or both, take this quiz.
My results? I am both and proud of it! Please share your thoughts with us below! Do you consider yourself to be a traveler or a tourist or both?!