Have you ever heard of Coastal Soul Cuisine? Well Chef Marvin Woods has brought this to downtown Atlanta at Asante Restaurant. As per their website-this Atlanta restaurant blends cuisines from coastal regions around the World! Coastal Soul Cuisine pays homage to the effect the African Diaspora had on culinary techniques and flavors in the Southern United States, Cuba, South America and Europe. This is one of my many Atlanta restaurant reviews but with the influence from the African Diaspora on the menu it is also perfect for Black History Month! Before I tell you about Asante restaurant I thought I should introduced you to the Chef behind this unique restaurant.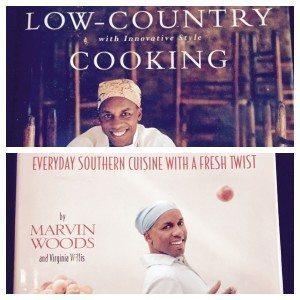 Chef Marvin Woods: When I visited the website of Emmy Award-nominated Chef Marvin Woods 3 things popped out to me. 1) A quote from Oprah Winfrey "Chef Marvin Woods dishes are light, sophisticated, exotic". 2) Chef Woods was the first chef invited by First Lady Michelle Obama to be a part of the "Let's Move" cooking series where he teaches families how to prepare healthy budget meals. This is part of the popular and successful "Let's Move Campaign". 3) Chef Woods will be appearing as a judge on a new TV One show called "My Momma Throws Down" which is a competition show between two mothers! Hilarious concept! Chef Marvin Woods grew up in NJ (Yeah-Northern Jersey Girl here) and started cooking with his father at the age of 7. He attended culinary school after high school and has been in the business for over 30 years! He honed his skills at famous eateries including the former Windows of the World in NYC and Hollywood Prime in the Miami area. He traveled and worked in Europe as well where he earned his executive chef title. Back in NYC he worked at Café Beulah where he contributed to their "low-country" menu.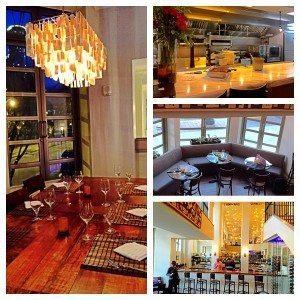 Low Country cuisine refers to the cooking style and flavors of the South Carolina and Georgia coasts. This cuisine is filled with seafood and has African and Caribbean influences. It wasn't long before Chef Woods was appearing on Food Network , authoring his first book "The New Low-Country Cooking" and traveling to Miami where he opened his first restaurant. Chef Woods moved to Atlanta for his own show on the Turner network called "Home Plate" which inspired his second book "Home Plate Cooking". And if all the above isn't enough to impress you-Chef Woods does speaking engagements for the American Heart Association and the American Diabetes Association. Chef Marvin Woods is often recognized by fans for not only his cooking but his signature bandana. Now onto his latest accomplishment-Asante!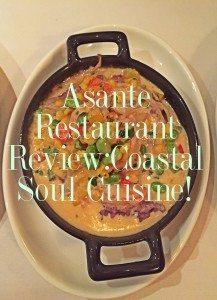 The Food: So what is coastal soul cuisine? Here are just a few examples from the Asante menu. Appetizers of Asante spiced crispy okra, cashew cheese hot house tomato and pan seared Berebere spiced Manchester Farm Quail. Berebere is a spice mixture with chili peppers, garlic, ginger and basil and is a key ingredient in cuisines of Eritrea and Ethiopia. Salads of raw fermented cabbage and wilted kale with nueski bacon (applewood- smoked bacon) dressing with corn bread croutons. Entrees of creole braised yellowtail snapper, buttermilk soaked Poussin and Caribbean seafood sancocho ( a traditional soup or stew that can be found in Latin American countries and Haiti. Derived from "cocido"which is a traditional stew of meats and vegetables in Portugal and Spain.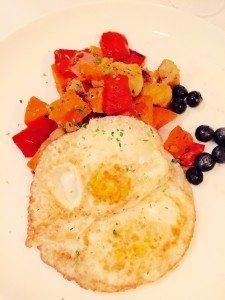 You will also find gluten free vegetables and dumplings, Springer Mountain chicken and dumplings, conch fritters, Puerto Rican style pork shoulder and Piri Piri Nigerian King prawns (Piri Piri is an African chili pepper). There are several sides of macaroni and cheese, maduros and Carolina gold rice. Desserts include warm bread pudding "sorghum" which is a sweetener from a grass and often referred to as molasses or "sorghum molasses". Look for sweet potato crème brulee and carrot cake with caramel sauce! If you are wondering what I actual ate there here goes! We had the Low Country Shrimp N Grits which were served with blue corn grits and a broth filled with vegetables. It was different and delicious. I also enjoyed the Maryland style jumbo crab cakes served with scrambled eggs.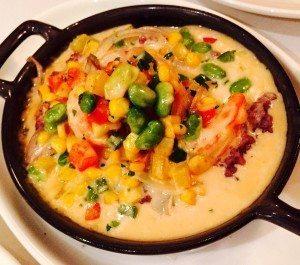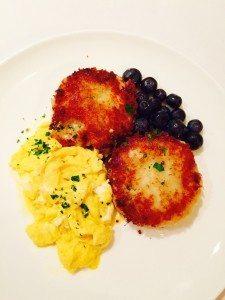 We were given a plate of sweet and white potatoes served under a fried egg. This was a side to one of our dishes although I am not sure which one. It didn't matter since as with the other dishes it was all tasty. My absolute favorite was the short ribs which we chose to pair with collard greens and macaroni and cheese. The short ribs were tender and the collard greens bursting with flavor! Although at first look I was hesitant about the macaroni and cheese since I prefer mine to be more dense, the seasonings more than made up for it.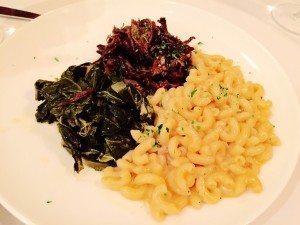 The Place: First, you may be wondering what "Asante means". I asked this at the restaurant and was told it meant "Thankfulness or Gratitude" in Swahili. As mentioned above Asante is located in downtown Atlanta across from Centennial Park in the Lucky Marietta District. My first impression when walking in was "OMG-This place is so beautiful". There are two levels with a winding staircase.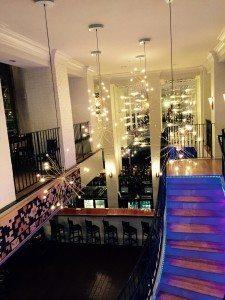 On the first floor you will find a long wooden bar, sophisticated seating areas, a chef's table and a large wine collection. The second floor main dining room has cozy booths, colorful artwork everywhere by Haitian artist and a Chef at Asante. There are private and semi-private spaces including the "blue room" which are perfect for private dining and hosting events.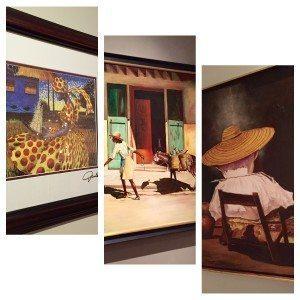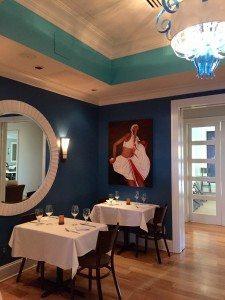 During warmer weather months enjoy the outdoor patio which can hold up to 65 guests and currently houses plants being grown by Aeroponics! Aeroponics uses air or a mist environment to grow plants without the use of soil. This restaurant has so many different areas for dining, lounging and enjoying cocktails that were all so exquisitely done! Our server gave us a tour of the facilities and prior to that the wine sommelier and the assistant General Manager Ellen Woods gave us information on the history of the restaurant, the art and upcoming events such as Monday nights "Flight School Wine Pairings". At this event a 3 course food tasting is done accompanied by eclectic wines at the guidance of their wine sommeliers. (price is $85)  On their website you can make reservations, check on events AND shop for Chef Marvin Woods' cookbooks and spices. Asante is open 7 days a week, Monday Thru Friday for lunch and dinner, Saturdays dinner only and on Sundays brunch is served all day from 11am to 8pm. 3 hour parking validation is available in the parking deck of Hilton Garden Inn at 275 Baker Street. It currently has 4 ½ stars on Yelp and 2 $$ signs! If you need to get familiar with my love for the Yelp App and its restaurant rankings be sure to read my "Best Brunch Restaurants in Atlanta" post!
Have you been to Asante Restaurant in Atlanta? Are you familiar with Chef Marvin Woods? If so share your thoughts with us below! For more restaurant reviews and recommendations in Atlanta visit my Food-Atlanta section on the website!
N.S.W.