This post contains affiliate links. However, all opinions expressed here are original. If you click through on a link, you won't pay a penny more, but we'll receive a slight commission which helps us keep this information available to you. Thanks!
Last summer I finally accomplished a bucket list travel item of mine: a Catalina Island day trip from Los Angeles! I am a bit embarrassed to tell you how I first heard about this island but here goes.
I am a big fan of Old Hollywood and Catalina Island was their stomping ground. Although I traveled back and forth between the U.S. and Jamaica during my childhood, I started living permanently in Northern NJ in 1981. I am not sure how a 10 year old would be in tune to this news but I remember hearing about actress Natalie Wood's tragic death at Catalina Island. She was on a yacht with her husband Robert Wagner along with actor Christopher Walken and the yacht's captain. She drowned after allegedly falling off the yacht.
There have always been rumors and speculations as to what happened that night on the yacht and whether her death was an accident or intentional. I chose to believe the former since I was a fan of Robert Wagner. Did you watch the TV show "Hart to Hart"? Robert Wagner was the debonair husband on that show and my family and I watched it regularly. Natalie Wood and Robert Wagner had an epic Hollywood romance. They were married twice including at the time of her death.
Needless to say, Catalina Island, based on this story, has been intriguing to me since 1981! Although I have been to Los Angeles multiple times, I was determined to do a Catalina day trip there last summer. With the 2017 summer season quickly approaching, I figured it was the perfect time to finally write this travel guide.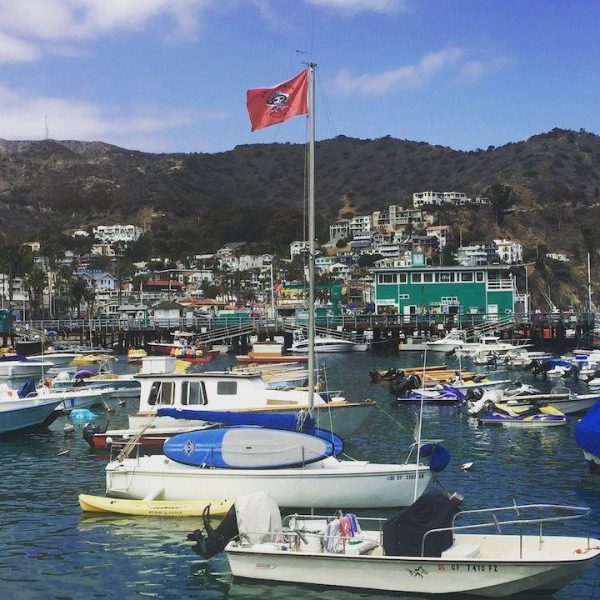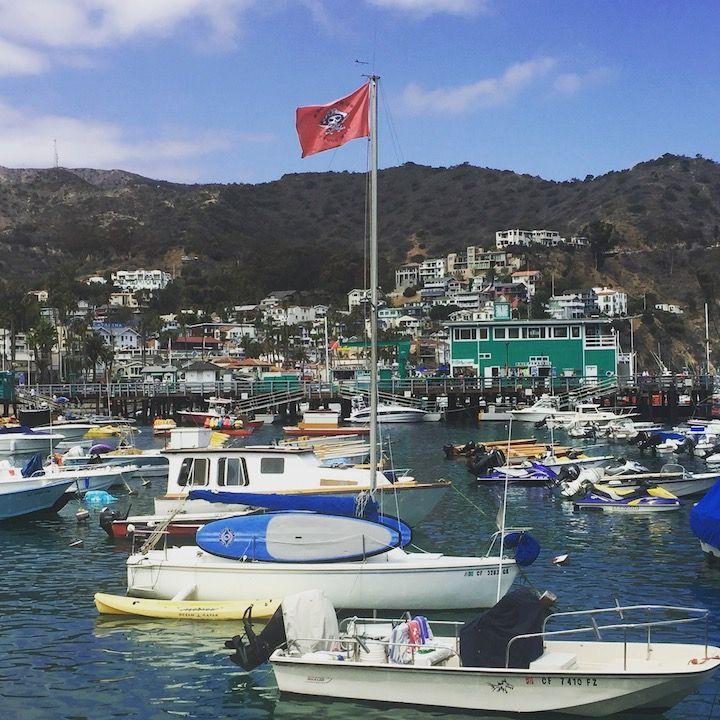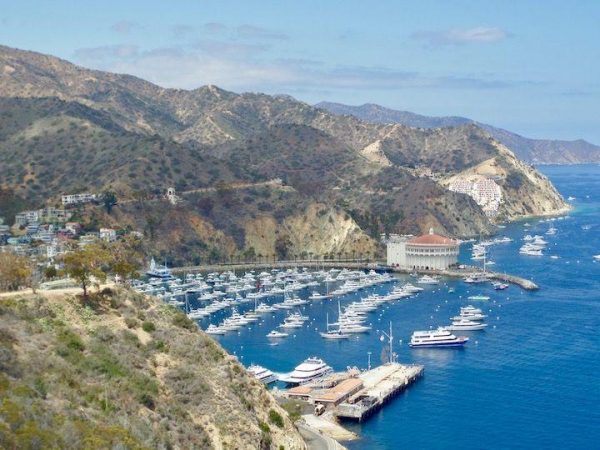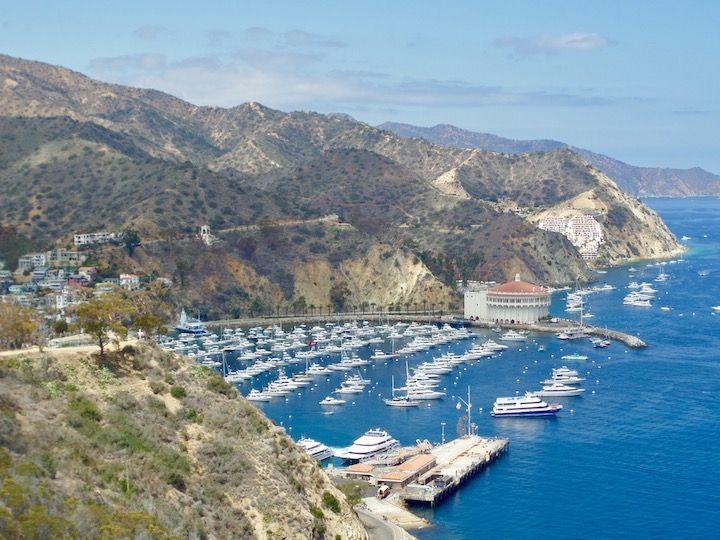 Catalina Island is officially named "Santa Catalina Island". It is fairly small in size measuring only 22 miles long and 8 miles wide. It is located roughly 22 miles SW of Los Angeles. The main town of Avalon holds 90% of its inhabitants. It is also the main resort town and has most of the island's notable attractions.
There is also a smaller area called Two Harbors. It is estimated that less than 5,000 people live on the island. While touring the island, we noticed a lot of "Wrigley" paraphernalia as well as Chicago Cubs merchandise. In turns out that William Wrigley, of the Wrigley chewing gum fame, purchased controlling shares of the island in 1919. Wrigley owned the Chicago Cubs and they did spring training on Catalina Island from 1921 to 1951.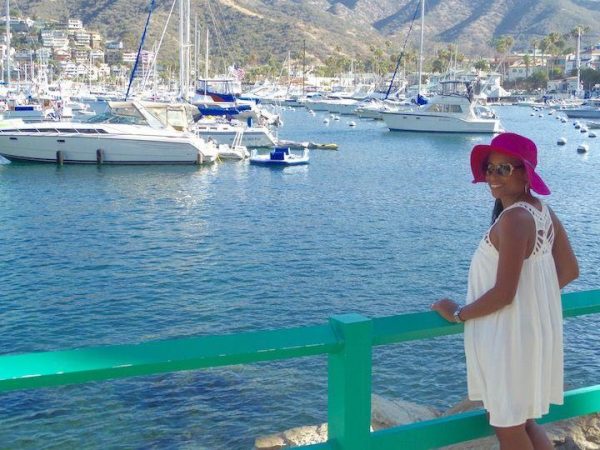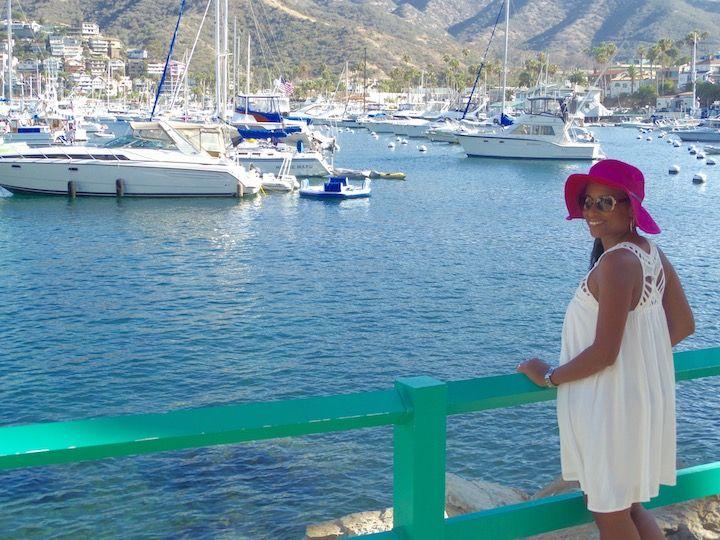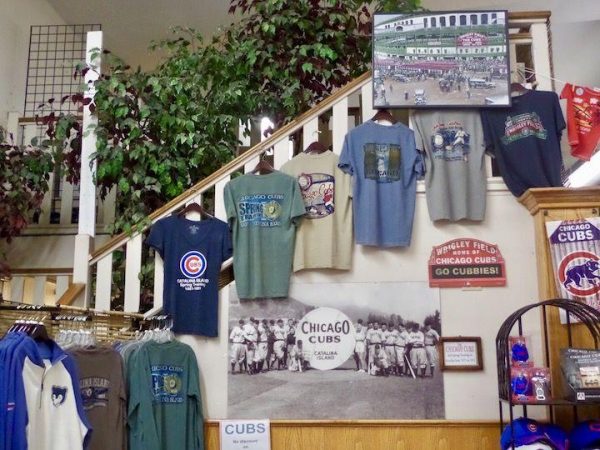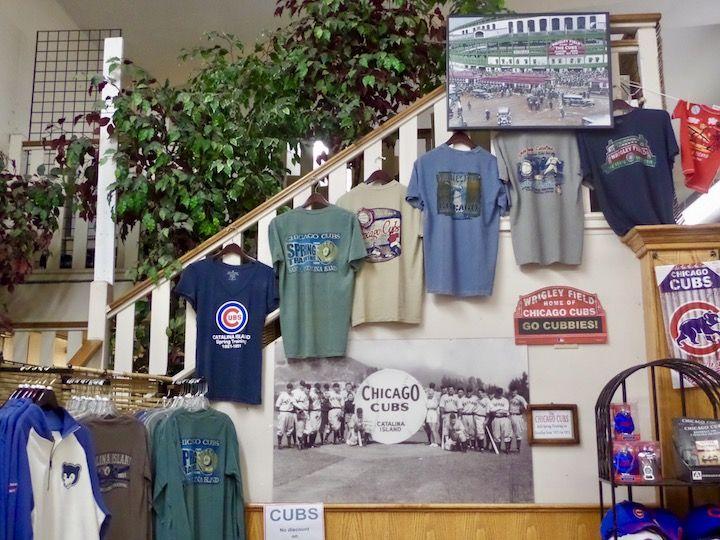 In 1975 William Wrigley's son deeded most of the island to the Catalina Island Conservancy which maintains the land and the recreational activities. Another interesting fact relates to the American Bison. When you visit you will notice sculptures of them around the island. In 1924 fourteen bison were brought to the island for the filming of a movie. Due to cost, the film company left the bison on the island. There are approximately 150 bison that now live on the island.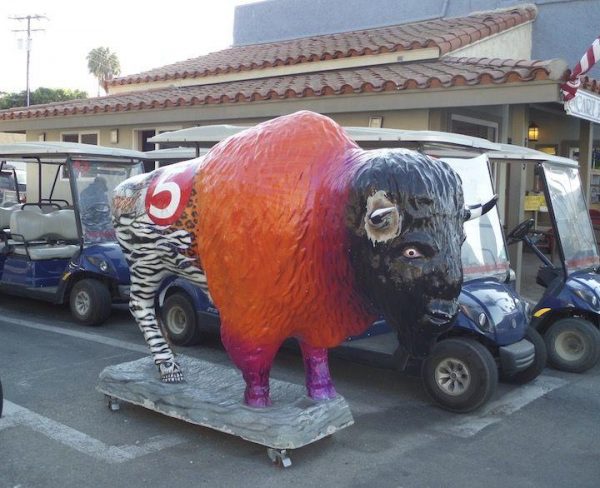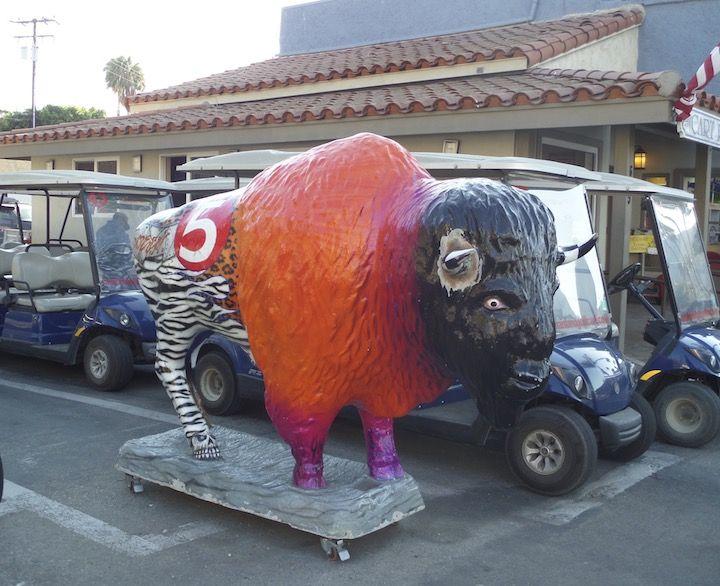 Travel to Catalina Island
Above I mentioned that the island only has a few thousand inhabitants. However, based on Catalina Island being a popular tourist destination, over one million people visit it each year. There are several ways to get there from the Los Angeles area. You can take a 15 minute helicopter ride or a 60 minute ferry ride. Ferries depart from major cities such as Long Beach and Newport Beach. We chose to take the ferry from Long Beach on the Catalina Express.
Taking the Long Beach Ferry to Catalina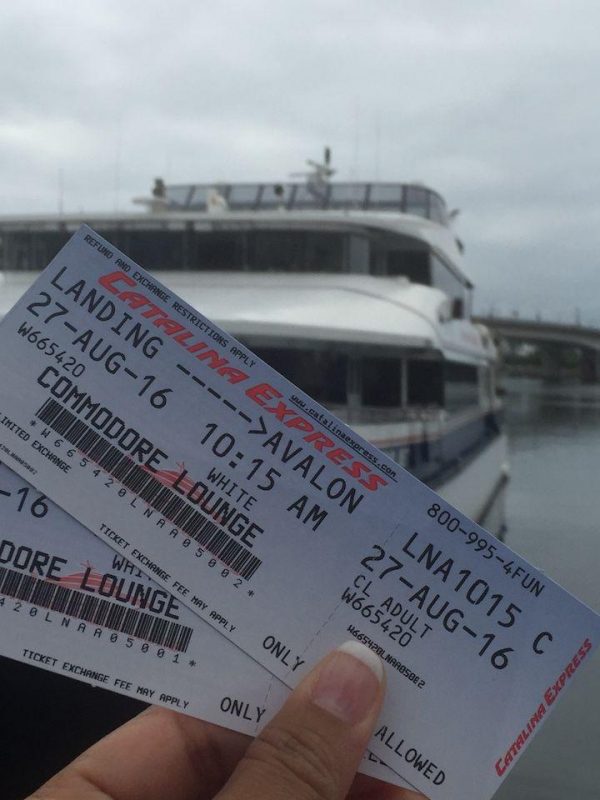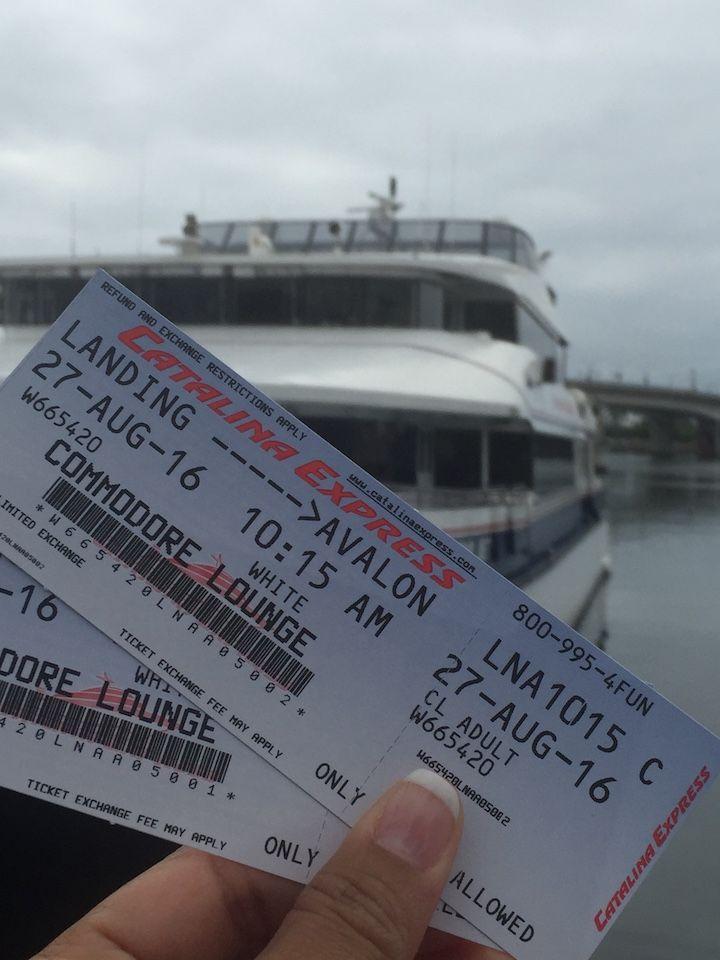 On the weekends and holidays be sure to book your ferry far in advance! By the time I booked a few weeks before for a Saturday, all the regular seats were taken for the morning ferry ride. Keep in mind that if you are doing a Catalina Island day trip you want to leave early in the morning and come back in the evening. Since other visitors have the same idea, those ferry times may be sold out. I had to pay more for premiere seating in the "Commodore Lounge". You do get a free drink but it is not worth the extra cost.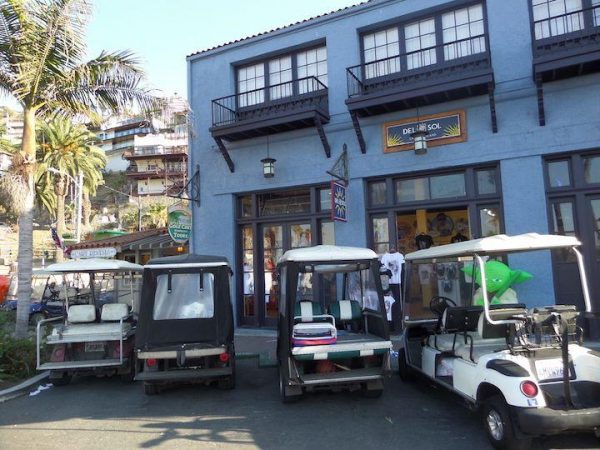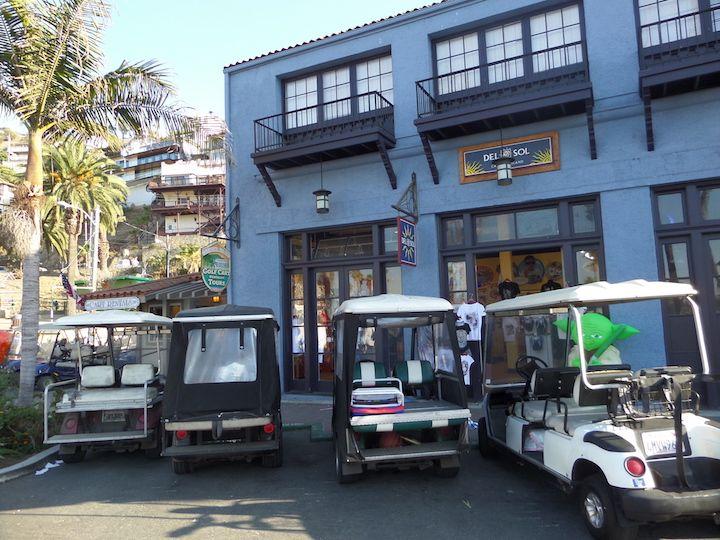 In terms of getting around on the island, I read several articles about renting golf carts. This seemed like a lot of fun! Avalon is a walkable area, for the most part. But, with a golf cart we were able to drive to the surrounding hills for amazing views.
Just like the ferry ride, if you are planning a day trip from Los Angeles to Catelina Island on a weekend or holiday during the summer, reserve your golf cart in advance. Some companies will mention that no reservations are needed and you can rent on arrival. However, in the busy season all the golf carts are reserved so you have to wait for people to bring them back. Most people rent them for 2 hour blocks. When you get off the ferry in Avalon there are several rental companies within walking distance which makes it very convenient.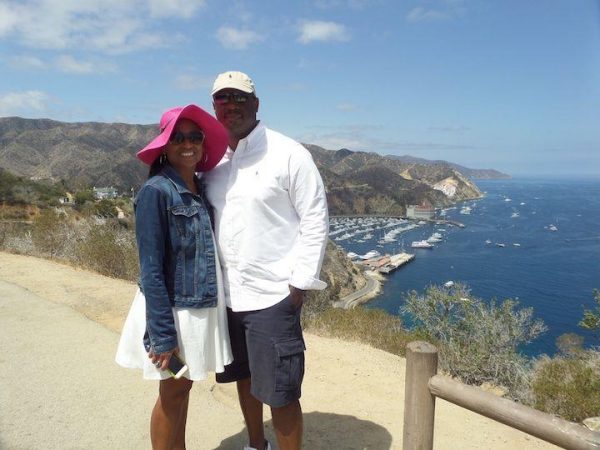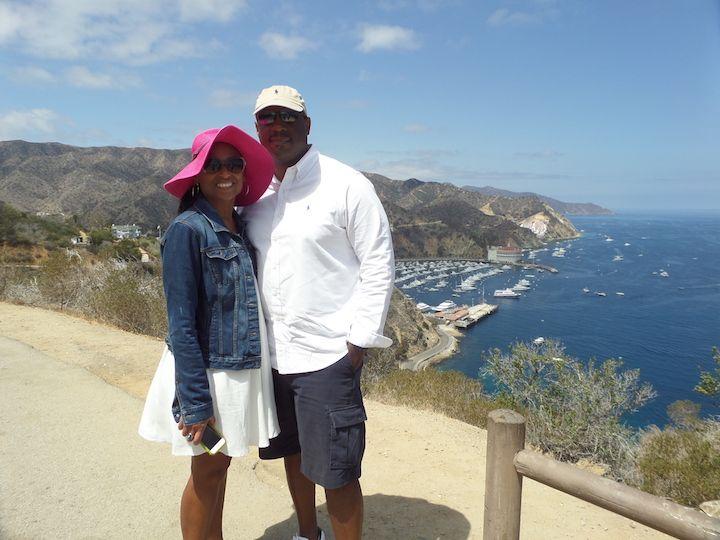 Things To Do in Catalina Island
During your Catalina Island day trip there are several activities to choose from based on your interests. The island is very popular for those that enjoy water sports. You will notice scuba divers, kayakers, snorkelers and paddle boarders. There are also glass bottom boat tours.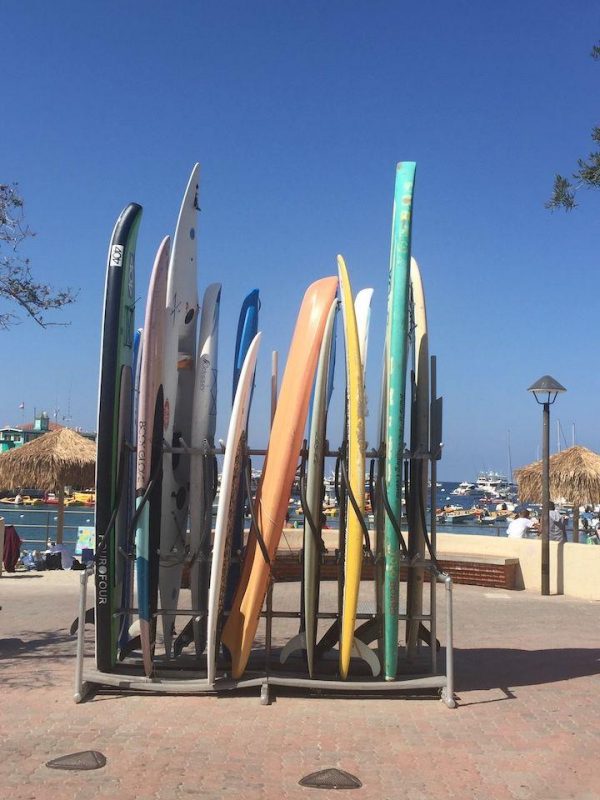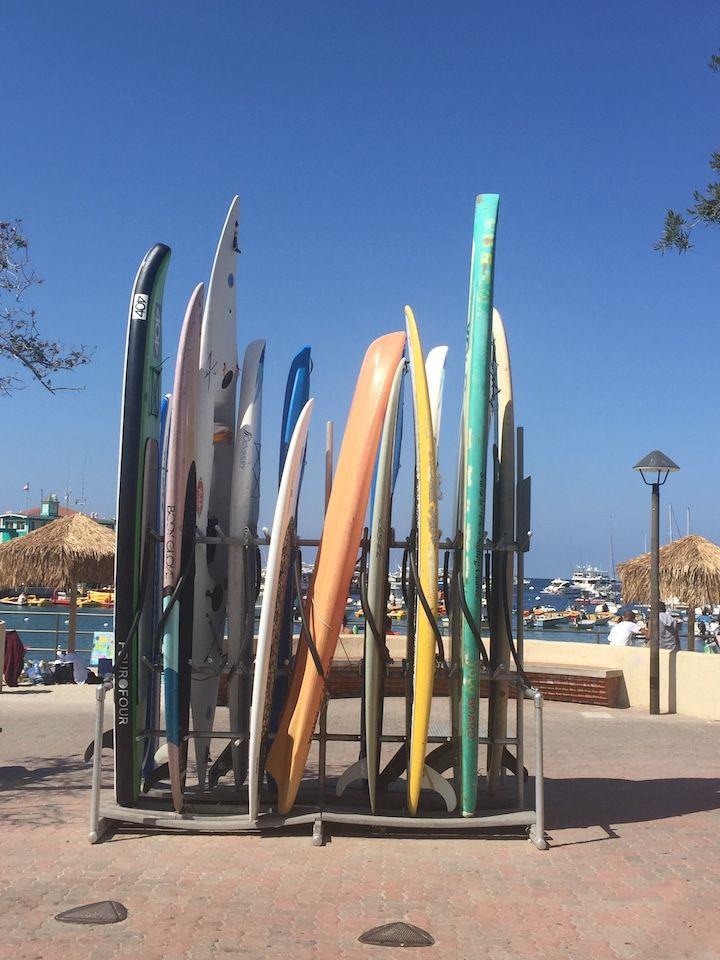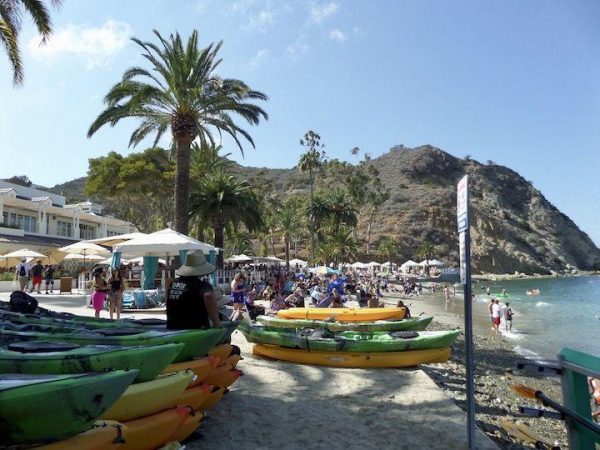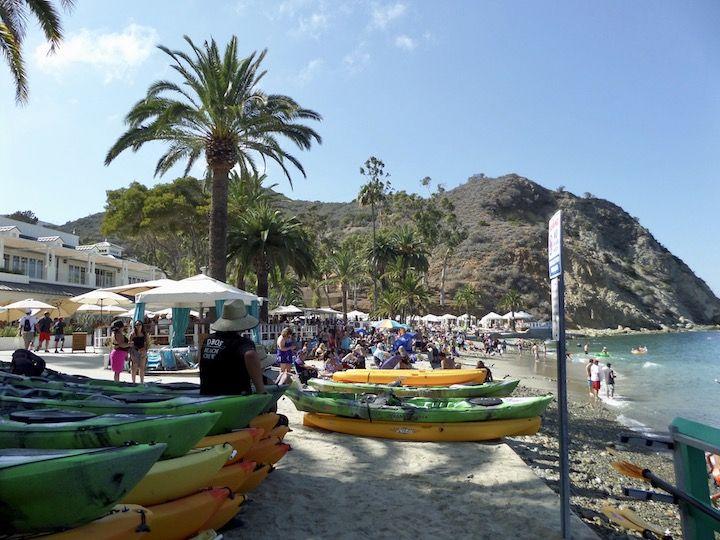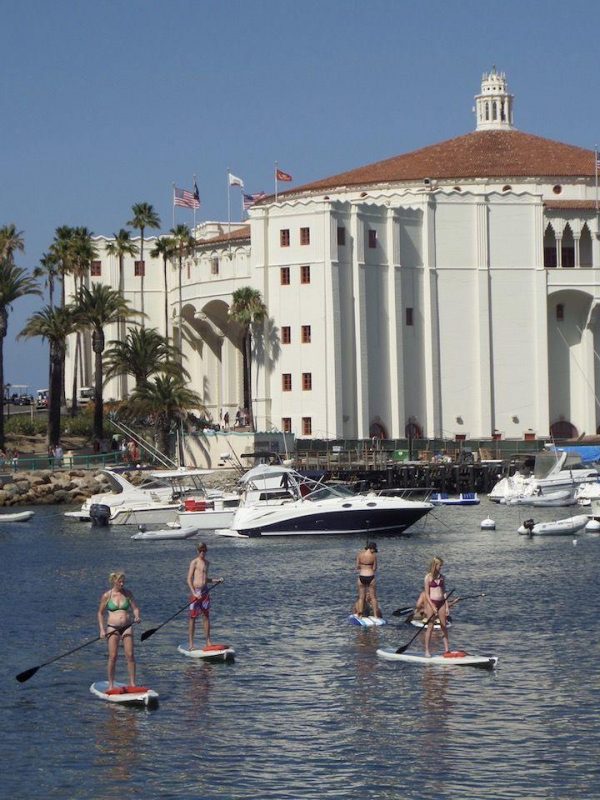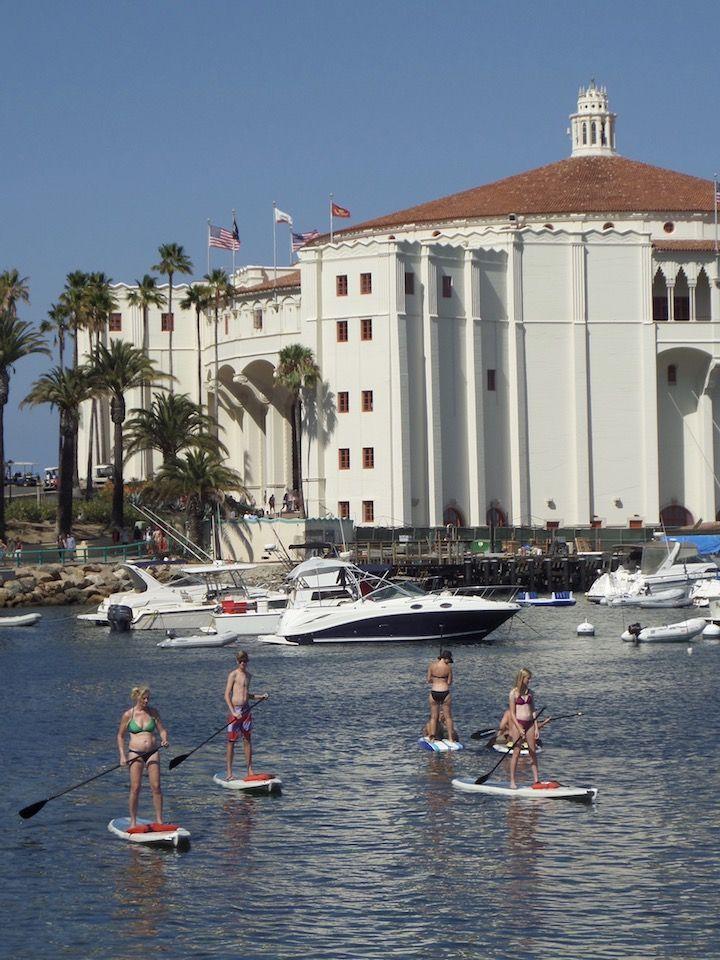 Exploring Catalina Island Via Golf Cart
Since we only had a few hours and did not want to get wet 🙂 we chose to tour the island on our golf cart. We took in the gorgeous views, drove through neighborhoods admiring the houses and relaxed with cocktails at Descanso Beach Club. It was a fun day party scene with a DJ and people dancing. And, like most places in California, the weather was perfect! Certain areas reminded me of Capri Italy! It's the perfect day trip from Los Angeles if you want to get away from the city and enjoy the sun.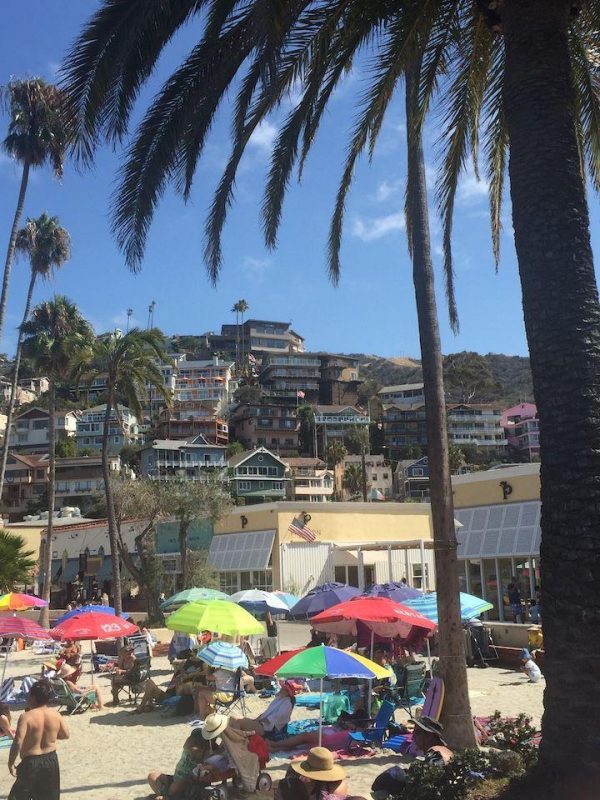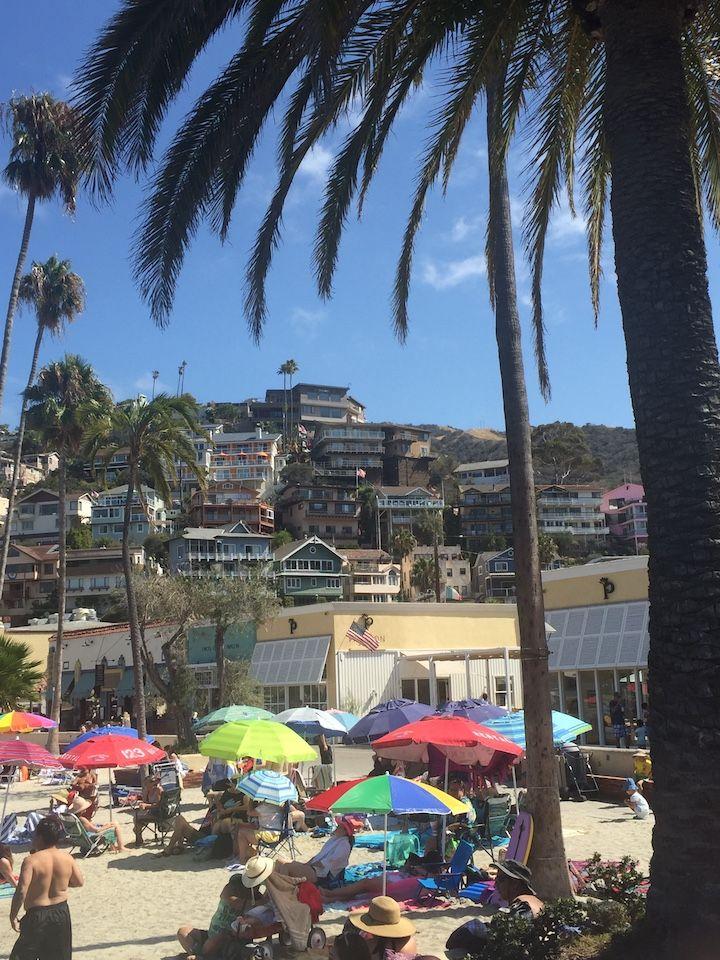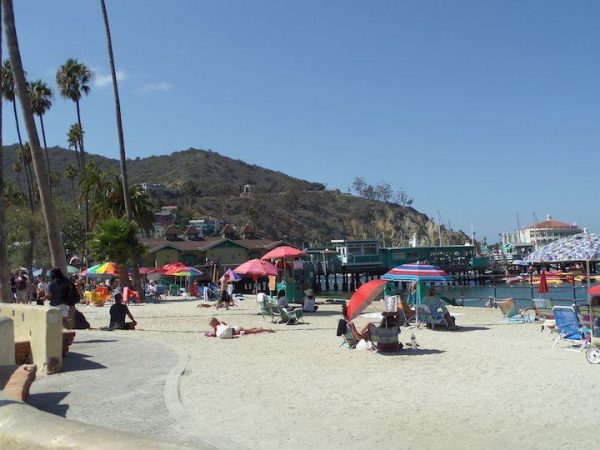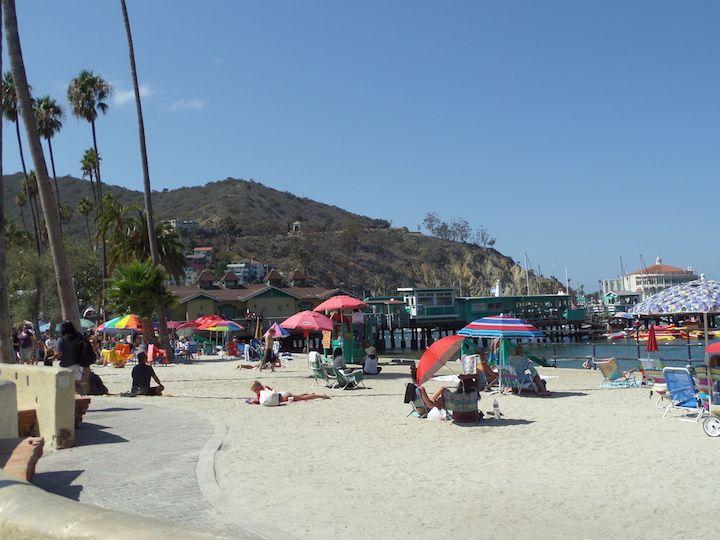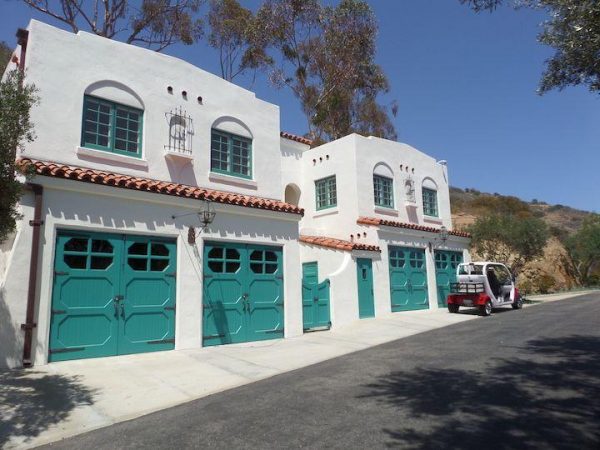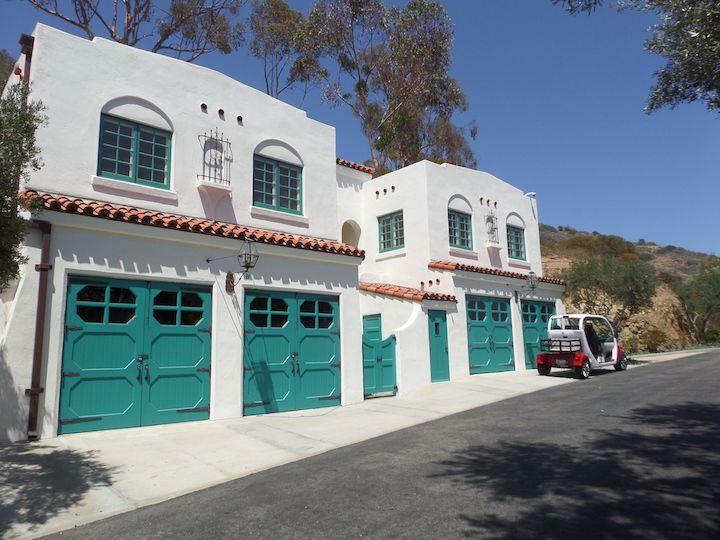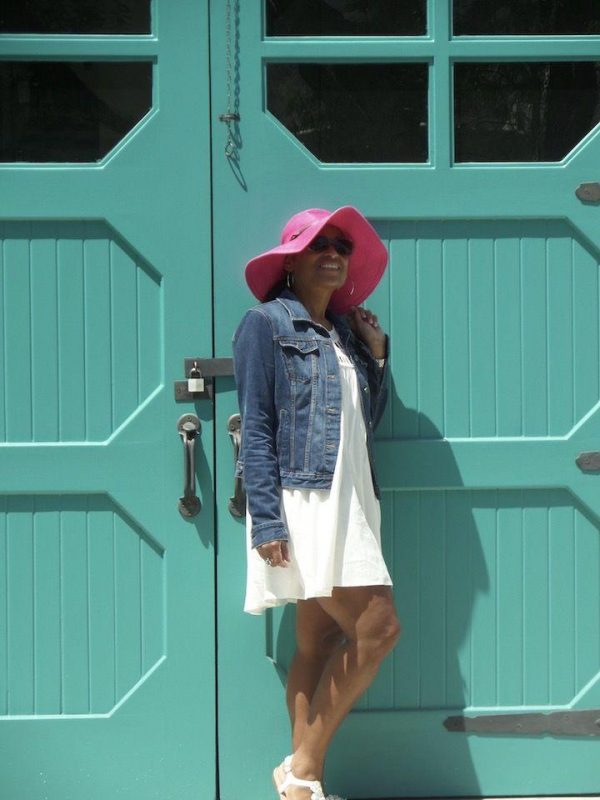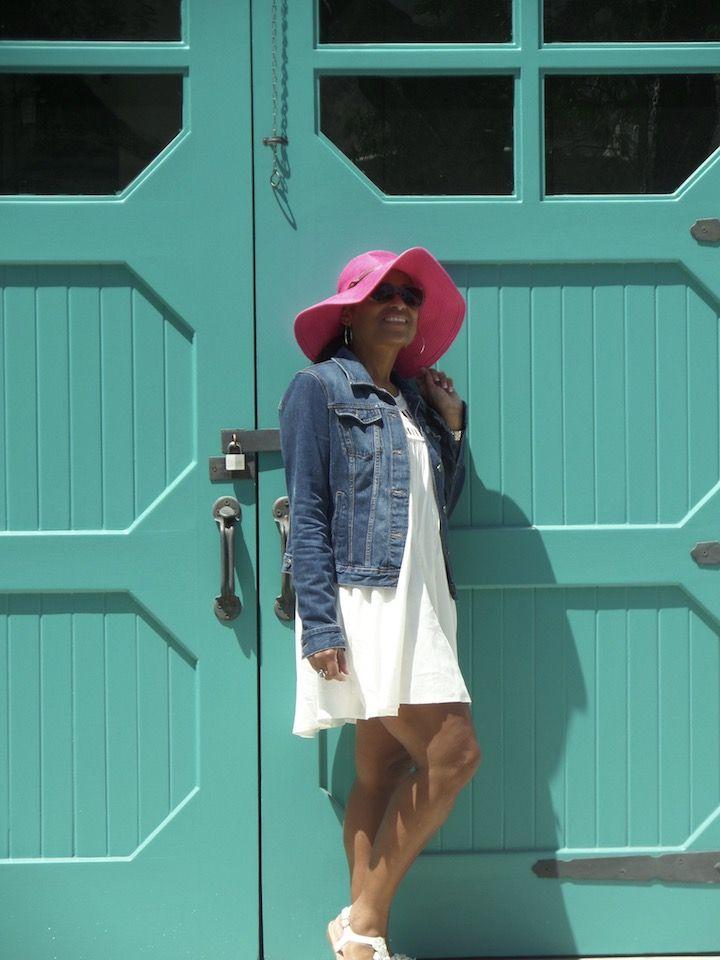 Just like the ferry ride and the golf cart, if you would like to rent a cabana at Descanso Beach Club over the summer, be sure to do so far in advance! They were sold out on our Saturday date in August but we were still able to walk up and get a table overlooking the beach.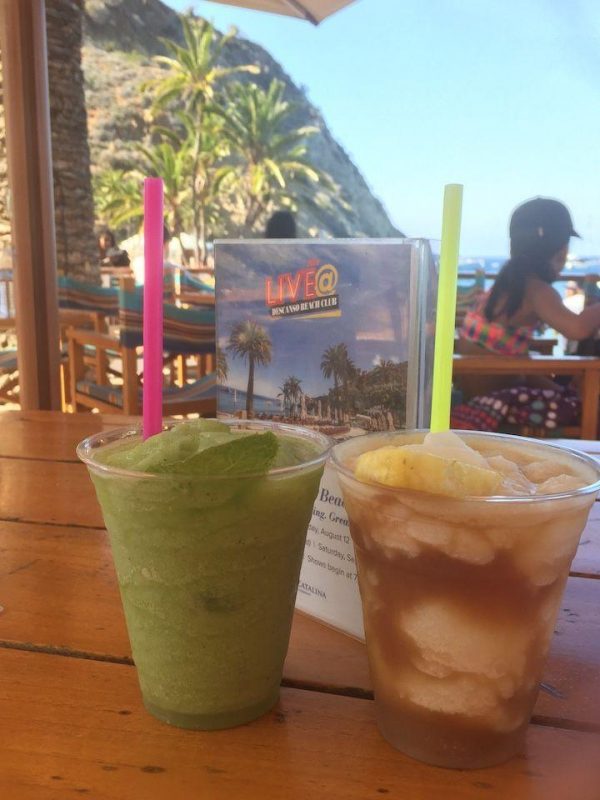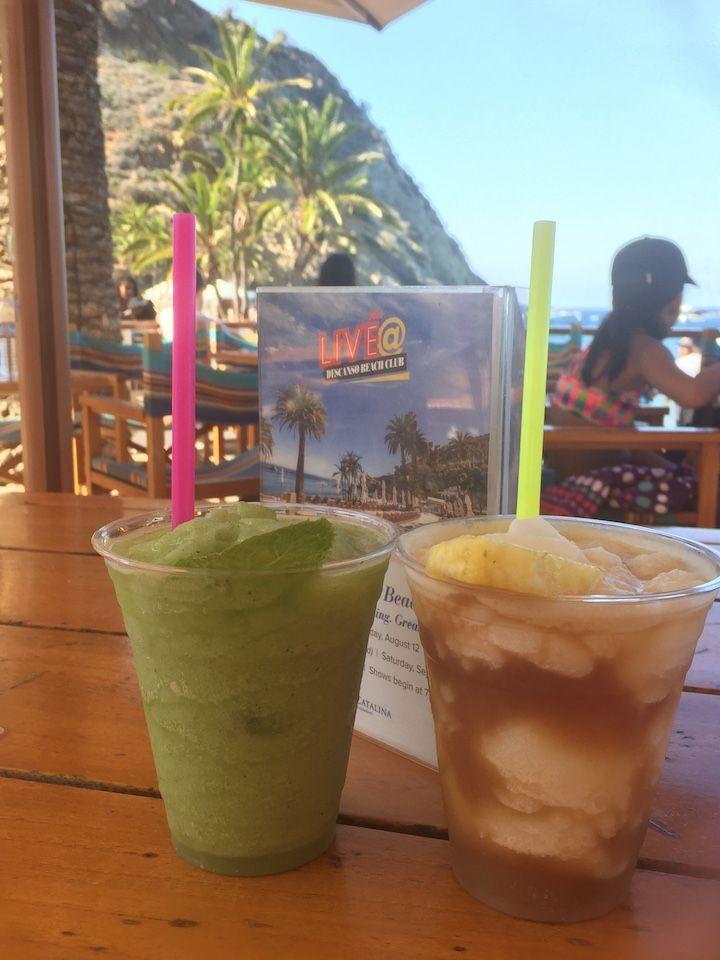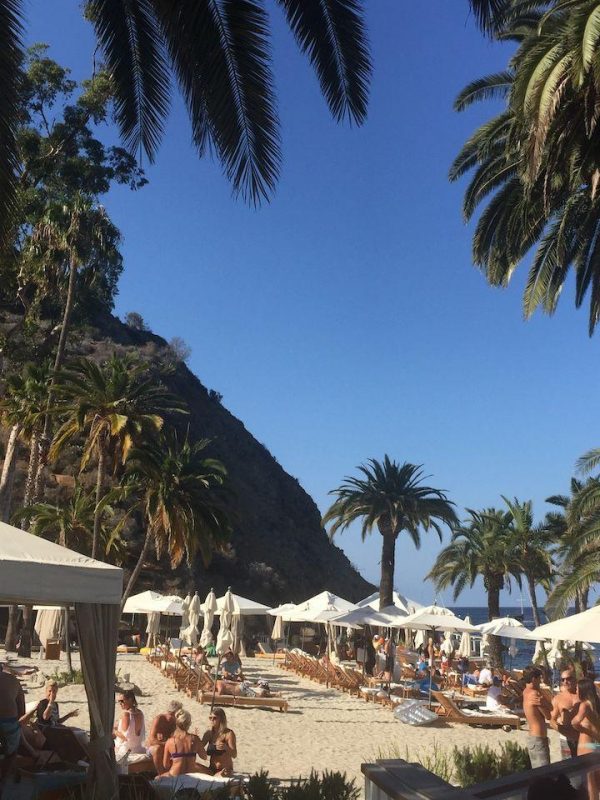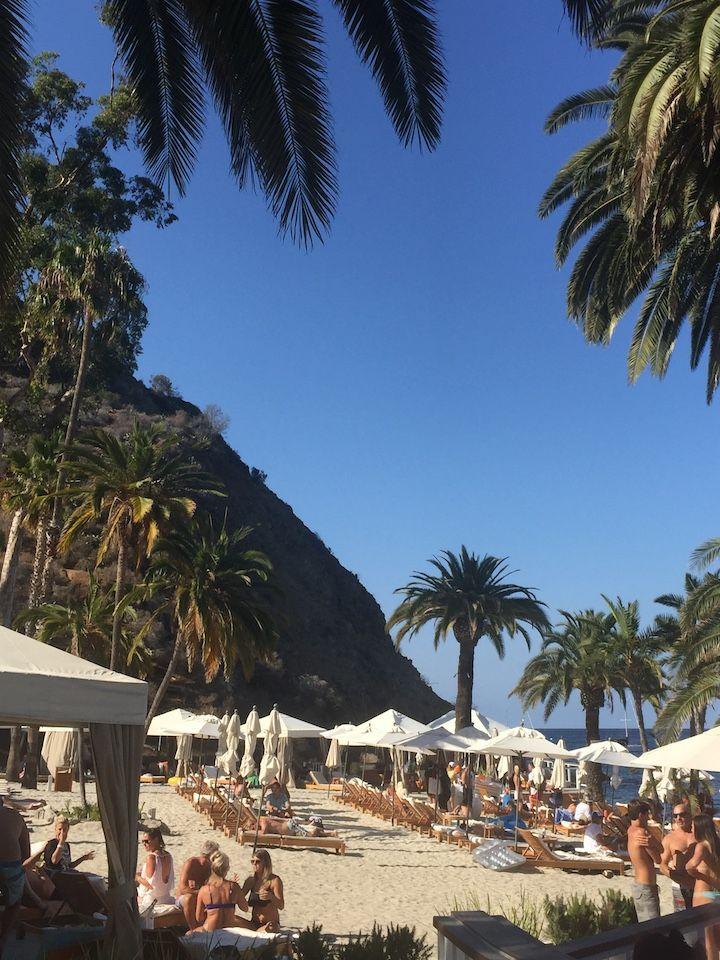 Where to Eat on Catalina Island
During our Catalina Island day trip we also stopped for lunch. This restaurant really was a "trap"-so don't eat here! There are many other restaurants to choose from on the island.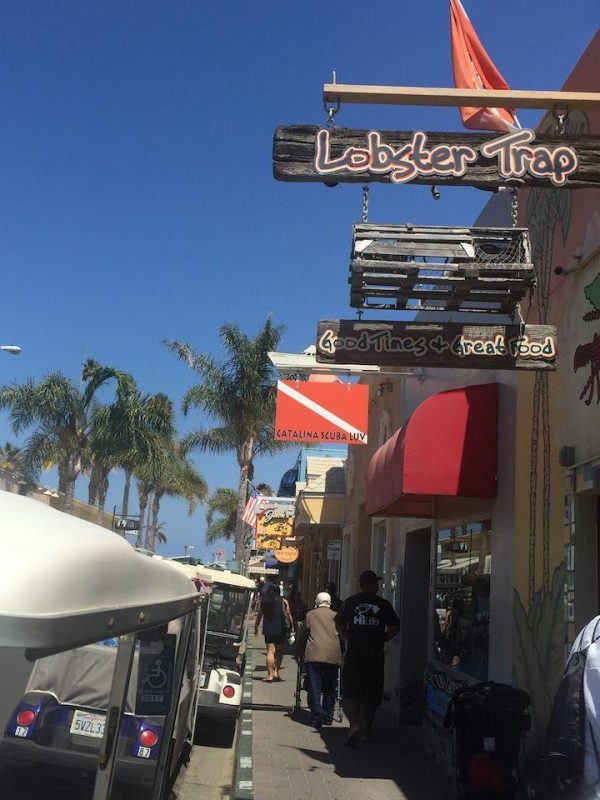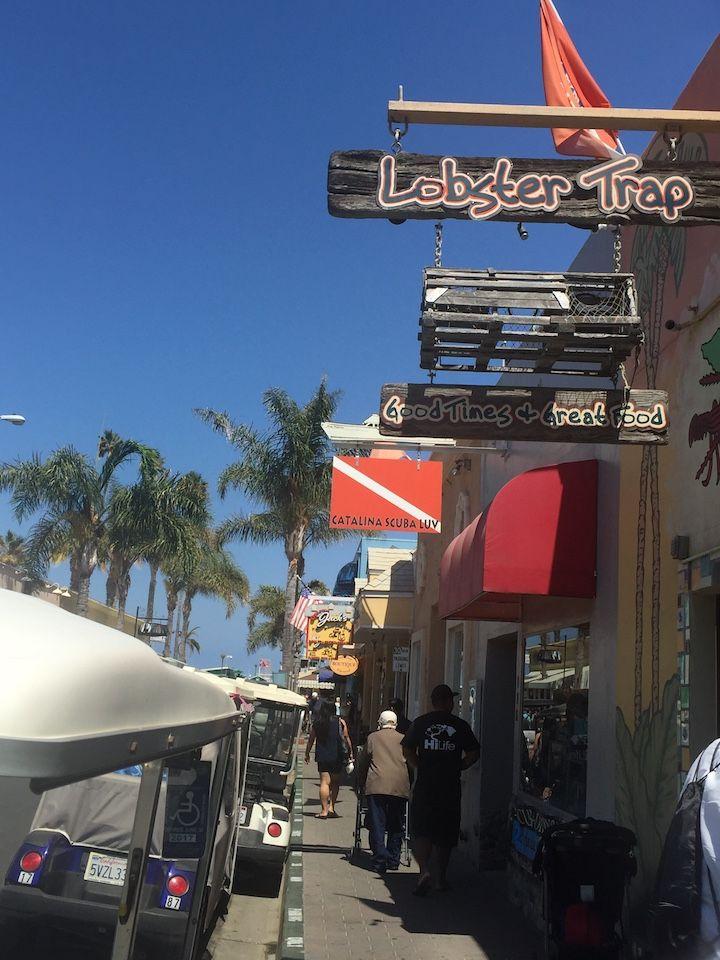 Must See Attractions on Catalina Island
While touring Avalon these are must see places:
The Catalina Island Casino with the history museum, a ballroom and the Avalon theater in the same structure
Descanso Beach Club
Wrigley Memorial Botanical Gardens.
We saw wildlife near the botanical gardens! You should also take some time to browse through the gift shops and boutiques in Avalon.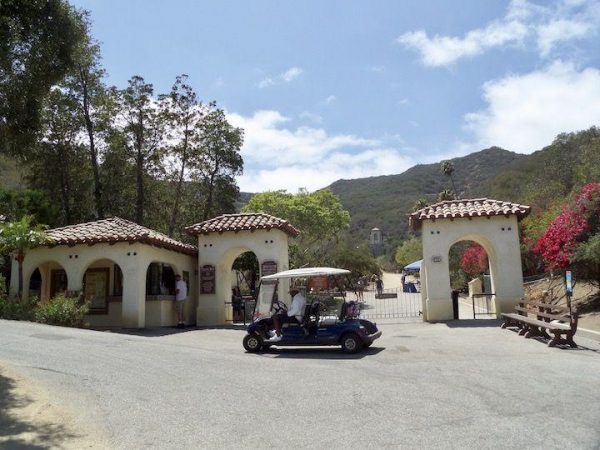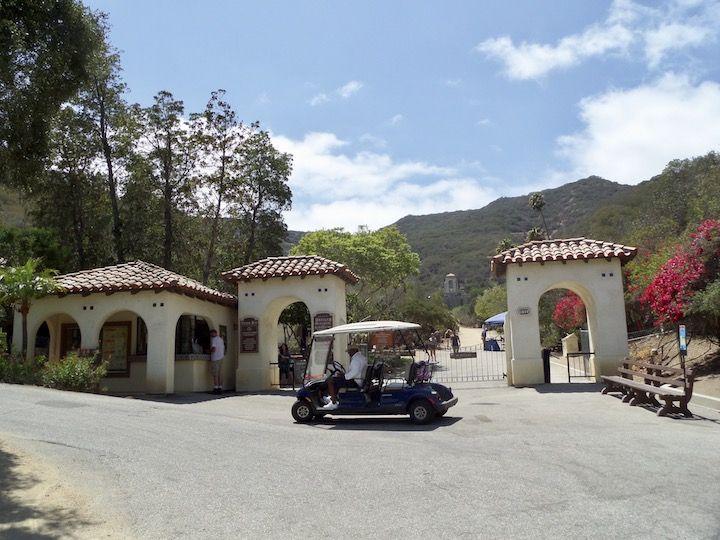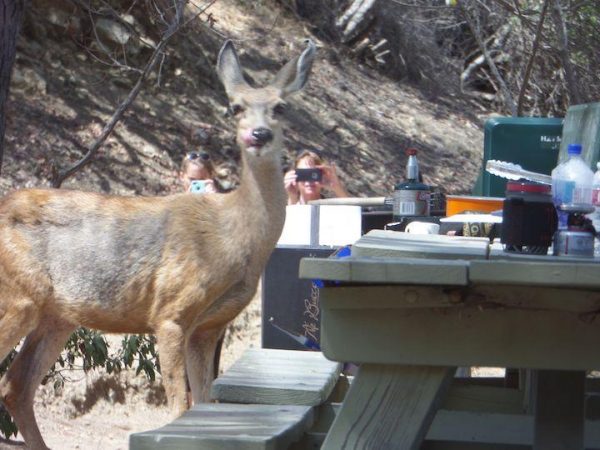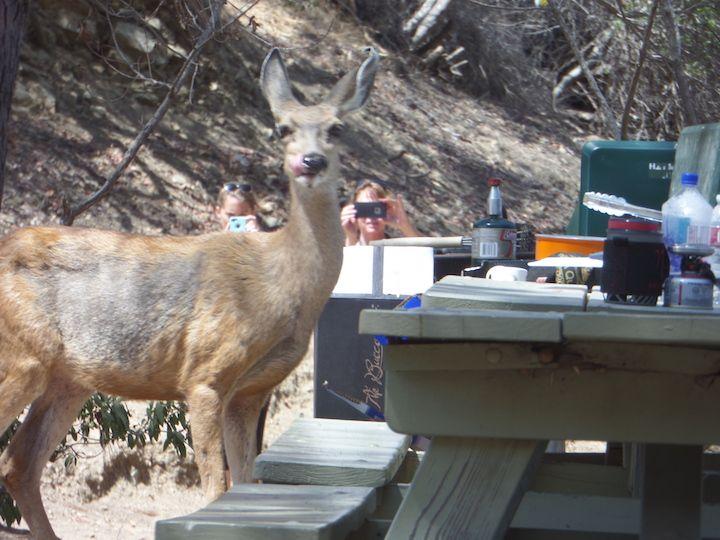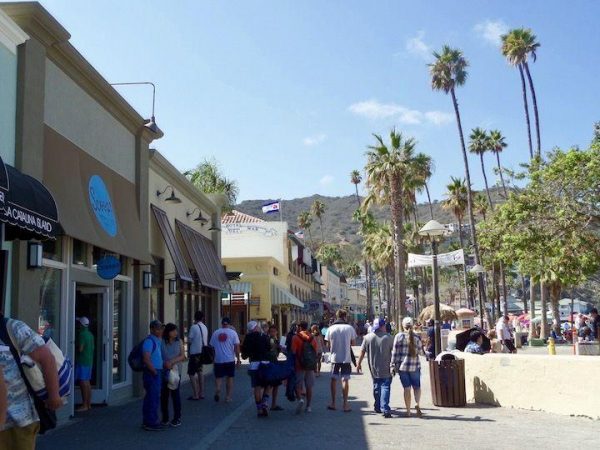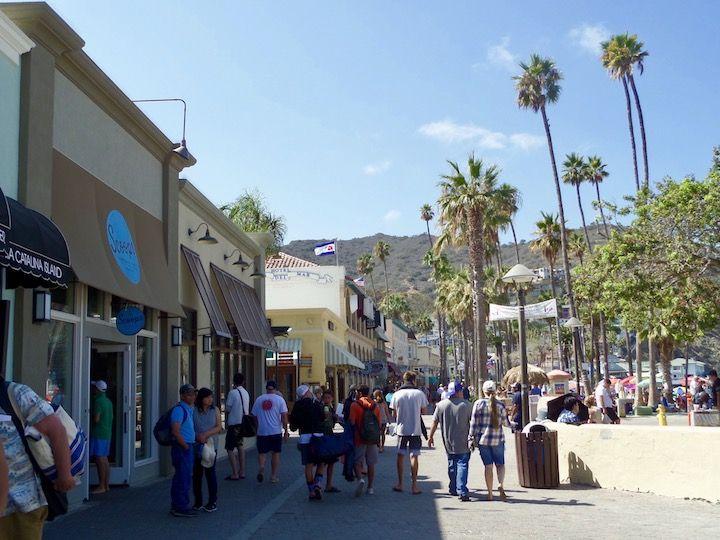 When planning a Catalina Island day trip from Los Angeles consider going when there is an event scheduled. I saw notices for upcoming wine festivals and music festivals. Check out the Visit Catalina Island Website for more info. Here are some other useful links: Golf Cart Rentals, Descano Beach Club.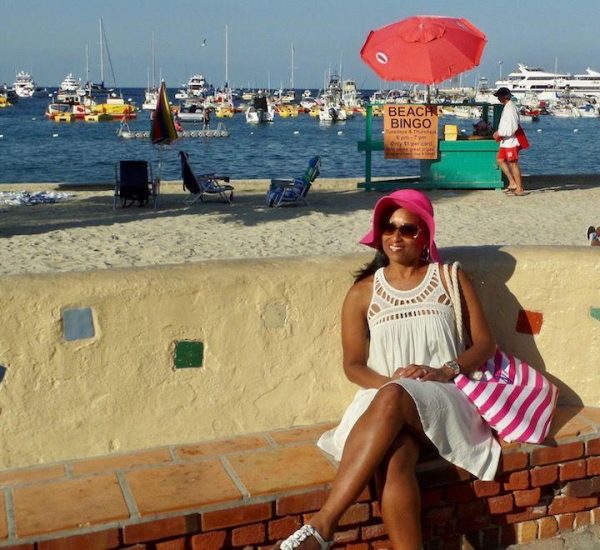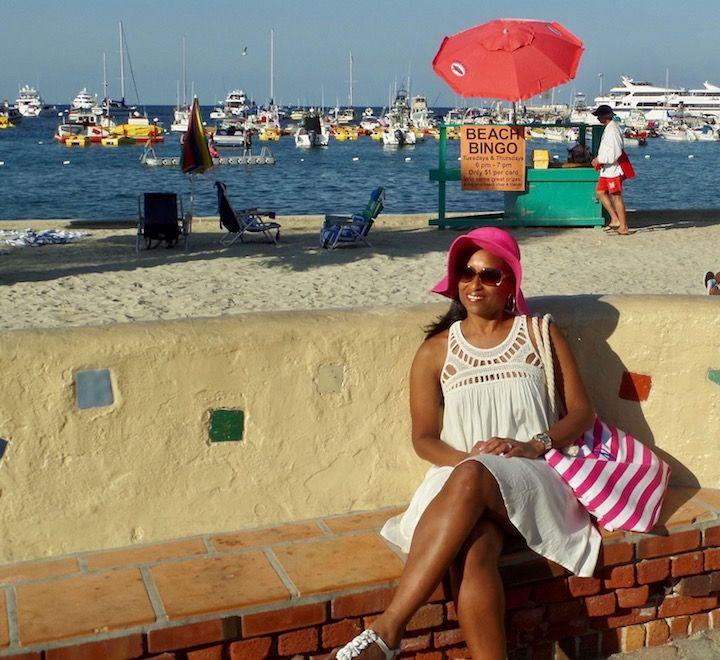 So, have you been on a Catalina Island day trip from Los Angeles? If so share your thoughts with us below! Check out the LonelyPlanet guide for more information!
Pin this post for future reference!